Falkner Winery
by
Kathy. Sullivan
Summary: Falkner Winery is a delightful winery to visit for wine, lunch, events and an art gallery. Be sure to visit Falkner Winery, as it is just a very short distance from Rancho California Road. Customer satisfaction is a key factor to their success.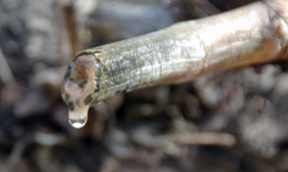 While visiting Temecula Valley, Falkner Winery is a winery that you will enjoy exploring. The winery is located just off Rancho California Road. As you are driving, look for a large red brick building that curves out from the hills, this is the restaurant, event room and barrel aging room.
On our drive up to the winery we stopped to look at the old vines. In early March, we noticed a few grapevines "weeping," welcoming spring. Currently the 24 acres of vineyards have Cabernet Sauvignon, Sauvignon Blanc, Viognier, Merlot and Sangiovese. One-third of the grapes used in the winery are from their own vineyards.
A large parking lot separates the restaurant from the tasting room and art gallery. The sides of the tasting room counter had panels of wine related cloth. Windows overlook the barrel and tank room. The facility sets atop the hills of vineyards. A grassy, landscaped area is adjacent to the tasting room. This area has multiple event uses and frequently is a wedding site.
Ray and Loretta Falkner have combined their talents and love of wine to create a beautiful winery experience for wine enthusiasts. They specialize in special events especially weddings. Ray and Loretta purchased the property in June 2000, renovated, and opened the tasting room in July 2000. They made the decision to keep winemaker, Steve Hagata who has been making wine for 30 years. When they purchased the property some of it had been planted with Cabernet Sauvignon. Currently the winery produces 8,000 cases.
We met Ray in the tasting room and he took us on a tour of the facility. While in the winery, we tasted several wines from barrels and tanks.
Barrel Tastings
Syrah 2006 offered an aroma and taste of plum and dark fruit. The finish had light tannins and fruit. This wine will be bottled in the summer of 2009. Viognier 2006 had a grapefruit aroma and taste. The finish was crisp and cleansing. It also will be bottled in the summer of 2009.
Back in the tasting room we continued our wine tasting.
White Wines
Sauvignon Blanc offered a citrus with a hint of grass aroma. The taste was of grapefruit and tropical fruits. The finish was crisp with a long grapefruit aftertaste.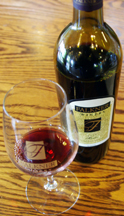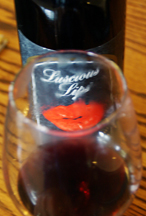 Red Wines
Merlot 2005 had a purple almost opaque color. It offered a black cherry aroma and taste. The finish was fruity with good tannins. Amante 2004 (Super Tuscan) was a blend of Sangiovese, Merlot, Cabernet Sauvignon and Cabernet Franc. The aroma and taste had cherry nuances. The wine finished with light tannins. Amante 2005 was a blend of Sangiovese, Merlot, Cabernet Franc and Cabernet Sauvignon. The aroma was of cherry nuances. The taste offered cherry and blackberry while the finish had tannins with layers of fruit. Luscious Lips is the fun wine that you can drink at room temperature, chilled or heated in a crock-pot with brown sugar and mulling spices. The wine is a blend of Syrah and Sangiovese. The wine was slightly sweet and delicious. When heated, it is referred to as Hot Lips.
Giftware is available in the tasting room. Browse the selection of items while you enjoy your wine tasting. Items include: wine accessories, stemware, decanters, cheese tray sets, placemats, wine-filled chocolate, and large chocolate-covered caramel apples in gift boxes – tied with a bow.
The tasting room has an adjacent area that focuses on fine art. Numerous paintings of oil and watercolor are available. A local gallery provides the art and changes the selection frequently. These works of art are sold on consignment. The Art Gallery also has a special tasting counter for Wine Club members. Art is also present outside the gallery. Notice the sculptures near the tasting room and restaurant.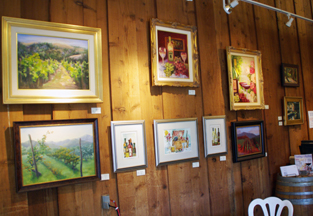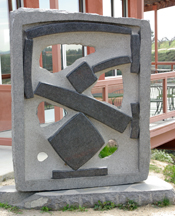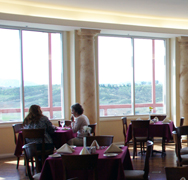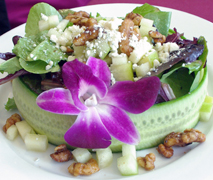 Events at Falkner Winery started in 2001 and grew quickly. Ray and Loretta made the decision to create a new building that opened in September 2006. This building has The Pinnacle Restaurant that features Mediterranean lunches. Events are about one half of the business.
The Pinnacle Restaurant offers gourmet selections for lunch. The views through the large curved windows provide outstanding views of vineyards. The restaurant is also available for wedding receptions in the evenings.
Below the restaurant, the Falkners designed a special cellar room. The ceiling is curved, reminiscent of an old wine cellar. The lighting and table provide a special ambience for hosting up to 20 people. The table is solid wood that is 3 inches thick. Windows look out into the barrel area, adding to the atmosphere.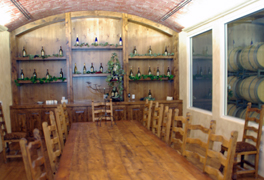 Falkner Winery offers wonderful venues for weddings. You are high above Rancho California Road. Loretta has put a great deal of time and effort into creating a special outdoor wedding site with views of vineyards. A grassy aisle lined with trees and arches leads down to a flat grass area where it is "picture perfect." In addition, winery staff follows up on all the details to assure that everything is on schedule. The Falkners want your wedding to be perfect.
It is important for the owners to help people to get to know the wine. They want to engage the customer and promote customer service. The servers are knowledgeable. If an answer is not known, there is always someone available who can answer the question. We believe that they are accomplishing their goals and providing a lovely experience for people.
Falkner Winery
40620 Calle Contento
Temecula, CA 92591
GPS: N 33º 32.058' W117º 03.940'
---
Visit these California organizations and wineries that partner with Wine Trail Traveler.