Oak Mountain Winery
by
Kathy Sullivan
Summary: The focus of the owners, Valerie and Steve Andrews, of Oak Mountain Winery is on high-end wines. Take time to enjoy the beautiful pavilion and enjoy the outstanding views of surrounding vineyards covering the rolling hills. The Andrews also own and operate Temecula Hills Winery.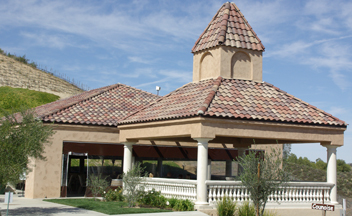 Oak Mountain Winery is set in the middle of hillside vineyards. The architecture of the building fits in with the landscape. Dramatic views of vineyards on rolling hills with mountains in the background provide wonderful photo opportunities.
Valerie and Steve Andrews have enjoyed wine for a long time. They remember the first wine they made as a pineapple wine. They also recall pressing grapes with a hand press. Valerie and Steve started Oak Mountain Winery nine years ago. They also own Temecula Hills Winery at Villa di Calabro and between the two production facilities produce 6,000 cases of wine. There are no overlapping wines. When visiting the Oak Mountain Winery tasting room, visitors may taste wines from both wineries. Temecula Hills Winery does not have a tasting room.
The vineyards at Temecula Hills Winery has Rhone varietals planted including: Grenache, Cabernet Sauvignon, Grenache Blanc and Viognier. Oak Mountain Winery's vineyards have Bordeaux grape varietals including Merlot, Cabernet Sauvignon, Cabernet Franc, Petite Verdot, Malbec, as well as Pinotage and Primavito. Both vineyards have ten acres of vines. In addition, the Andrews manage another 25 acres of vineyards. Steve believes the fun part of the year is in September. "It's really exciting."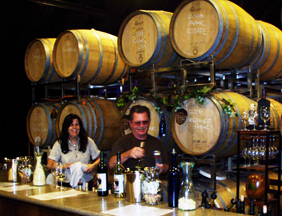 Behind the tasting counter are rows of oak barrels aging wine. The long tasting bar can accommodate a dozen or more people. The outdoor pavilion has plenty of tables to sit and enjoy a glass of wine.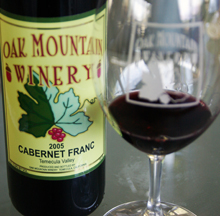 We tasted several wines beginning with Miscela di Sangiovese 2005. This wine was a blend of Sangiovese, Cabernet Sauvignon and Merlot. The wine offered cherry nuances on the aroma and taste. The finish was fruity with soft tannins. Merlot 2002 was made in a fermentation bag. The color was dark purple and opaque. The aroma was of dark fruit and the taste was very fruity. The finish was fruit forward with tannins. Cabernet Franc was dark purple and opaque. The aroma and taste offered black fruit while the taste also had spice. The finish was fruity with tannins. Zinfandel 2005, with a ruby translucent color had an alcohol level of 15.5 percent. There was black fruit with some alcohol on the aroma. The taste was of black fruit. The finish was fruity, with tannins and a bit of heat. Late Harvest Viognier 2008 had a floral aroma and a color of golden yellow. The taste was of honeysuckle. The finish was sweet and fruity with acid on the finish that cut the sugar. Brut offered an apple aroma and taste. The finish was crisp and palate cleansing.
Although Temecula Hills is only 14 miles from Temecula, it is located in the South Coast AVA. Estate Syrah 2004 was a ruby color and opaque. The aroma and taste were of dark fruit. The finish was fruity with tannins. Censaut 2006 was a translucent ruby. The aroma was floral while the taste had raspberry nuances. The finish was fruity with mild tannins. Estate Sangiovese 2005 offered an aroma and taste of cherries. The finish also had cherry nuances with mild tannins.
Oak Mountain Winery has a variety of events throughout the year.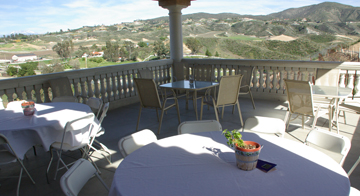 Consider attending a special holiday event, a winemaker's dinner or perhaps a Riedel event. Anyone planning a wedding or other memorable event will want to look at the beautiful pavilion as a possibility. The pavilion is equipped with a fireplace, tables and has picturesque views of acres and acres of vineyards.
Enjoy your visit to Oak Mountain Winery by enjoying a bottle of wine with friends under the pavilion.
Oak Mountain Winery
36522 Via Verde
Temecula, Ca. 92592

GPS: N 33º 31.119' W117º 01.326'
---
Visit these California organizations and wineries that partner with Wine Trail Traveler.