South Coast Winery
by
Kathy Sullivan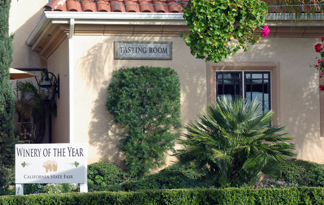 Summary: In 2008, South Coast Winery was the first winery in Temecula Valley to be named Winery of the Year by the California State Fair. South Coast Winery produces wines created by winemakers, Jon McPherson and Javier Flores who are experienced in producing quality wines. The large tasting room is elegant with a focus on the wines. Check out the other facilities that are part of South Coast Winery including the restaurant, villas and spa.
South Coast Winery started in 2003 and by 2008, they won the Winery of the Year at the California State Fair. South Coast Winery was the first winery in Temecula Valley to win this award. To qualify as winery of the year, a winery must submit a minimum of 10 wines for judging. In 2008, South Coast entered 29 wines in the California State Fair. Out of the 29 wines submitted, 24 won medals. Approximately 90 percent of the California wineries enter the state fair judging contest. The result of South Coast honored as Winery of the Year has brought a focus on the wineries located in Temecula Valley.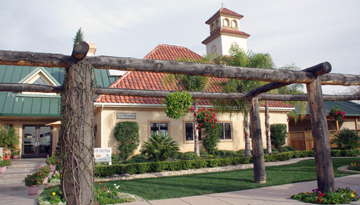 Arriving at South Coast, we noticed many acres of vineyards highlighting the large facility. This is a destination site that includes a winery, tasting room, restaurant, spa and villas.
As we walked through the tasting room with Javier Flores, two visitors stopped him and began telling him how wonderful the wines were. We enjoyed watching as they enthusiastically complimented the South Coast wines and he graciously took his time with them. According to Elaine Moulden and Jackie Clay, "The wines in Temecula are wonderful."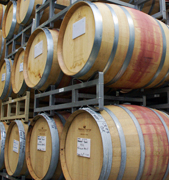 Soon we were in the laboratory where Jon McPherson, Master Winemaker, and Javier Flores, Winemaker, talked about winemaking in Temecula Valley. The site at South Coast was developed in 2002 and vines were planted in 2003. The winery also purchased a vineyard that was planted in 1998. Currently South Coast vineyards cover 250 acres.
While walking through the barrel room and outside production area, we learned that South Coast produces 50,000 cases. The winery sources Zinfandel from Cucamonga and some Chardonnay is from vineyards in the Temecula area. South Coast sells wines at the winery and at Whole Foods, Henreys, Costco and World Market.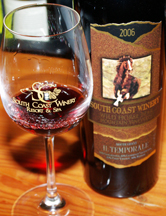 We tasted several wines while learning more from Jon and Javier. GVR 2007 was a blend of Grenache Blanc, Viognier and Roussanne. The aroma and taste were of pear and citrus. The finish was smooth with an aftertaste of layers of fruit. Dry Riesling 2007 had an aroma of apples and spice. The finish was of apple pie spices that gave way to fruit. Riesling 2007 had an aroma and taste of spice and tropical fruit. The taste was smooth and there was a long fruit aftertaste. Wild Horse Peak Il Temporale 2006 was a blend of Sangiovese, Cabernet Sauvignon, Petit Verdot and Merlot. The aroma and taste were of cherry nuances. The finish was smooth and fruit forward with bold tannins. Wild Horse Peak Syrah 2005 offered an aroma and taste of figs and spice. The finish was of bold tannins and spice. There was a long fruit aftertaste.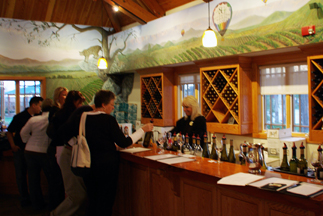 A large mural covers the walls of the tasting room. Scenes depict wild animals including bobcats, hot air balloons and mountain vistas of Temecula. Close by the tasting room is a gift shop with a large array of items including candles, ceramics and wine bottle holders. Save time to browse the assortment of gift items.
Visitors from outside of the area may want to consider staying at South Coast where rooms and spas are available in addition to the winery. A restaurant is also available that offers breakfast, lunch and dinner.
Enjoy a visit to South Coast Winery where visitors will discover everything they "need" from quality wines to lodging. You will want to see for yourself why South Coast Winery was chosen by the California State Fair as California Winery of the Year for 2008.
South Coast
34843 Rancho California Road
Temecula, CA
GPS: N33° 32.041' W117° 03.256'
---
Visit these California organizations and wineries that partner with Wine Trail Traveler.