Filsinger Vineyards and Winery
by
K.L. Sullivan
Summary: Bill Filsinger who retired after 35 years from practicing medicine owns Filsinger Winery. Bill has a great interest in the scientific process of winemaking and uses that interest to create his wines. Both still wines and sparkling wines are available.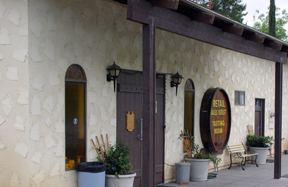 Bill Filsinger is the owner and winemaker at Filsinger Winery. His son Eric maintains the vineyards. Bill has a Master's Degree in microbiology. As a graduate student, Bill first became interested in the medical aspect of fermentation. After retiring as a pediatrician, Bill focused on producing wine. His family in Germany had a winery in Mainz. However, it was destroyed by the Nazis during World War II. Bill also has an interest in wine because he enjoys the science of it. Bill has been making wine for 18 years. He believes that wine is good for people in moderation.
When Bill purchased the property in 1978, Zinfandel vines and kiwi were already planted. He replaced the kiwi with grapes. Today the winery has 20 acres of grapes and produces 2,500 cases of wine. They grow 80 percent of the grapes they need including Chardonnay, Sauvignon Blanc, Viognier, Gewürztraminer, Cabernet Sauvignon, Cabernet Franc, Petite Verdot and Tempranillo.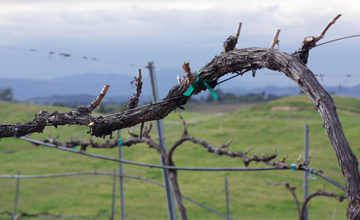 Bill is serious about winemaking. He ferments his wine at a cool temperature of between 56 and 58 degrees. He believes that "until you take the yeast out of champagne, it never gets too old." He also commented, "Champagne should be aged for three years." In 1986, he purchased one of the first types of automatic riddling machines in the United States. It riddles 500 bottles in eight days.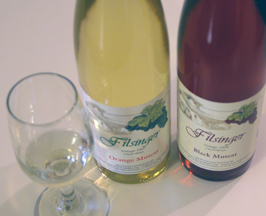 We tasted several wines at the tasting counter. While tasting wines, note the wine labels particularly the dynamic label for Sweet Desire. Charvinier 2006 was a blend of Chardonnay, Viognier and Sauvignon Blanc. The aroma offered apple and oak nuances. The taste was of apple and citrus. The wine finished with apple then oak. Orange Muscat 2007 had an aroma of oranges with a velvety smooth orange taste. The finish was orange. It was sweet but dried on the aftertaste. Gewürztraminer 2008 offered a floral and spice aroma. The taste was of mango and tropical fruit. It had a sweet and fruity finish. Cabernet Sauvignon 2004 had an aroma of dark fruit. The taste was of dark fruit and offered a smooth mouth feel. The finish was fruity with light tannins.
Notice the side of the labels. The bottle of Gewürztraminer included useful information about the grape. It also gave suggestions for foods to serve with the wine and the temperature for serving the wine.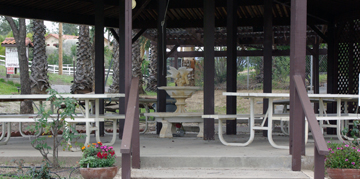 An outside gazebo with picnic tables is a good place to share a bottle of wine with friends.
Filsinger Vineyards and Winery
39050 De Portola Road
Temecula, CA 92592
GPS: N33º 31.933' W117º 00.861'
---
Visit these California organizations and wineries that partner with Wine Trail Traveler.