Frangipani Estate Winery
by
Kathy Sullivan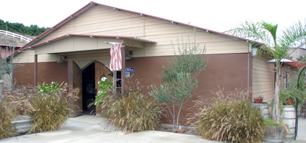 Summary: Frangipani Estate Winery located in southern California offers a tasting room experience with beautiful scenery of the vineyards and countryside. Enjoy a glass of wine on the patio overlooking the vineyards.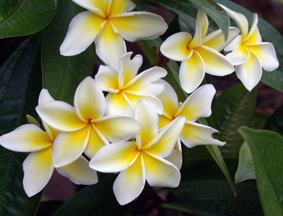 Frangipani Estate Winery is located on De Portola Road in Temecula, California. This region is filled with vineyards and equestrian farms. Don and JoAnn Frangipani started the winery in 1989. The name Frangipani is the common name for a very fragrant flowering tree, Plumaria. Just outside the door to the tasting room one of these plants was in bloom in October. The flowers look like wax and the fragrance was delightfully aromatic.
Owner and winemaker, Don Frangipani, is enthusiastic about creating estate wines at the winery. He is also offering a unique experience. A visit to the winery is a time to enjoy estate wines and relax.
Don became interested in wine because of living in Temecula. He opened a restaurant outside of Temecula and cooked on a commercial basis. He wanted to stay in Temecula but did not want the long commute to the restaurant that he was experiencing. His in-laws made wine and Don became interested and started working at a winery.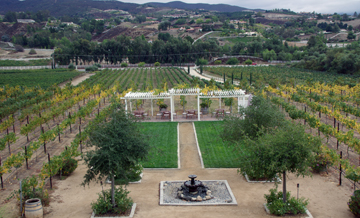 Vineyards
The vineyards consist of eight acres of grapevines. Varieties include Sangiovese, Grenache, Cabernet Franc, Malbec, Petite Sirah and Petite Verdot. In October, the Sangiovese vines were changing color. Don plans to increase the vineyards to 9.5 acres.
Below the winery and tasting room, the vineyards slope towards the distant road. On this vineyard slope there is a section with vibrant green lawn and a trellis. Bocce can be played here. The open space was used for Shakespeare in the Vines events. A new site for the plays is under construction. Each year two Shakespeare plays are presented outside and one performed inside.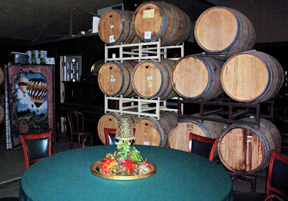 Tasting Room
The tasting room is subdued with a long tasting counter. Several large tables offer a spot to sit down, relax and enjoy a glass of wine. Oak barrels aging wine add to the ambiance of the room. While visiting, a tour group was enjoying wine and coversation at the tables.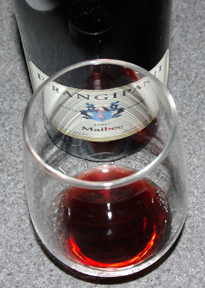 White Wines
Frangipani Estate Winery is producing 4,000 cases of wine. Wines are sold out of the tasting room. Sauvignon Blanc 2007 offered a sweet taste with layers of flavor of tropical fruit and summer fruit. The finish lingered. Grenache Rosé 2007 had two percent residual sugar. The wine had raspberry and cherry notes with mild tannins. The finish was smooth with raspberry. It was suggested to use this as a holiday wine.
Red Wines
Sangiovese 2008 was a ruby color and offered an aroma and taste of black cherry notes. The finish had mild tannins and was fruity with earthy nuances on the aftertaste. Estate Malbec 2007 was purple with an aroma of black fruits. The taste had black cherry and blackberry notes. The fruity finish had mild tannins. Estate Claret 2007 was a ruby color. This wine was a blend of Cabernet Sauvignon, Malbec, Merlot and Petite Verdot. The aroma was like a black fruit salad. The taste had nuances of blackberries, cherries and black raspberries. The fruity finish had bold tannins. Petite Sirah was ruby with an aroma of black cherry and spice. The taste offered black cherry and blackberry notes. The finish had medium tannins and was fruity with the fruit yielding to spices on the finish.
Events
Those looking for a small group event location may want to consider contacting Don or JoAnn. Appointments are needed for small events including country barbeques and equestrian events.
Wine enthusiasts who are looking for a relaxing experience without live music among the beauty of the Temecula region may want to visit Frangipani Winery and return again and again. Watch for the Shakespeare in the Vines performances.
Frangipani Estate Winery
39750 De Portola Rd.
Temecula, California 92592
GPS: N33º 32.525' W117º 00.632'
---
Visit these California organizations and wineries that partner with Wine Trail Traveler.