Longshadow Ranch Vineyard and Winery
by
Kathy Sullivan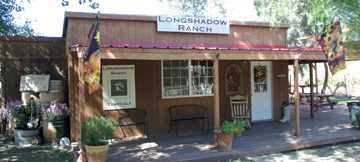 Summary: Longshadow Ranch Vineyard and Winery is a family run winery and vineyard located in Temecula, California. It is also a great place to bring the whole family where they can see Clydesdale and Belgian Draft horses. Carriage rides are also available. Located not far from the center of Old Town Temecula, a visit to Longshadow offers a view of the way things were done in the past.
To the right of the driveway a redwood building is the wine tasting facility. Nearby but to the back is a second building where the winemaking takes place. Near the front door to the tasting room, five and a half used oak barrels are formed to create a flowing "Wishing Well." Inside the tasting room, look for a tree of cowboy and cowgirl hats to purchase. In addition several gourmet products from Black Sheep Gourmet Foods are available. These include a variety of stuffed olives, Frog Bells (spicy dill pickled Brussels Sprouts) and Pinot-Pomegranate Jelly.
In front of the tasting room a large area is available with an outdoor tasting counter and a fire pit. Numerous redwood picnic tables and white round tables with chairs are available to accommodate visitors for wine tastings or for the music events audiences. Towards the back of the area is a stage for music on Saturday nights. To the left of the driveway a large event building is ready to open. This two-story building features knotty pine siding and a large patio.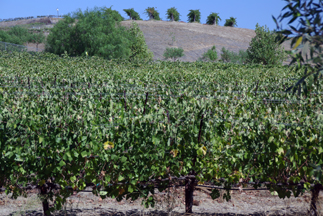 Vineyards
John and Susan Brodersen purchased the property in 1999 and in the same year began planting 12 acres of vineyards. This was also the year that John began taking winemaking classes. The owners prefer to focus on red varietals and their vineyards consist of Syrah, Tempranillo, Malbec, Cabernet Franc, Sangiovese, Petite Verdot, Cabernet Sauvignon and Cinsault. The winery opened in February 2003 and in 2010 is producing 4,200 cases. Most varieties are 400 cases or less. John is proud that everything is "done by hand." At Longshadow one can discover the lost art of farming techniques used years ago.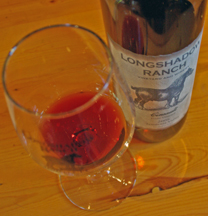 Red Wines
Cinsault 2008 offered a floral and perfume aroma. The taste was of light red berries while the finish had mild tannins with perfume nuances. Cinsault is a grape that is not frequently found growing in US vineyards. It is definitely a wine to taste when one has the opportunity. Cabernet Sauvignon 2008 was a dark ruby color. The wine had an aroma and taste of black berries. The finish had medium tannins and was fruity. Petite Verdot 2007 offered an aroma of dark fruit with plum notes. The finish had bold tannins with fruit nuances. Syrah 2008 was a dark ruby to purple color. The wine offered an aroma and taste of plum and floral nuances. The finish was fruity with medium tannins.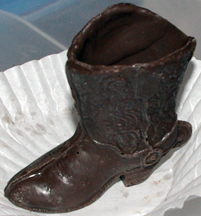 Dessert Wines
Muscat of Alexandria 2008 was a dessert style wine. The aroma was of flower blossoms, orange and honeysuckle. The taste had orange nuances. The finish was crisp with orange yielding to honey. Ponderosa Port 2000 was produced with old vine Zinfandel. The color was red with a brown rim. The aroma had raisin and alcohol notes. The taste was medium bodied with jam notes. The finish was fruity with no heat despite having 20 percent alcohol. This is a food friendly Port.
At the tasting counter, tasters can purchase "Boot Boosters." These are delightful small chocolate boots made locally. When purchased the chocolate boot is filled with Port.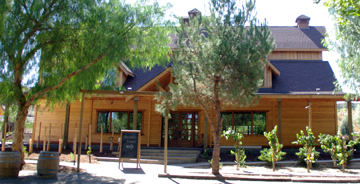 Events
Longshadow has Classic Rock Concerts on Saturdays. Owner and winemaker, John is a musician with the group. He is a vocalist and a guitar player. Imagine the ambiance of the outdoor tasting counter, fire pit, clear string lights and music. The winery also has Barrel Tasting Events.
Weddings and other private special events can be held at Longshadow. The newly built event center will allow many elegant events to be held even on inclement days.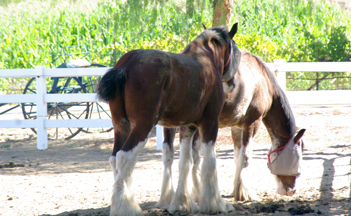 For tour buses this is a great winery to stop and visit. Visitors to Longshadow will have the opportunity to see Clydesdale and Belgian Draft horses and goats. Longshadow Ranch Vineyard and Winery is a family friendly winery. Children will enjoy seeing the horses and goats.
Longshadow Ranch Vineyard and Winery
39847 Calle Contento
Temecula, California 92591
GPS: N33º 32.032' W117º 04.524'
---
Visit these California organizations and wineries that partner with Wine Trail Traveler.