Cougar Vineyard & Winery
by
Kathy Sullivan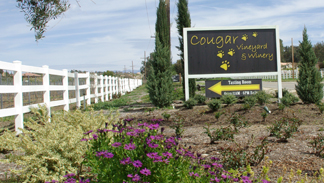 Summary: Enjoy a visit to a winery, where the focus is on producing Italian style wines. For every bottle of 2008 Pink Cougar sold, the winery donates $1 to the Susan G. Komen for the Cure Inland Empire. The owners have plans ready for enlarging the winery facility and tasting room.
Rick and Jennifer Buffington, owners and winemakers, for Cougar Vineyard & Winery, have been making wine for years beginning in Texas as a hobby. They continued to make wine when they moved to Washington and then on moving to California, they decided to open Cougar Vineyards & Winery. They purchased the property in 2005, established vineyards and built the winery.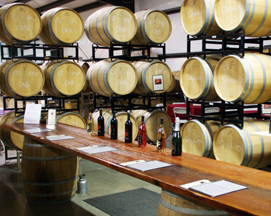 The winery, tasting room, office and event space are all located in a large one-room facility. Upon entering the tasting room, you will immediately notice a large wood cougar in the center of the tasting room area. This unusual carving was created with a chain saw by a local artisan. Rick and Jennifer have creatively used barrels and colors to set spaces apart and create a very nice ambience for tasting wines and events. Large round tables topped with purple and red cloth tablecloths are ideal for events of all kinds. Wine Club members are allowed to taste wine at tables behind the barrels while other tasters may taste wine at a counter that is set on several oak wine barrels.
Meet the two large friendly dogs, Sandie and Diego. Notice that when you say the two together, you get San Diego. Sandie provides entertainment for visitors by performing tricks.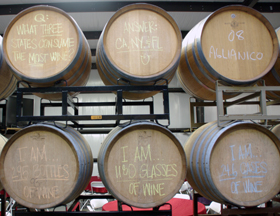 Cougar Vineyards & Winery has a unique way of presenting gentle wine education. They have written questions, answers and facts in chalk on the heads of barrels. Visitors can quickly identify the three states that consume the most wine (California, New York and Florida), as well as learn wine facts. A barrel will make 24.6 cases of wine, or 295 bottles of wine or 1,180 glasses of wine.
At Cougar Vineyard & Winery, the emphasis is on Italian varieties. The eight acres of vineyards include: Sangiovese, Aglianico, Montepulciano and Vermentino. Currently the winery produces 3,000 to 4,000 cases of wine. Rick likes to create wines that are vineyard specific. He also likes to experiment with different grape varietals.
White Wines
We tasted several wines at the tasting counter beginning with Sparkling Cougar 2007. This sparkling wine was produced with Muscat Canelli in a brut style. It was fruity and palate cleansing. While it was dry, it had a hint of perceived sweetness. Vermentino 2008 had a residual sugar of .75. The aroma was fruity with citrus nuances. The taste was smooth and there was mild citrus on the aftertaste. Arneis 2008 had a very slight pink color. The residual sugar was 1.97. The aroma was very fruity and the taste had pear and peach nuances. The finish offered a nice sugar/acid balance and was fruity. Pink Cougar 2008 was produced with Cabernet Sauvignon and had a slight pink color. This is the wine that helps to support the Susan G. Komen for the Cure Inland Empire. The aroma, taste and finish offered strawberry nuances. Malvasia Blanca 2008 had a very floral aroma. The taste was of apples and tropical fruits. The finish was crisp and fruity.
Red Wines
Sangiovese 2006 was a Super Tuscan. It was produced by blending Sangiovese, Cabernet Sauvignon and Montepulciano. The aroma and taste offered red cherry nuances. It finished with mild tannins and a fruity aftertaste. Merlot 2005 had an aroma and taste of black cherries. The finish was fruity with mild tannins. Malbec 2006 had a dark purple opaque color. The aroma was of perfume and spice. The taste offered perfume, plum and spice. It finished with light tannins. Full Monte 2006 was produced from Montepulciano. With a dark purple color, it offered an aroma, nose and finish of black cherries and plums.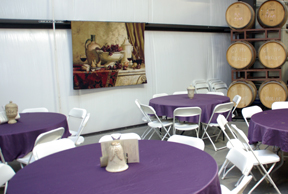 Check the winery website for a variety of events throughout the year. Catering is available for limo visitors so visitors arriving in limos do not need to go to a restaurant. Call in advance for details about catering. If you are planning a wedding and would like to have it outside, check out what Cougar Vineyards can offer you.
We enjoyed talking with Rick and Jennifer Buffington, two enthusiastic winery owners and winemakers. Their intense focus on creating quality Italian style wines is sure to be appreciated by wine enthusiasts. Enjoy your visit to Cougar Vineyard & Winery.
Cougar Vineyard & Winery
39870 De Portola Road
Temecula, CA 92592
GPS: N33º 32.568' W117º 00.546'
---
Visit these California organizations and wineries that partner with Wine Trail Traveler.