Masía de Yabar
by
Kathy Sullivan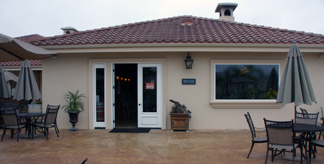 Summary: Masia de Yabar Vineyard & Winery located in the countryside of Temecula provides a delightful stop to enjoy a glass of Spanish style wine. The winery is very friendly and provides a large patio where visitors can enjoy a view of the vineyards.
Wilmer and Silvia Yabar started the family winery although Wilmer is quick to give credit for the idea of a winery to his wife. Both Wilmer and Silvia are practicing dentists in southern California.
The Yabars want to promote Spanish varieties. Other important goals are to take care of their customers, "me casa es tu casa" and make people feel at home.
Outside of the tasting room a large patio with tables and chairs makes an ideal spot to enjoy a glass of wine and enjoy the scenery. Inside a long, elegant wood tasting counter provides room for numerous visitors. People gather at barrels with a circular table top to enjoy wine and conservation. An area of the room is set aside for performing musicians.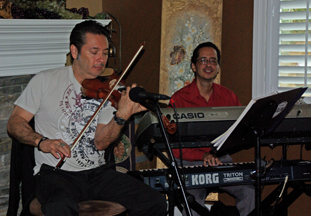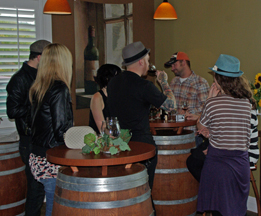 When Wilmer was living in Peru, he enjoyed drinking beer. However, his brother went to Argentina and enjoyed wine. His brother suggested that Wilmer and Silvia move to Argentina and plant vineyards. Following his suggestion Wilmer and Silvia planted 30 hectares (74 acres) of Malbec and Torrontes grape varieties.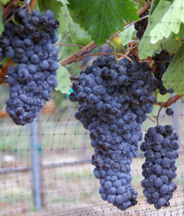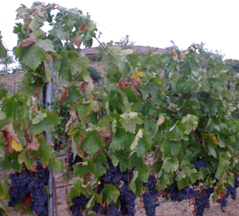 Vineyards
Masia de Yabar Vineyard & Winery opened 2008 in the country house of the Yabar family. Vineyards consist of seven acres that include Tempranillo, Grenache, Viognier, Cabernet Franc, Cabernet Sauvignon and Muscato. Wilmer Yabar plans to add more vineyards. In addition to the seven acres of vines in Temecula, Wilmer continues to own Malbec and Torrontes vineyards in Argentina.
Masia de Yabar Vineyard & Winery is located in Temecula off De Portola Road. Translated "la masia" means Manor House. However history plays a role making the definition a little more involved. Towards the end of the 16th century, the feudal system was ending. In Spain masias began to be built with stone. When the concept arrived in America the masias were built with adobe. Today the inference of "la Masia" is a great life where people are gladly received.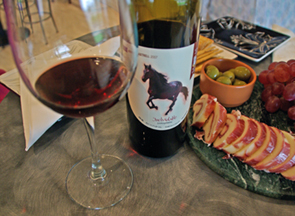 Wines
The winery produces eight wines. Notice the wine labels. One is a picture of a horse. This is a Peruvian horse, named Inolvidable meaning Unforgettable. Monstrell (Mourvedre) 2007 was a ruby color with blackberry and vanilla nuances. There were mild tannins. Tempranillo 2007 was a dark ruby with a ruby rim. There were plum and spice notes on the aroma. The taste had nuances of plums. The finish with medium tannins was fruity yielding to spice. Grenache 2005 was a ruby color. There were nuances of raspberry. The finish offered medium tannins and was very fruity. This wine was food friendly. The Rosa Peru Sherry was a garnet to brown color. The aroma had raisin nuances. The taste was smooth with raisins and dark fruit jam. The finish was very fruity. This wine had 18 percent alcohol.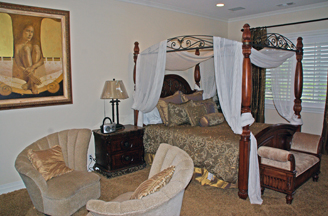 Events
Watch for live music on Saturdays and Sundays. Look for Rumba Flamenca, Spanish Guitar and Latin Jazz. Masia de Yabar is the perfect venue for weddings. There are separate rooms for the bride-to-be and the groom-to-be. The bride-to-be room is spacious allowing room to prepare for the wedding. The wines, grounds and rooms indulge the senses and help create an unforgettable experience.
Enjoy a visit to Masia de Yabar Vineyards & Winery where you will be welcomed with open arms and have the opportunity to taste Spanish style wines. Masia de Yabar also has a tasting room located on Fifth Street in Old Town Temecula. A tapas menu complements the wines and live music is performed on the weekends.
Masía de Yabar
39788 Camino Arroyo Seco
Temecula, California 92592
---
Visit these California organizations and wineries that partner with Wine Trail Traveler.