Orfila Vineyard and Winery
Julian Tasting Room
by
Kathy Sullivan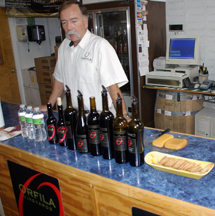 Summary: Orfila's offsite tasting room is located in Julian, California. This small, quaint mountaintop town offers four seasons only an hour from sunny San Diego. Try pairing the Orfila wines with the smoked cheeses available.
Wine lovers who are looking for a day trip to a quiet and quaint area of San Diego County will enjoy a visit to Orfila's tasting room located in Julian. The tasting room is located in a section of what was once a sawmill. The building has been divided into several small specialty shops. When visiting the Orfila tasting room be sure to browse the other small shops' offerings.
Visitors to the tasting room will have the opportunity to taste smoked cheese produced in apple wood. The town of Julian has been renowned for its apples for more than 100 years. Numerous specialty items are available in the tasting room at Julian. Browse the remarkable number of gourmet foods including many different styles of grapeseed oils, vinegars and olive oils.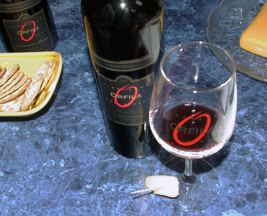 The wines produced and offered at Orfila Vineyard and Winery in Escondido are also at the Julian tasting room. In addition, one will discover fresh apple cider. While visiting this tasting room we also enjoyed tasting a couple of the wines we had not tried at the winery. Syrah 2006 was paired with the smoked provolone. The cheese was mild with smoke aroma and taste. The Syrah added dark fruit to the taste. Zinfandel 2007 was paired with smoked mozzarella. There was a taste of blueberry nuances with mild tannins. The smoked mozzarella was mild with mild smoke. The taste added smoky nuances to the wine. Tawny Port was tawny with a light brown rim. This was produced with old vine Zinfandel grapes. There were distinct raisin notes on the aroma and taste with no heat on the finish. It was fruity and paired nicely with the smoked cheddar.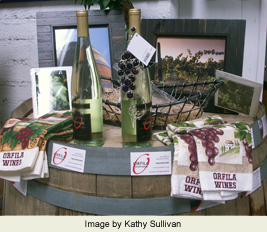 Many visitors take the time to travel to Julian to enjoy the seasonal changes available. This is one of the few areas in southern California that experiences winter. According to the tasting room manager, Jeff Cox, people living in San Diego will visit during a snowfall and take snow back to the city with them. The season also includes clouds and thunder. In the springtime, lilacs offer a beautiful and sweet-scented reason to return to Julian. These old-fashioned lilacs are heavily scented and offer photogenic colors of purple, white and pink. A few weeks later spring flowers will be in abundance. From June to August people will stop at the tasting room on their way to see the desert flowers. The desert is only 45 minutes from Julian. During the fall months of September and October, people will visit to enjoy the harvest of apples and pears. Enjoy visiting the Orfila Winery Julian tasting room location.
We left with a smile after hearing Jeff say, "With a chuckle a day, you'll live longer."
Orfila Vineyards & Winery
Julian Tasting Room
4470 Highway 78
Julian, California 92036
760-765-0102
GPS: N33º 05.906' W116º 38.833'
For more information
---
Visit these California organizations and wineries that partner with Wine Trail Traveler.