Orfila Vineyards & Winery
by
Kathy Sullivan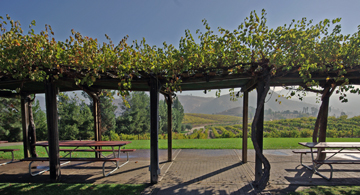 Summary: Orfila Vineyards and Winery located in southern California markets wines in San Diego County. The vineyards surrounding the winery provide a delightful ambiance for visitors to enjoy. Consider purchasing a glass of wine and enjoying it while sitting on the patio that overlooks acres of vineyards.
Orfila Vineyards and Winery located in Escondido, California is in a one-story building that has three carefully designated areas. The first area is for wine tastings and has a good selection of giftware to browse. This area is successfully separated with numerous oak wine barrels that offer a genuine winery feel to the wine tasting. These barrels separate the tasting room from the winemaking area. Colorful roses planted in half oak barrels add ambiance to the outside of the building. A large patio with tables and chairs is just outside the tasting room doors. Beyond is a large grape arbor and vineyards.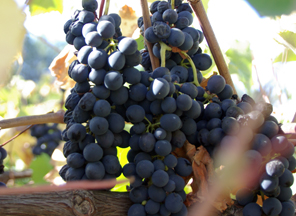 The vineyards at Orfila are breathtaking, especially the views from the grape arbor overlooking the scenery. The original vineyards were planted in 1972 and today 35 acres of estate vineyards are home to Syrah, Viognier, Marsanne, Roussanne, Cabernet Sauvignon, Merlot, Petite Sirah, Tannat, Montepulciano and Sangiovese. During an October visit, some grapes were held on the vines to increase sugar in order to make a Port. The winery produces 10,000 to 15,000 cases of wine.
The owner is Ambassador Orfila. He grew up in the winemaking business in Argentina but decided to follow his own path to success by leaving the family winery enterprise in Argentina and following his own dream. His parents had started their Argentina winery in 1895. He recalled, with a slight smile, explaining to his father that he did not want to follow in the family winemaking footsteps. He continued school and then had a diplomatic career. Ambassador Orfila has served as Ambassador in many capacities over the years and has met every President of the United States from former Presidents Truman to Clinton. He is friendly and affable and it is no wonder that he was a very successful ambassador.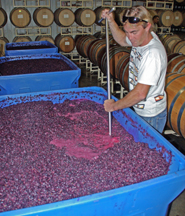 The winemaker, Justin Mund, joined Orfila Winery in May of 2010. Justin is intent on adding his own talents to producing wine at Orfila, believing that he can make great wines wherever he is located. His first vintage wines at Orfila will be the 2010 vintage. Justin took the opportunity to punch down some of the fermenting red grapes while in the winery.
Red Wines
Sangiovese Estate 2007 was a dark ruby color. This wine had a bold cherry aroma. There were cherry notes with hints of earthiness. The finish was fruity with mild tannins. Merlot 2007 Estate Bottled wine was a dark purple with a light purple rim. The aroma was of black fruit while the taste was also of black fruit especially black cherry. The finish was fruity with medium tannins. Syrah Ambassador Reserve 2006 was a dark purple to black with a purple rim. The aroma and taste offered notes of plum. The finish had bold tannins and was fruity. Petite Sirah had black fruit notes while the taste had fruit salad nuances. There were medium tannins on the finish.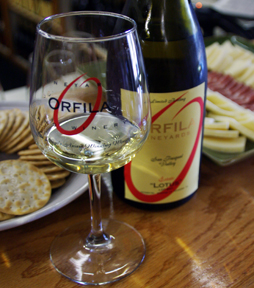 White Wines
"Lotus" was a blend of Viognier, Marsanne, and Roussanne. This wine offered peach and tropical fruit on the aroma and taste. The finish was very fruity. Chardonnay Ambassador's Reserve 2008 was a golden yellow color with an aroma of melon. The taste also had melon notes with a hint of caramel. Melange Blanc was a blend of whites that offered fruit salad mix notes throughout from the aroma through to the finish. A suggested pairing is chilled salmon salad.
Events
Each year Orfila Winery hosts two special events. In August, they feature the annual Grape Stomp. Every year tickets are sold out, so those anticipating attending the Grape Stomp need to purchase their tickets in advance.
In November a Futures Dinner is held. The Ambassador's Reserve Futures Dinner is always sold out. This special event includes a gourmet dinner, paired wines, dancing and live entertainment.
Monthly concerts are beginning. These concerts are titled "Concerts in the Vines." Visit the Orfila website to follow the concerts as they are scheduled.
Private events can be held at the winery. A large tent is available and offers views of the vineyards. This can be a perfect place for a wedding reception, anniversary party or other significant event.
Enjoy a visit to Orfila Vineyards and Winery.
Orfila Vineyards & Winery
13455 San Pasqual Road
Escondido, California 92025
800-868-9463
GPS: N33º 04.246' W117º 02.624'
For more information
Related article on Suite101.com
Orfila Vineyards and Winery article
---
Visit these California organizations and wineries that partner with Wine Trail Traveler.