The Collective
by
Terry Sullivan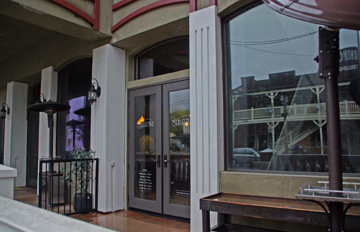 Summary: The Collective offers a unique tasting experience. It is a spot where wine tasters can go when the Temecula wineries close down for the evening. You will have the opportunity to taste handcrafted wines from several different wineries in a wine lounge setting.
The tasting room is located on Front Street in historic Old Town Temecula and is open late on several evenings. Wine tasters have the opportunity to taste wines from several boutique wineries. The setting is relaxed and resembles a wine lounge. In addition to wine tasting, one can enjoy wine by the glass. A partnership with The Edge Restaurant provides tasters with an opportunity to order from the appetizer menu. Each of the member wineries offers several wines and a unique story about the winery.
The Collective has three wine lounges. The main lounge is a large area with a comfortable seating section and tasting bar. The question mark-designed tasting counter has an onyx top with lighting from below. On the same floor a library lounge is a smaller area ideal for private tastings and small events. The private room seats twelve guests. The club lounge is on the second floor. There is a tasting counter and plenty of lounge-type seating including sofas, loveseats and chairs. This area is reserved for wine club members and guests. The area also has an outdoor balcony with seating.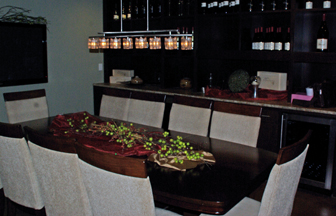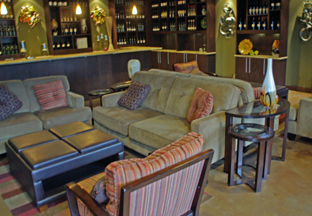 Temecula Valley Winery Management
Building a winery and producing wine isn't the easiest task in the wine business. It can take years to acquire permits, build a winery and make wine. Add even more years if you plant a vineyard. However a possible solution is to join an alternating proprietorship that can get a winery up and running in one year. Together, Temecula Valley Winery Management and The Collective are like an incubator for start-up wineries. Temecula Valley Winery Management has a state of the art wine making facility. They will help in acquiring grapes, crushing, fermenting, pressing, aging and bottling the wine. The clients are winemakers who have decided to go to the next stage producing and selling wine. The Collective showcases and sells their wines.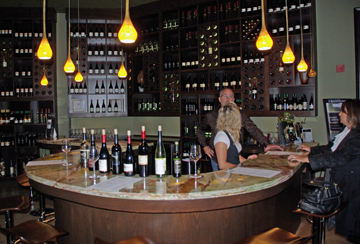 Wine Tasting
We enjoyed tasting wines with Patrick Bartlett the executive director of the Temecula Valley Winery Management. In addition to administrative duties, Patrick is a wine specialist and chef.
Atwood Estate

Atwood Estate has a vineyard of Syrah vines located in Temecula. Dan and Katie Atwood, owners, are passionate about this French grape. Their 2006 Syrah was red with sienna hues. It had a dark fruit, cherry aroma. The velvety taste offered cherry and raspberries. There were medium tannins on the finish.
Fazeli Cellars
Fazeli Cellars celebrates the grape Shiraz that had its origin in Shiraz, Persia. They are currently planning to open a winery and tasting room on DePortola Wine Trail in Temecula. The 2006 Yalda was a ruby color produced from Grenache, Syrah and Mourvedre grapes. The aroma and taste offered black fruit. The finish had medium tannins and a fruity aftertaste. The 2008 Norooz was a Viognier Muscat blend. The aroma was floral and the taste offered orange and tropical fruits. The finish was dry and fruity.
Lorenzi Estate
We tasted two wines from Lorenzi Estate. The owners of this winery have old vine Zinfandel planted in the Cucamonga Valley. Bacio is a Zinfandel port. There was dark fruit on the aroma and taste. The port is sweet and fruity. The 2009 Pinot Grigio was a pale yellow color and had a grapefruit aroma and citrus taste. The finish was crisp and had a grapefruit aftertaste.
Middle Ridge Winery
Chris and Melody Johnston were encouraged by friends to take their wines to the next level moving out of the garage and into a winery. The couple is passionate about their Middle Ridge label. The 2007 Tahquitz was a blend of Cinsaut, Grenache and Mourvedre. There was cherry on the aroma and taste. Mild tannins on the spice finish yielded to cherries on the aftertaste.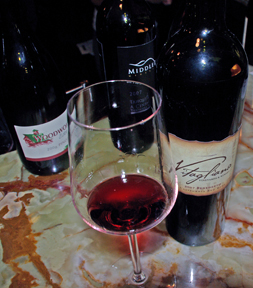 Vitagliano Vineyards and Winery
This winery has Italian roots from Santa Maria, Salina, Italy. They continue to embrace their romantic heritage. The 2007 Benedetto is a Super Tuscan-type blend of Sangiovese, Cabernet Sauvignon and Merlot. The dark red color had a cherry aroma. The taste was of cherries and had spice nuances. There were bold tannins on the long, fruity finish.
Woodworth Vineyards
Gary and Marlene Woodworth have a nine-acre vineyard at about 1,150 feet in altitude. They are growing Pinot Noir, an unusual cooler climate grape for Southern California. The 2008 Pinot Noir was a red color with a cherry and earthy aroma. The stone fruit taste was met with mild tannins and a fruity finish that yielded to earthiness.
Wine enthusiasts will enjoy a visit to The Collective. Taste wines from several wineries and spend some time in a lounge.
The Collective
28544 Front Street, Suite 101 and 201
Temecula, California 92590
---
Visit these California organizations and wineries that partner with Wine Trail Traveler.