Wiens Family Cellars
by
Kathy and Terry Sullivan
Summary: Beginning in Lodi, Wiens Family Cellars moved to Temecula in 2005. Wiens Family Cellars sells 97 percent of their wine out of the tasting room, through the Wine Club and through the Internet. The winery is located in a two-story tan building with a vineyard between the road and parking lot. Today the winery specializes in red wines. The facility can host events including weddings, receptions and special events. They will also help with marriage proposals. The seal for the winery uses Quality, Family and Integrity, words for them to live by.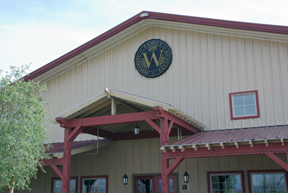 Wiens Family Cellars began a winery in Lodi selling their first wine in July of 2002. They moved to Temecula from Lodi in 2005. In Temecula, Wiens Family Cellars began their winery in a trailer in the parking lot. By 2006, they were in the current building. Four brothers of nine children bought the vineyards around the winery. Each brother had a specialty. Jeff Wiens is the General Manager and owner. Doug Wiens is the winemaker, vineyard manager and owner. Dave Wiens is the Director of Business Development and owner. George Wiens is the architect and owner. Currently they produce 10,000 cases of wine with most grapes sourced from Temecula. According to a Doug, "It's been a lot of fun. It's fun working with my brothers."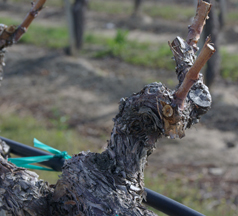 Three vineyards in Temecula Valley as well as vineyards in La Cresta and Sage are managed by Wiens Family Cellars. The 71 acres range from an elevation 1,500 feet to 2,500 feet. Among the many grape varieties are Chardonnay, Viognier, Pinot Gris, Cabernet Sauvignon, Merlot, Cabernet Franc, Petit Verdot, Malbec, Mourvedre, Sangiovese, Tempranillo and Pinot Noir.
Visitors to the winery will enjoy browsing in the gift area of the tasting room. Notice ceramic dishes, wine accessories, books and other gift items. Amble through the displays of gifts. Perhaps you'll find the perfect gift for an upcoming occasion. Of course wine should be on the list.
The tasting room has a long L-shaped counter that can accommodate at least two-dozen people. While tasting wines enjoy the view behind the tasting room with windows that allow one to look into the barrel room. The barrel room is used for tasting by members of the Wine Club. It also serves as an area for special events. Another room is used for larger special events. The room has a dance floor. A number of different groups enjoy stopping by the tasting room for tastings. Groups include: horse riders, car clubs, and motorcyclists.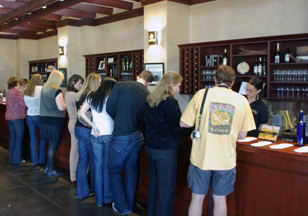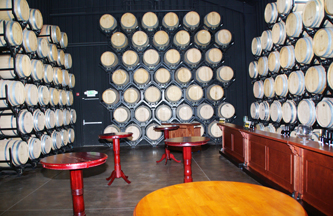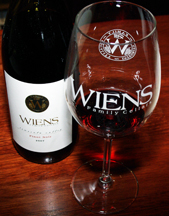 We tasted several Wiens wines. Estate Chardonnay 2006 offered an apple aroma and taste of apples and pears. The finish was smooth with a perceived sweetness from fruit. The residual sugar was zero percent. Pinot Noir 2007 had a ruby translucent color. It had a cherry aroma and taste. The wine was smooth and the finish was fruity with soft tannins. Crowded 2006 was produced with six varietals in the bottle. They included Sangiovese, Petite Syrah, Syrah, Cabernet Sauvignon, Cabernet Franc and Zinfandel. The result was a wine that was a translucent ruby with an aroma of dark fruit and perfume. The taste was smooth with berry fruit. The finish had mild tannins and was fruit forward. Zinfandel 2005 had an aroma of perfume and spices especially cinnamon. The taste had cinnamon and pepper nuances with black fruit. The finish was smooth and fruity with some tannins. Reserve Syrah 2005 was a dark purple almost opaque. The aroma was of black fruit and spice. The taste was smooth with fruit and spice nuances. The finish had mild tannins and was fruit forward with a hint of spice. Amour De L'Orange was Chardonnay with orange essences. Apple gave way to an orange taste. There was a lingering orange aftertaste.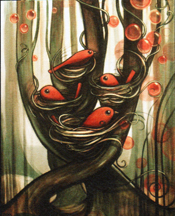 Notice the label on the Crowded 2006 wine, a blend of six different grapes. Kelly Vivanco, an artist, designs a label each year for this wine that includes trees and nests. The label for the 2006 wine is a fantasy image of trees and birds.
Events at the winery include: Wine Club Pick-Up Parties, Blending Parties, Summer Concert Series, Summer Wine Lounge and Wiensfest. Blending parties are of particular interest to Wine Club members. Occasionally the winemaker invites Wine Club members to work with samples from certain barrels. The club members work in teams with the winemaker and come to a consensus on a red blend.
Enjoy a visit to Wiens Family Cellars and see how four brothers work together so well.
Wiens Family Cellars
35055 Via Del Ponte
Temecula, CA 92592
GPS: N 33º 32.315' W 117º 02.911'
---
Visit these California organizations and wineries that partner with Wine Trail Traveler.