Briar Rose Winery
by
Kathy Sullivan
2010 Update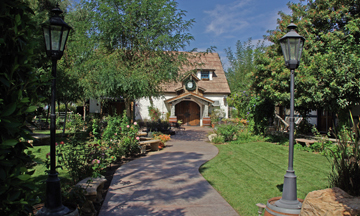 We looked forward to our return trip to Briar Rose Winery. We discovered it to be as friendly and welcoming as it had been the first time. This time we talked with Dorian Linkogle and met assistant winemaker, Lindsey Wallingford.
The wines that owner and winemaker, Les Linkogle, produces are becoming renowned throughout the country. Some of the Briar Rose wines have found their way to the White House, Library of Congress and former Vice-President Chaney's home. The Briar Rose wines were presented to the White House where Dorian and Les met former President George Bush. Dorian is also proud that The California Cabernet Society selected Briar Rose Winery as one of its members.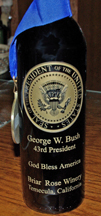 Briar Rose offers a special experience for visitors and to create the perfect atmosphere they request appointments to be made for the wine tasting experience. Dorian and Les want people to visit the winery and learn about wine and the winery.
We tasted wines while visiting with Dorian. The Zinfandel Barbera offered notes of blackberry fruit with pepper nuances. Petit Verdot, non-filtered, was red with dark fruit nuances. It was crisp with medium tannins and fruity. Zinfandel 2007 Katrina Estate Zinfandel was a dark ruby color. It was fruit forward with layers of dark fruit and had medium tannins. Talking Frog (Hefe-N-Wine) has a label with "Sometimes You have to Kiss a lot of Frogs 'til You find a Prince." Les was working on this lager when we visited Briar Rose in 2008. It is now in the bottle and so popular that it is sold out until later in 2010. Les created this wine lager with Viognier grapes.
As we left the parking lot for our next appointment, Terry said, "I could have spent the whole afternoon talking to Dorian and Lindsey."
---
2008 Article
Summary: Briar Rose is a delightful winery to visit with a unique story to tell. Located in a cottage built like Snow White's home with the Seven Dwarfs, this small cult winery offers wonderful ambience, friendliness and fine wines. This is a winery in Temecula that requires reservations for tastings. These structured wine tastings are delightful and last about one hour. Visit Briar Rose and "Taste the Enchantment."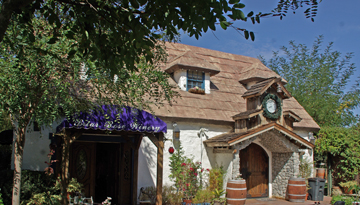 Once upon a time… there was a man, Beldon Fields, who was a contractor for Disney in creating Fantasyland. His wife's favorite cottage was Snow White's cottage where Snow White met the Seven Dwarfs. Here Snow White was known as Briar Rose. Eventually, Beldon built a replicate of the cottage for his wife. The house was finished in 1977. Details include window boxes and a thatch-style roof. Just outside of the cottage is a sculpture of Briar Rose.
When one arrives at the winery, the first thought is a step back in time but perhaps a better saying would be "a step into a fairy tale." The quaint house and winery reminds one of times gone by. Tastings are in the room under the steeple clook. This room keeps the Briar Rose theme.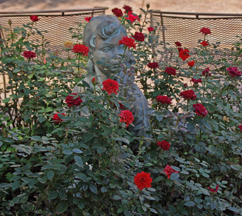 Eventually the cottage was put up for sale, but Beldon would only sell to someone who would agree not to change any aspect of the home. Visitors to the winery will discover images of Snow White and the Seven Dwarfs throughout the facility. The friendliness and enthusiasm of the owners and staff add to this very special winery visit.
We met the owners, Les and Dorian Linkogle who are vibrant and delightful people full of enthusiasm for Briar Rose and producing high quality wine in small batches. Les is also the winemaker and determined to produce quality wines. He is also very creative and has recently produced a wine lager. Currently, he is also producing a Mission wine. Another wine, a Viognier, has lemon flavors due to the use of lemons in the winemaking process.
The 23 acres of vineyards at Briar Rose include Viognier, Zinfandel, Petit Verdot, Malbec, Cabernet Franc, Cabernet Sauvignon, Tempranillo and Riesling. The winery produces 2,500 cases each year.
As we learned about Briar Rose from Les and Dorian, we enjoyed tasting several wines. Les commented that he makes wine like they use to make in Europe. He does not filter his wines. Les also believes that if you make wine right, you do not need to add sugar.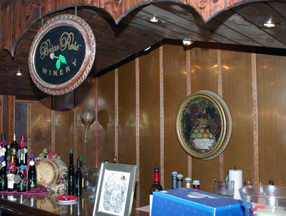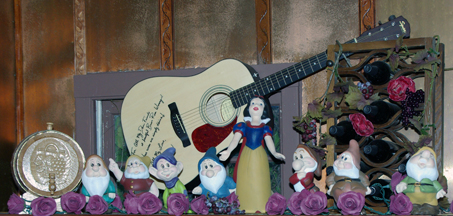 We began our tasting with Citronier a unique wine that was crisp with lemon flavors. This was a produced with Viognier and lemon skins. The aroma and taste were very lemony. We noted there was a nice balance of acid, fruit and sugar. Fume Blanc offered a tropical fruit aroma with a tropical fruit taste of mango. It had a smooth mouth feel. The wine was crisp with a fruity finish.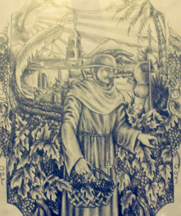 The Mission wine has a history behind it that Les talked about while we tasted the wine. The Spanish brought the Mission grape to the New World areas of Mexico and California in the 1500's. It was planted in San Diego in 1769. They then established missions in Monterey. The Padre's planted seeds. Today there are only 200 acres of Mission grapes left in the United States. Most of the Mission vines have mutated. Les found a straight varietal Mission grape on an Indian reservation. Les is allowed to go to the Indian reservation to care for and harvest the grapes. He has found that the acid levels of the Mission grapes are low. The missionaries would fortify the Mission wine with brandy. Les produces a straight varietal Mission wine. He wants to bring the grape back to southern California. The Mission wine was a light translucent red that had a strawberry and earthy aroma and taste. It finished with light fruit and tannins.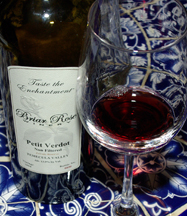 Fume Blanc offered a tropical fruit nose with a tropical fruit – mango taste. The mouth feel was smooth. The finish was crisp and fruity. Petit Verdot had a black fruit with licorice nose and taste. The finish was crisp with tannins. Cabernet Sauvignon 2004 and 2005 offered a blackberry nose and taste. This wine was velvety. The finish was of tannins and fruit. Cabernet Sauvignon 2003 was the same as 2004 and 2005 but had an even more velvety mouth feel. Merlot 2003 offered an aroma and taste that was very fruity and offered black fruit. The finish had bold tannins and was velvety-smooth. This Merlot has been sent to the London International wine competition. Zinfandel 2007 had a very fruity, black fruit aroma and taste and provided bold tannins.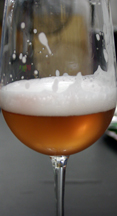 In the winery, several motorcycles hang from the ceiling. Les proudly explained that his son is a well-known motorbike rider. The family moved to Temecula Valley 20 years ago to give their son the opportunity to have space to ride his motorbike. If motorbikes hanging from the rafters is an unusual site in a barrel room aging wine, consider how unusual is one of Les's inventions, a beer-like wine. On tap we tasted a Viognier wine made with yeasts typically used for beer. It had an amber color and large head. It was sweet and delicious.
We believe you will enjoy a visit back to a fairy tale time, where all ends with "Happily Ever After."
Briar Rose
41720 Calle Cabrillo
Temecula, CA 92592
GPS: N33º 30.981' W117º 04.852'
Related article on Examiner.com National edition
---
Visit these California organizations and wineries that partner with Wine Trail Traveler.