Hart Winery
by
Kathy Sullivan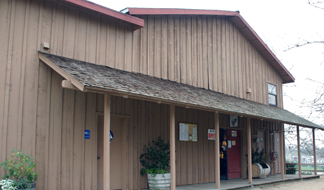 Summary: Hart Winery is a small boutique winery. Joe Hart would like the public to know the winery's excellent wines reflect the terroir of the region. He likes to focus on the wines. Visitors to the winery will discover a friendly and casual winery.
We enjoyed our visit with Joe Travis Hart, owner along with his wife Nancy. The focus of the winery is on the wines and while you are visiting your will see a few wine related items in the tasting room but not shelves and shelves of them.
Joe learned about wine while he was in the service in Europe. While in southern Germany he tried wine with German food. "Wow! The wine was great," said Joe. Then he went to Venice and a carafe of red wine came with the meal. "Wow!" stated Joe. "Wine and food work together."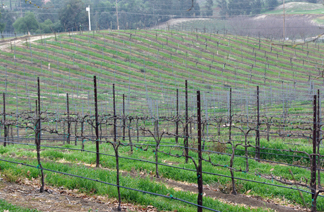 For years, Joe was a public high school teacher while memories of the wines in Europe stayed with him. He became friends of the parents of one of his students who were wine enthusiasts. They inspired him to learn more about wine. Eventually Joe and his wife decided to purchase land in Temecula and start a vineyard in 1974. The vineyard has Syrah, Viognier, Sauvignon Blanc, Roussin and Cabernet Franc. The first crush was in 1980 and Joe produced 800 cases of wine. Today the winery produces about 5,000 cases. One third of the grapes are from the Hart vineyards and the other needed grapes are sourced from local vineyards. Joe is content with the size of his production and seeks to continually create quality wines.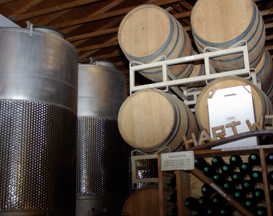 While we visited with Joe, we tasted several of his wines at the wine counter. Behind the counter, one can observe the oak barrels and stainless steel tanks.
White Wine
Sauvignon Blanc 2007 offered a tropical fruit-like pineapple aroma. The taste was of tropical fruit and citrus. The finish was crisp with a long fruit salad aftertaste. This was a NWIC 2008 Gold Medal Winner. Suggested pairings include oysters, grilled fish and garlic chicken.
Red Wine
Grenache 2006 had a nose and taste of a blackberry fruit. The finish was crisp with tannins and a berry aftertaste. Tempranillo 2005 offered an aroma and taste of blackberries and blueberries with spice and oak. The finish had soft tannins with crisp fruit. Sangiovese offered a cherry aroma and taste. The finish was crisp with mild tannins. It had a long cherry aftertaste. Barbera 2006 had a cherry aroma and a very fruity taste. It had a cherry finish with tannins. Consider pairing Barbera with risotto or northern Italian dishes. Cabernet Franc 2005 had a spice aroma with the taste of dark fruit and spice. The finish was crisp with tannins and fruit.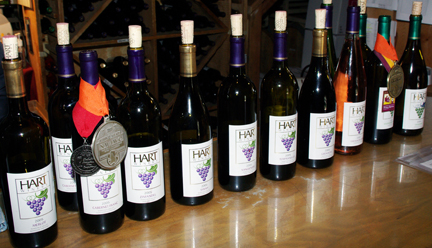 Hart Family Winery is a good winery to visit if you want to learn more about wine. The staff is knowledgeable and friendly. The winery's rustic style presents wine in a friendly and relaxing manner. This winery is very focused on producing quality wines that reflect the terroir of the region. Most of the wines are sold from the tasting room.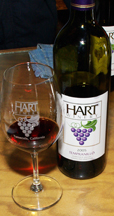 Most events at the winery are winemaker's dinners, which are available to Wine Club members. Check the winery for details about their Wine Club membership.
Joe is happy with his career change from public school teaching to winemaker. He still keeps his hand in teaching, by teaching adult wine education classes. Enjoy a visit to Hart Family Winery where you will taste wines representative of the region.
Hart Winery
41300 Avenida Biona
Temecula, CA 92591
GPS: N 33° 31.365' W117° 05.561'
---
Visit these California organizations and wineries that partner with Wine Trail Traveler.