Vindemia Vineyard & Estate Winery
by
Kathy Sullivan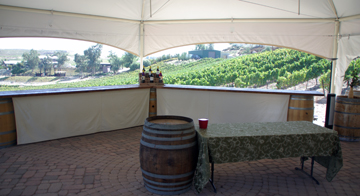 Summary: David and Gail, owners and winemaker are passionate about creating good wines. They are particularly interested in red wines. David and Gail are delightful and enthusiastic about producing quality wines, especially red wines.
David and Gail Bradley started Vindemia Vineyard and Estate Winery in 2005. They named the winery Vindemia because it is Latin for "on the vine." The winery is an extension of their adventurous hot air ballooning enterprise, California Dreamin'. Whether you are interested in wine or hot air ballooning the Bradleys have something to offer you.
As a hot air balloonist, David found a strong connection between vineyards and hot air ballooning. A hot air balloonist needs to know about the weather and air currents. This is the same knowledge that successful viticulturists need to know. While flying passengers over Temecula wine country, David would tell them about the vineyards below. He could identify varietal grapes from the air. David and Gail became fascinated with the idea of starting a vineyard and winery. They made the decision to start a winery in 2002.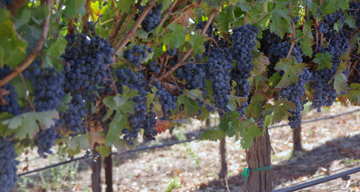 Vineyards
The estate vineyards consist of five acres planted in 2004 and 2005. Varieties included Zinfandel, Grenache, Syrah, Cabernet Sauvignon and Petite Sirah. In the future they will add Petit Verdot. On the day of our October visit, some of the last red grapes were harvested in the early morning. Eventually the Bradleys would like Vindemia Estate Winery to produce 5,000 to 8,000 cases. In addition to the five acres of grapes, the property has 100 olive trees. The olives are harvested and olive oil is produced.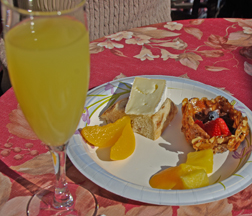 Wine tastings are available Fridays thru Sundays. For those who participate in the early morning hot air balloon adventure, the experience ends with a light breakfast that includes a mimosa (orange juice and sparkling wine) and delightful fruit pastry, fruit, bread and cheese. Currently tastings take place under a large tent adjacent to the vineyards. The hot air balloon breakfast occurs a few feet away on a terraced area. Eventually David and Gail will add a tasting room building at the location of the tasting tent.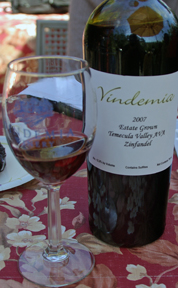 Wines
The 2008 Grenache Estate Grown wine offered notes of red berry fruit on the aroma and taste. The taste was light and fruity. The finish was crisp with a fruity finish. Cabernet Franc 2008 was a ruby color with an aroma of black fruit. The taste offered notes of plums and blackberries. The fruity finish had mild tannins. Zinfandel Estate 2007 was ruby with black fruit notes and a hint of a very light perfume. The taste was of black fruit. The finish had bold tannins and was fruity. Commonwealth 2006 was a blend of Merlot, Cabernet Sauvignon, Petit Verdot and Cabernet Franc. The aroma and taste had black fruit nuances. There were medium tannins with a fruity finish.
Enjoy a visit to Vindemia and if you have the opportunity take a hot air balloon ride with California Dreamin'.
Vindemia Vineyard and Estate Winery
33133 Vista del Monte
Temecula, California 92591
GPS: N33º 32.203' W117º 04.715'
---
Visit these California organizations and wineries that partner with Wine Trail Traveler.