Doffo Winery
by
Kathy Sullivan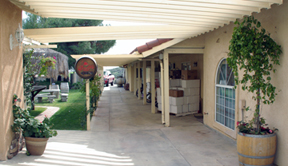 Summary: Doffo Winery is a petite winery where Marcelo Doffo, carries out his dream of creating quality wines. Enjoy visiting with Marcelo as you taste his wines. Vertical tastings are offered on Saturdays. Tastings are by appointment.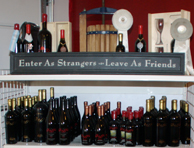 Upon entering, this petite winery, we noticed a sign "Enter As Strangers – Leave As Friends" and that is exactly the way we felt when we left Doffo. Marcelo Doffo is the friendly and enthusiastic owner and winemaker at Doffo. We also discovered that he has other interests besides winemaking when he offered to show us his collection of motorcycles.
Marcelo originally from Argentina gained his passion for farming from his family who farmed corn and wheat. Upon visiting relatives in Italy, he became enthused about starting his own vineyard and producing his own wine. The result is Doffo Winery. Currently Marcelo produces fewer than 1,000 cases.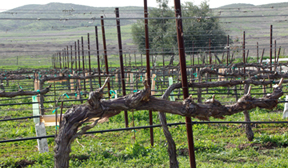 In the vineyards, Marcelo plants vines at 6 x 4 high density. He plays classical music to his 7-½ acres of grapevines. In his vineyards, he has Cabernet Sauvignon, Syrah, Cabernet Franc, Petite Verdot, Merlot, Malbec, and Zinfandel.
Marcelo commented, "I do really good with reds." Marcelo uses the "old fashioned way" of making wine. He does not filter his wines. He punches down his wines and to transfer from the must to the barrels, he uses buckets.
While we learned Marcelo's story we also tried his wines. Sauvignon Blanc had a tropical fruit taste and was smooth. The finish had lingering tropical nuances. Viognier 2006 was fruity and smooth, drying on the finish.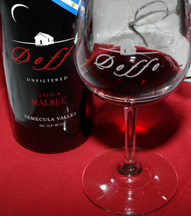 Syrah 2003 had a dark purple almost opaque color. The wine was fruit forward. Malbec 2004 had a black fruit aroma with a smooth black fruit taste. The finish was fruit forward with mild tannins. Cabernet Sauvignon 2004 was dark purple. The aroma and taste were of blackberries and the wine had a velvet mouth feel. The wine had a fruity finish with tannins. Cabernet Sauvignon 2005 was a dark purple. The aroma and taste were of blackberries. It was smooth. The aftertaste was fruit forward and there were more tannins than the 2004. The non-vintage Port was an easy drinking wine with a velvety, smooth taste. There was no heat on the finish. The aftertaste was fruit forward.
The tasting room was under renovation when we visited. Marcelo indicated it would soon be finished. Just outside of the tasting room, a small, petite garden area is available for enjoying a glass of wine. Marcelo created an oval wood tasting counter on brick in the middle of the grass. Make an appointment to visit with Marcelo and taste his wines.
Doffo Winery
36083 Summitville
Temecula, CA 92592
GPS 33º 33.825' W 117º 01.819'
---
Visit these California organizations and wineries that partner with Wine Trail Traveler.