Palumbo Family Vineyards & Winery
by
Kathy. Sullivan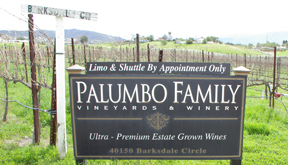 Summary: Palumbo Family Vineyards & Winery is a small "artisanal" winery located atop a higher elevation than its neighbors. When you visit, take time to notice the distant mountains. Limos and shuttles need advance appointments.
Palumbo Family Vineyards & Winery is an "artisanal" winery owned by Nicholas and Cindy Palumbo. Nicholas has been in and around food his whole life. Fine dining led to his interest in wines. He wants to craft fine wines that will be respect by the wine industry Although he has a white wine, his focus is on crafting red wines.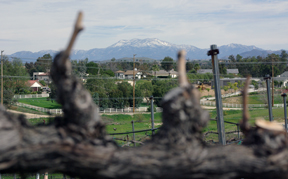 The vineyards were planted in 1991. The Palumbos purchased the property in 1998 and sold the fruit to wineries until 2002 when they opened their winery. The 13 acres of vineyards consist of Cabernet Sauvignon, Cabernet Franc, Sangiovese, Merlot, Syrah and Viognier. The vineyards are located at 1,300 to 1,400 feet. Nicholas harvests less than 3 tons per acre. Pause a moment in the vineyards and look at the scenery. In early March there was still snow on the distant mountains.
Currently, the winery produces 2,000 cases. Nicholas wants the winery to have "controlled growth." He is comfortable with growing to between 3,000 and 4,000 cases. Wines are available at the tasting room and through the private wine club. Nicholas uses minimal filtering in producing his quality wines. We tasted several wines beginning with a white wine.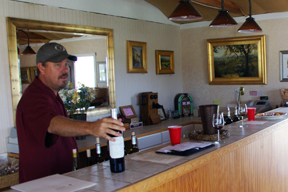 Dorothy Alice Viognier 2006 offered a floral and citrus aroma with a tropical fruit taste. The finish was crisp with layers of tropical fruit. The wine was named after the grandmother of the owners of the vineyard that provides the Viognier grapes. Nicholas commented that this is the only white wine he is interested in producing.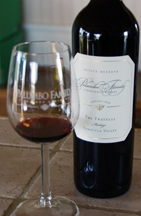 Estate Merlot 2005 had a dark fruit aroma and taste. The finish had good tannins and a fruit aftertaste. Cabernet Sauvignon 2005 offered an aroma and taste of blackberries. The wine had a smooth mouth feel. The finish offered bold tannins and was fruity. Cabernet Franc 2005 had an aroma and taste of dark fruit. The taste was smooth. The finish had very bold tannins and was fruity. Tre Fratelli 2006 was a blend of Cabernet Sauvignon, Merlot and Cabernet Franc. The wine offered dark fruit aroma. The taste was of dark fruit and was smooth. The finish had bold tannins and was fruity.
The tasting room is small and concentrates on tasting wines. However, unique shirts and hats are available that say "just add wine." Cindy is responsible for this cute quote. Just in case you are wondering about using it, the Palumbos have trademarked it. In addition, a small selection of gourmet foods and books are available in the tasting room.
Nicholas enjoys the vineyard work using his tractor. He knows there is a connection between farming, nature and beach. Enjoy a visit to Palumbo Winery where you will discover a small winery that is devoted to making the finest red wines. Dorothy Alice Viognier is also available for white wine lovers.
Palumbo Family Vineyards & Winery
40150 Barksdale Circle
Temecula, CA 92591
GPS: N 33º 32.543' W117º 02.066'
---
Visit these California organizations and wineries that partner with Wine Trail Traveler.