Thornton Winery
by
Kathy Sullivan
Summary: Thornton Winery offers visitors a delightful opportunity to taste wines. Enjoy the landscaping including a fountain terrace and culinary herb garden. Partake in a gourmet meal at Café Champagne a few steps from the tasting room. Thornton Winery produces quality wines and offers tastings at tables in place of tasting at a counter. John Thornton, owner, believes "people are taking notice of Temecula."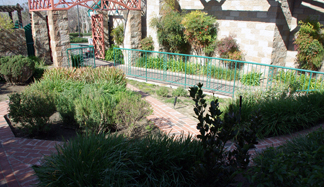 Thornton Winery provides visitors with a lovely ambience in a French-style chateau. As we walked from the parking area to the tasting room we walked into a culinary garden used by the kitchen throughout the year for creating gourmet meals. In addition to the herbs there are orange trees offering color during late February. A short stroll will take you to a water fountain. From this vantage point, you can enter the winery tasting room or the restaurant.
While the tasting room has a counter, Thornton brings a special style to its tastings. A wine server brings wine tastings to each individual small table. This provides a very relaxing atmosphere. It is also a welcome relief for wine tasters who visit multiple wineries. Standing at counters does take its toll. While in the tasting room, notice the bottle of wine on a shelf and the stand; the stand is made from an old, thick grape vine.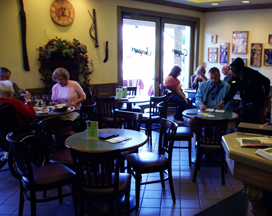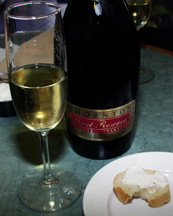 John and Sally Thornton founded the winery with another family in 1988 to focus on sparkling wine. It was called Culbertson Winery. The winery was renamed Thornton Winery 1993. That year they added still wines to the portfolio. Today they continue to own and guide the winery while their son Steve Thornton is president of the company.
There are six acres of vineyards on the property devoted to Syrah and Petit Syrah. Other wines produced at the winery are sourced from Temecula grape growers with the exception of Zinfandel. The winery sources additional grapes from 18 growers. Don explained one of Riverside County's ordinances. Seventy-five percent of wine production must be from Riverside County grapes. Currently Thornton Winery produces 20,000 cases of wine. One-half are sparkling wines and one-half are still wines.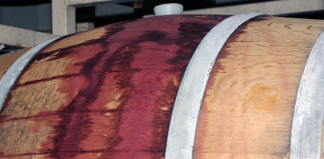 We met Don Reha, winemaker, who has had a wide range of winemaking experiences. Don grew up on a vineyard. He started at Fetzer Vineyards in 1988 where he stayed for five years. In 1995 Don was at Cline Cellars as assistant winemaker. By 1999, Don was the director of winemaking at Renwood Winery and in 2003 he joined Thornton Winery. Don gave us a tour of the production facilities. In the winery, oak barrels are 60 percent French and 40 percent American made.
Don spoke of Pierce's disease and how it forced many growers to plant the best varieties for this area. These included Rhone, Italian and Spanish varietals. Tempranillo and Zinfandel do well in this region.
Thornton Winery has a good relationship with growers. Don likes to experiment with some small lots of wine. For example from one vineyard, he uses natural yeast for fermentation. This produces a fantastic wine.
Numerous events take place at the facility. During the summer from April thru October, 21 smooth jazz concerts take place. Between 400 and 1,000 people attend these concerts that feature food, wine and music. People who attend concerts can purchase a bottle of wine and receive two wine glasses.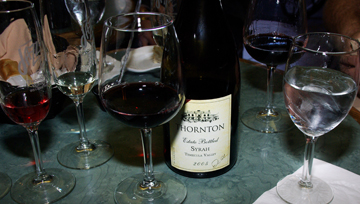 While visiting with John and Steve Thornton and Don, we tasted a number of wines. The tasting was at a table in the tasting room. Bread and a goat cheese spread accompanied our tasting of several wines. Brut Reserve 1999 was a blend of Chardonnay, Pinot Blanc and Pinot Noir. The result was an aroma and taste of apple and pear. The wine was dry and palate cleansing. Cuvée Rouge, a blend of Syrah and Grenache had a dark red color. The aroma was a red berry fruit and the taste was very fruity. It also was very palate cleansing. Cuvée de Frontignan was produced with Muscat. The aroma was of floral and orange nuances. The taste had a slight sweetness. It was crisp and palate cleansing.
For still wines, the Viognier offered a floral and fruit aroma. The taste had pear and peach nuances. The wine had a long fruit aftertaste. Estate Bottled Syrah was a dark purple opaque color with a fruit forward aroma and taste of blackberries. It finished with bold tannins and it had a long fruit aftertaste.
Lunch at Thornton is a visitor's delight. Chef Steve Pickell provides a gourmet selection of items to choose from the menu. In the kitchen he supports the "whole food movement." For lunch, we enjoyed swordfish with mashed potatoes and an herb butter entrée and the other entrée was an open faced roll with swordfish and bacon. Everything on the menu has a wine recommendation.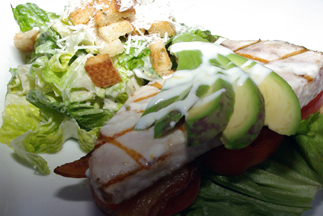 John Thornton would like people to know that Thornton Winery produces high quality wines and it is a family owned winery. He wants the "highest quality and to work economically." In addition, it has one of the best restaurants in the area. The winery offers visitors food, wine, blending sessions and cooking classes. An upcoming cooking class will be "Spring's Bounty." In addition to learning how to prepare some foods, take-home recipes will be available. To sum it all up, John Thornton believes that "we win by getting people into the winery." Our "goal is to be one of the best."
We believe you will enjoy a visit and return visit to Thornton Winery in Temecula Valley.
Thornton Winery
32575 Rancho California Road
Temecula, CA
GPS: N 33º 31.172' W117º 05.398'
Related article on Suite101.com
Thornton Winery Introduces Winemaker and 2010 Fall Menu article
---
Visit these California organizations and wineries that partner with Wine Trail Traveler.