Baily Vineyard & Winery
by
Kathy Sullivan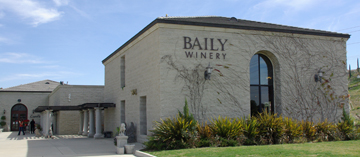 Summary: Baily Vineyard & Winery is a delightfully friendly winery to visit. The winery facility is located several miles from the tasting room. Phil Baily has created a special wine label commemorating Old Town Temecula's 150th birthday in 2009. While visiting Baily Winery tasting room, have lunch onsite at Carol's Restaurant.
We enjoyed visiting with Phil Baily, owner and winemaker at Baily Vineyard & Winery. Phil and his wife, Carol, first became interested in wine in the 1960's, spending all their free time visiting wineries. In these travels, they discovered Temecula Valley, and in 1981 moved there. They started growing grapes in 1982 and in 1986 opened the winery. Baily is now the third oldest winery in Temecula. The current tasting room opened in 1999, and in 2001 the Bailys built a new, state-of-the-art production facility.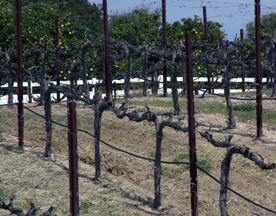 Baily is hands-on in all aspects of the winemaking process, and only he and his son, Patrick, work in the cellars. "We believe that If you want things done right, you do them yourself," says Baily. All Baily wines are filtered using technically advanced equpment producing the cleanest, most biologically stable wines. "Saying your wines are unfined and unfiltered may sound good from a marketing standpoint, but it is a scientific fact that all of the molecules that provide the flavors and agreeable textures in wine are hundreds of times smaller than the pores of the filter. The filter takes out only the much larger bacteria and sediment molecules that can cause wine to develop off flavors and aromas." As an added guarantee of sound wines, Baily uses synthetic corks. They have all of the good attributes of a natural cork with none of the bad. "The natural cork is the best closure you can use, but it is also the worst, said Baily, "because there is no process to guarantee that none of the corks are tainted. Moreover, corks are not uniform and over time the wines will vary from bottle to bottle, with some of them tasting better than others. Our supplier, Nomacorc, provies us with a product that is completely uniform and by nature is guaranteed not to have cork taint."
Baily believes that many grapes grow well in Temecula Valley, especially the Bordeaux varieties. Baily Winery specializes in wines made from them including Cabernet Sauvignon, Cabernet Franc, Merlot, Malbec, Sauvignon Blanc and Semillon, all are which are grown on the estate. Baily makes delightful Rieslings, a wine he became enamored of when he was in the Army stationed in Germany.
The winery produces 5,000 cases per year, over half of wich are the red Bordeaux varieties. These wines are aged in small oak barrels for 30 months, longer than at most wineries, and result in wines with a more refined texture and added complexity. The Baily wines also spend more time in the bottle before release, and the red wines currently on sale are already four to six years old, yet they are generally priced no higher than the younger wines being sold at most wineries in the state. Currently the tasting room has 2003, 2004 and a few 2005 wines available for tastings and sales.
We went to the tasting room where we tasted several wines. The tasting room is large and elegant with a friendly, knowledgeable staff. It is reminiscent of a castle's great room. The high ceiling, stonewalls, tapestries and coats of armor give one the feeling of tasting wines in a castle.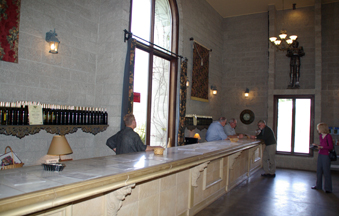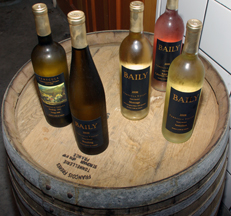 White and Rosé Wines
The Semillon 2008 had aromatic notes and citrus taste. The finish was crisp. Montage 2008 is the winery's flagship white. It is a blend of Sauvignon Blanc and Semillon. The aroma and taste were of tropical fruit. The wine was crisp and refreshing. Rosé of Cabernet Sauvignon 2008 had a light rose-orange color. The aroma and taste were of strawberries. The finish was crisp and refreshing. Riesling 2008, Dry Temecula had a lower alcohol at 11.8 percent. This is the white wine that commemorates the 150th anniversary of Old Town Temecula. The taste of the wine was of tropical fruit salad. The finish had a touch of effervescence with a long fruit aftertaste. Riesling 2008 with 10 percent alcohol was slightly sweet with two percent residual sugar. The wine was balanced with acid and sugar. It was very fruit forward with a slight effervescence.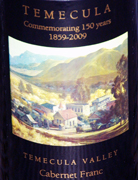 Red Wines
Sangiovese 2006 offered an aroma and taste of cherry. The finish was crisp with tannins. Merlot 2005 was almost an opaque dark purple. The aroma and taste were of cherries and vanilla. The finish was very fruity with tannins. Cabernet Sauvignon 2005 was a dark ruby color with an aroma of blackberries. The taste was very fruity with a silky mouth feel. The finish was long with tannins and there was fruit on the aftertaste.
Cabernet Franc 2007 had a Temecula Commemorative label. This is the red wine celebrating Temecula's 150th anniversary. The aroma and taste were of dark fruit and spice. The finish was very fruity with spice and tannins. Cabernet Franc 2004 was a translucent ruby. The aroma and taste were of dark berry fruit. The finish had bold tannins, with fruit yielding to spices. Meritage 2003 was a blend of Cabernet Sauvignon, Merlot and Cabernet Franc. The aroma was dark fruit and spice. It had a silky mouth feel. The finish had tannins with fruity and spice nuances.
Port
Vintage Port 2003 was produced from Cabernet Franc and had a ruby opaque color. The aroma had raisin and typical port nuances. It was silky and smooth. The finish was sweet and fruity.
Adjacent to the tasting room is the winery's restaurant named Carol's Restaurant. Carol Baily is the Executive Chef at the restaurant. Seating at the restaurant is indoors and outdoors. The indoor room has a fireplace, and a delightful selection of other accoutrements. We had a lovely lunch outside under the pergola with Greek style columns and views of the vineyards.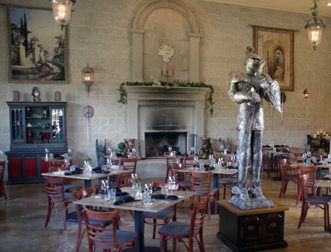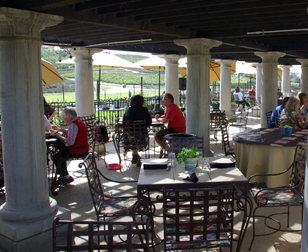 Baily's son and daughter-in-law own a restaurant in Old Town Temecula, with two different styles. The upper level is Baily's Fine Dining and on the lower level casual dining is offered in the Front Street Bar & Grill. We enjoyed an evening dinner at Baily's Elegant Dining. If you are looking for a casual dinner experience, consider the Front Street Bar & Grill.
Enjoy a wine tasting at Baily Vineyard & Winery and when visiting Temecula Valley enjoy a fine lunch or dinner at one of the Baily restaurants.
Baily Vineyard Winery
33440 La Serena Way
Temecula, CA
GPS: N 33º 31.412' W117º 05.007'
---
Visit these California organizations and wineries that partner with Wine Trail Traveler.