Callaway Vineyards & Winery
by
Kathy and Terry Sullivan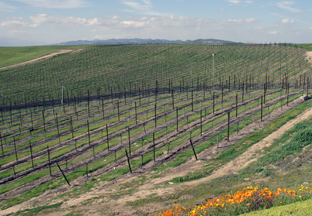 Summary: Callaway Vineyard & Winery offers tourists a delightful winery visit. Consider enjoying lunch in their outdoor restaurant. Callaway wines are available only at the winery in Temecula Valley. This year is the 40th Anniversary of the founding of Callaway Vineyard & Winery.
Callaway Vineyard & Winery is located high above Rancho California Road. The long white building with a green roof is easily visible from below. Ely Callaway started the winery in 1969. Today the winery has 49 acres of grapes including Dolcetto, Sangiovese, Chardonnay, Cabernet Sauvignon, Zinfandel and Viognier.
We met Kristin Sartore, Marketing Manager, who gave us a tour of the Callaway Vineyard and Winery. Near the tasting room and winery, a large grass area with landscaping and dramatic views of vineyards offers a perfect location for a wedding. A staff member from Callaway will help the bride and groom with all of those little details to make the day go smoothly. The large barrel room is available for wedding receptions.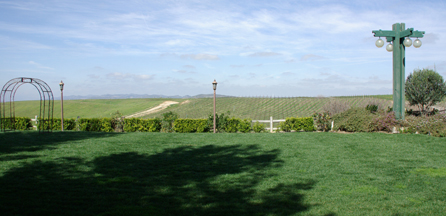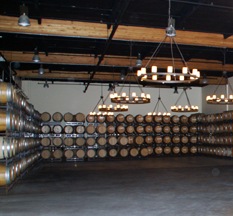 At one point, Callaway along with several other wineries was part of a large corporation. As part of the corporation, they produced 300,000 cases of wine. When the corporation dissolved, the winery turned to private ownership. The Lin family from San Diego purchased the property. Today the Callaway Vineyard & Winery concentrates on producing 25,000 cases of quality wine. Although you may notice the name Callaway on wine sold in retail stores, it is not the same Callaway wine as sold at Callaway Vineyard and Winery. The winery only sells their wine in the tasting room.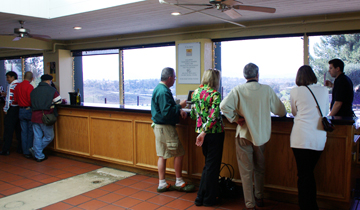 Upon entering the tasting room, people will notice a lovely selection of gift items. As you browse the selection, look for the hand painted bottles. Orders for these colorful floral bottles take three to five days but are well worth the wait. Other available items include clothing, bread dippers, gift boxes with two bottles of wine and gift baskets with wine and wine accessories. The tasting room has a long wine counter. A wall of windows behind the tasting counter provides visitors with wonderful views looking out over the vineyards and horizon.
In the Callaway tasting room, visitors have the opportunity to participate in a Wine & Truffle Tasting. The tasting fee for this special tasting is $20 although Wine Club members receive $5 off. This special tasting includes four wines: Sauvignon Blanc, Chardonnay, Merlot and Cabernet Sauvignon. The truffles are citrus lavender honey truffle, ginger praline truffle, salted caramel truffle and origin Peru truffle. If you enjoy this tasting, Callaway offers a "Wine & Truffle Tasting Kit" so that you can try this at home with friends and family.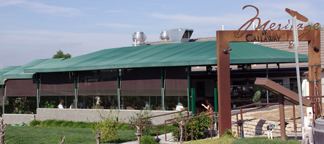 Meritage Restaurant a part of the Callaway winery is located across the parking lot in a typical southern California style outdoor venue. The restaurant opened in April 2008 and offers outstanding foods and views of the surrounding vineyards and mountains. High walls of glass protect visitors from gusts of winds and moveable heaters are available. We enjoyed a delightful lunch in the restaurant where we met Michael Henry, the Executive Chef. He tries to use fresh, local produce in the restaurant. Michael emphasizes tapas in his restaurant. In addition, menu selections include: starters, entrées, soups/salads, sandwiches, pizzas and desserts. Our lunch consisted of several of his creations paired with wines. The presentation of the food was excellent. We especially enjoyed the pizza with clams and calamari.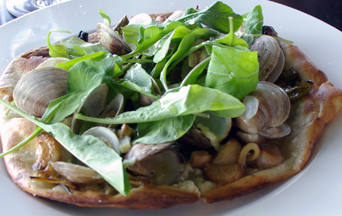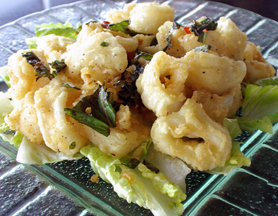 We tasted several wines. The NV White was a blend of Chardonnay, Semillon and Viognier. The aroma was of stone fruit and the taste was of peach flavors. The finish lingered with fresh fruit nuances. Viognier had an aroma and taste of tropical fruit and floral nuances. The finish was fruity. Muscat Canali 2007 offered an aroma and taste of flowers and oranges. The aftertaste was sweet with nuances of oranges and roses. Cabernet Franc 2005 offered an aroma and taste of blackberries and spices. The wine finished with fruit giving way to some pepper and spice. Old Vine Zinfandel had an aroma of perfume and the taste was smooth and velvety with black fruit. It had a fruity aftertaste.
Events at the winery include a Grape Stomp in September or October. Candlelight dinners are also available in the barrel room.
Visit Callaway Vineyard & Winery for an excellent winery experience and to purchase their wines. Their wine is not available in retail shops. Their wine is sold only in the tasting room. Enjoy excellent food in a relaxed atmosphere at the Meritage Restaurant.
Callaway Vineyard and Winery
32720 Rancho California Road
Temecula, CA
GPS: N33° 31.483' W117° 05.422'
---
Visit these California organizations and wineries that partner with Wine Trail Traveler.