Keyways Vineyard & Winery
by
Kathy Sullivan
2010 Update

We visited and toured Keyways Winery and Vineyard in February 2008. We returned in October 2010. Keyways Winery and Vineyard continues to be a friendly, welcoming tasting experience. The onyx countertop with lights underneath adds a sophisticated essence to the tasting room.
Terri Pebley Delhamer, the owner of Keyways Winery and Vineyard introduced us to the new winemaker, David Raffaele. On Friday mornings, visitors are treated to a tour of the winery with David. Currently the winery is producing 4,000 cases. David believes that wine is a "fusion between man and nature." He likes the many different winery tasks, and like many winemakers, David feels that wines are expressive of the terroir.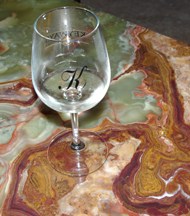 White Wines
Estate Viognier 2009 was a light yellow with a peach aroma. The taste was of peaches and tropical fruits. The finish was fruity. Rousanne 2008 was light yellow with a tropical aroma. The taste was very smooth with tropical fruit nuances. The finish was fruity.
Red Wines
Tempranache 2009 was a blend of Grenache and Tempranillo. The color was red with orange hues. There were red berry notes on the aroma and taste. The taste offered strawberry and red raspberry notes. The finish was fruity. Tempranillo Estate 2008 was a dark red. The aroma offered dark fruit and tobacco nuances while there were blackberry notes on the taste. The fruity finish had medium tannins. Territage 2008 was a blend of Cabernet Sauvignon, Cabernet Franc, Merlot and Petit Verdot. This ruby colored wine had black fruit nuances on the aroma. The taste offered blackberry nuances while the fruity finish had medium tannins.
Make sure to visit Keyways Winery & Vineyard to taste their newest vintages and for a great experience.
---
2008 Article
Summary: Located in an ideal setting between horse and wine country in Temecula Valley, Keyways Vineyard & Winery focuses on producing quality wine. A plus is the music, food and special events. The winery and tasting room are located along the picturesque De Portola Road.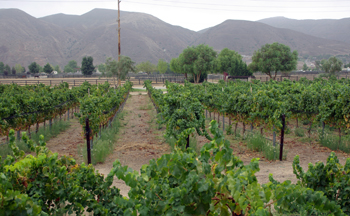 The vineyards planted here in the 1960's consisted of Zinfandel grapes. It was not until 1989 that Keyways Winery opened under Carl Key, founder and winemaker. Carl believed that this area had the potential of producing premium estate wines.
Terri Pebley purchased Keyways in 2004 as an investment and began visiting other wineries to learn more. The winery is a third career for Terri who started as a CPA and then became an attorney. Terri is the first woman to own and manage a winery in Temecula Valley. As owner, Terri has renovated the facility by remodeling the tasting room, adding new labels and equipment. She added landscaping and planted Viognier, Roussanne, Tempranillo and Grenache for a total of seven acres. Currently the winery produces 10,000 cases of wine.
A long porch runs the length of the tasting room and has tables and chairs with antique winemaking equipment displayed. Inside we discovered a busy tasting counter and nearby gift items displayed. Near the tasting bar, numerous tables are available to encourage people to come relax and stay awhile. A large stone fireplace at one of the tasting room adds to the ambience of the room.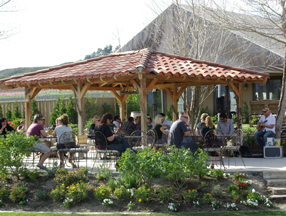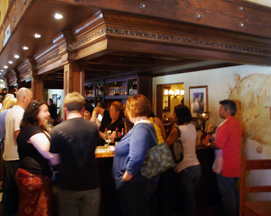 In the tasting room, we tasted several wines with Terri while she talked about what Keyways has to offer visitors.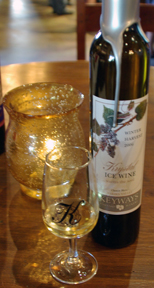 Roussanne 2008 offered a floral nose and citrus taste. The wine finished with citrus and there was a hint of oak on the aftertaste. Barbera 2006 had an aroma and taste of blackberries. The taste had a smooth mouth feel and the wine finished with crisp, mild tannins. The color of the Tempranillo 2006 was a ruby translucent color. The wine offered a cherry aroma and taste. There was also spice on the taste. The wine finished fruity with light tannins. Krystal Ice Wine 2006 was produced from Chenin Blanc. The aroma was of honeysuckle and the taste had flower nuances with honeysuckle. The finish was balanced with sweetness and acid.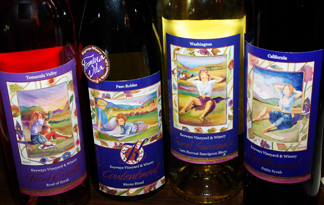 Keyways has established a special line of wines for women. Named Famina Vita, the wines are to celebrate women's lives, support women and what they contribute to society. These wines are attractive to women and some are lighter and have a lower alcohol level with fewer calories. According to Terri, "It's about celebrating women." These wines include First Crush a Rosé of Syrah, Contentment a Rhone Blend, Spellbound a Petite Syrah and Sweet Surrender a late harvest Sauvignon Blanc. The Sweet Surrender offered a sweet summer fruit aroma with a sweet smooth balance. The finish was smooth with fruit on the aftertaste. According to Terri this wine is a good seller. The labels for the Famina Vita line of wines are from the artwork of a Napa artist, Jessel Miller. The original artwork is in the tasting room.
Women will be pleased with the opulent bathroom. Using top of the line materials, the bathroom includes hammered copper stalls, Brazilian onyx countertops, copper sinks and an array of unusually decorated tile walls. Flowers and candles enhance the room.
Winery events include a piano bar with music, wine and food available on Friday nights. On a Sunday visit to the winery, we discovered live music outside in a gathering area. A good-sized crowd gathered on an early March Sunday afternoon to listen to the music and drink wine. Live music is available every Sunday afternoon.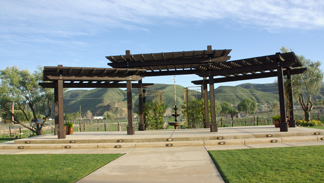 Private events include weddings and receptions. An outdoor open air design constructed of wood rests in front of a fountain with vineyards directly behind. Mountains showcase the vineyards and provide a lovely setting for a wedding. A large covered reception area is available for large events, while an elegant small room can also hold small meetings or get-togethers.

Keyways Vineyard & Winery does not distribute to stores so be sure to stop by the winery to see what you are missing. While there stay awhile and enjoy the wines and the ambience. Terri has added all the little details to the winery that mean so much to visitors and will make them want to return again and again.
Keyways Winery
37338 De Portola Road
Temecula, California 92592
GPS N33º 30.523' W117º 01.195'
---
Visit these California organizations and wineries that partner with Wine Trail Traveler.