Foot Path Winery
by
Kathy. Sullivan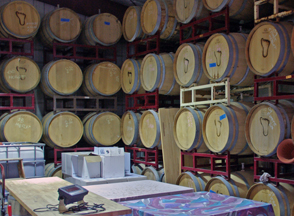 Summary: At Foot Path Winery, visitors will discover a no frills winery and a certified organic farm. Wine travelers will have the opportunity to talk with the winemaker, hear his story and learn more about wine.
Located in Temecula, California Foot Path Winery has a different style than most Temecula wineries. This is a 100 percent family operated winery owned by Deane Foote and his wife. The winery with barrels and tasting counter is located in a rustic barn setting. When help is needed in the vineyard or the winery the whole family pitches in to help including nieces and sons-in-law.
When the winery is making wine visitors can watch the process. People will ask if they can help and Deane will let them help. For example, he will show them how to punch down the must. This is a great photo opportunity for visitors and Deane is more than happy to take their photo.
The owners originally chose the name Foote Print Winery but eventually changed the name to Foot Path Winery. Deane's parents had a ranch in Utah called Foote Print Ranch and they used the name in Temecula. Eventually Deane dropped the "e" as they had a trademark for "foot path."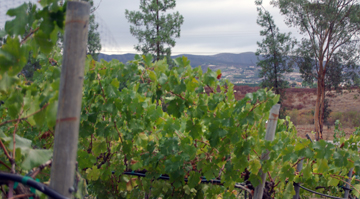 Deane enjoys making wine and relating his winemaking knowledge to visitors. He focuses on red wines but related his experience of producing a pomegranate wine. Deane along with his wife spent many hours removing the seeds from pomegranates to have enough to produce a wine. According to Deane, the wine was excellent but he will not make the pomegranate wine again due to the amount of labor involved.
.
Vineyards
Deane planted three acres of vineyards beginning in 2002. Originally Deane planted vineyards just to make wine for the family. Then he started producing more and more wine. Today the vineyards include Malbec, Cabernet Sauvignon, Cabernet Franc, Merlot, Syrah, Petite Verdot, Pinot Noir and Muscat Blanc. The vineyards are certified organic.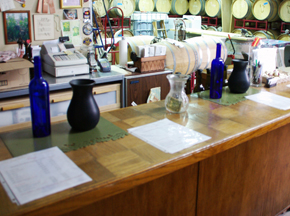 Wines
Foot Path Winery produces 1,000 to 1,200 cases of wine. Petit Verdot 2007 was a dark purple to black color with dark fruit on the aroma. The taste also had dark fruit notes with plum. There were medium tannins on the finish. Merlot 2007 was a ruby to sienna color. The aroma and taste offered red cherry nuances. The finish had mild tannins and was fruity. Syrah 2007 was purple and had dark fruit on the aroma and taste. There were mild tannins on the finish. Estate Left Foote 2007 was a ruby color produced with a blend of Petite Verdot, Cabernet Sauvignon, Malbec, Cabernet Franc and Syrah. The aroma was like a black fruit cocktail and there were layers of black fruit on the taste. The wine had medium tannins. Zinfandel 2008 was a late harvest wine. It was a sienna color and well balanced. Late Harvest Zinfandel 2005 offered a sweet taste with plum and raisin hints. The wine had a long finish. Krazy Foot was a blend of six wines including five Bordeaux wines. Syrah was also added to the blend.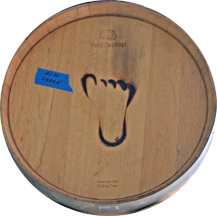 The fruit farm is a totally different business. However, depending on the time of year visitors can discover organic fruits including pomegranates, oranges, tangelos, lemons, limes, grapefruit and figs at the winery.
This winery is about the wine and winery experience, one that visitors will remember for years. Experience a special winery visit when visiting Foot Path Winery. Be sure to ask Deane to relate the story of the pomegranate wine.
Limousine tours should contact the winery for an appointment.
Foot Path Winery
36650 Glen Oaks Road
Temecula, California 92592
---
Visit these California organizations and wineries that partner with Wine Trail Traveler.