Leonesse Cellars
by
Kathy Sullivan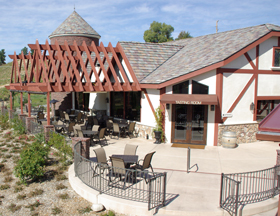 Summary: Leonesse Cellars provides people the opportunity to enjoy wine country in Temecula Valley. The winery specializes in Rhone varieties including Syrah, Viognier, Chardonnay, Pinot Grigio and Dry Muscat. The tasting room has beautiful views of the rolling hills, many with vineyards.
As a dream of the owners, the winery was appropriately named Leonesse. In Scottish leonesse means "the village of dreams." The two couples who own and operate Leonesse Cellars, Gary and Lana Winder with Mike and Lisa Rennie, began their dreams of owning a winery in the late 1990's. The winery opened in 2003 and the first vintage was a Cabernet Sauvignon in 2002. Today the winery produces 30,000 cases. Tim Kramer, winemaker, prides himself on the quality of his red wines. They built the large, elegant tasting room in 2006. The restaurant opened in 2007 and is open on a seasonal basis. In 2009, the restaurant will reopen in May.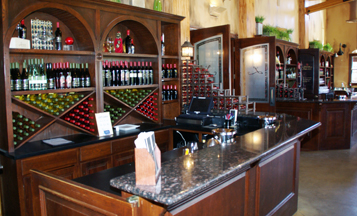 The tasting room is large and elegant. Light wood walls highlight the dark wood tasting counters. A selection of giftware is available to browse. Also view the unusual food items including "Farmhouse Apple Pie in a Jar," "Oven Roasted Garlic Mayonnaise" and "Spiced Cranberry Glaze."
There are four separate tasting counters allowing space between groups of people. We tasted several wines. The tasting room has three tiers of wines available including Cellar Selection Series, Vineyard Selection Series and Signature Selection Series. The Cellar Selection Series appeals to different types of palates. People will undoubtedly find something they will like. The Vineyard Selection Series are produced only in small lots and are 100 percent individual varietals. The Signature Selection Series are created by blending varietals. They are aged in oak barrels for a long time. When people join the Wine Club, they choose between one of these three series of wines.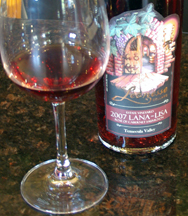 Rosé Wines
Lana-Lisa 2007 was a translucent raspberry color that sparkled in the glass. The fruit aroma was of raspberries and cranberries. The taste was dry with fruit nuances. The finish was dry. A suggested pairing was with turkey at Thanksgiving. White Merlot 2007 was a very light red translucent color. While the aroma and taste were sweet, the finish was somewhat dry. Leonesse Cellars was the first in Temecula Valley to make a white Merlot.
White Wines
Dry Muscat Canelli 2008 offered a floral orange blossom aroma. The taste was of yellow stone fruit – peach and apricot. The finish was crisp and dry with lingering fruit flavors. There was a perceived sweetness from the fruit. VS Chardonnay 2006 was from the Galway Vineyard. There was an oak, vanilla and caramel aroma. The taste also had oak and vanilla accompanied by melon and citrus. The finish was smooth and crisp with citrus.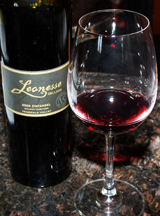 Red Wines
Meritage 2005 was fruit forward with aromas of blackberry and black currant. The taste was smooth and the finish had bold tannins with a long smooth fruit aftertaste. Syrah VS (Vineyard Selection) 2006 offered an aroma and taste of dark fruit. The finish was very smooth with tannins. Melange de Reves 2006 was a blend of Syrah, Cinsaut, Mourvedre and Grenache. The aroma was of cherries and tobacco. There were nuances of cherries and spice on the taste. The finish had mild tannins and was fruity yielding to spice. The Zinfandel 2006 was a Vineyard Select wine with a dark ruby translucent color. The aroma was of dark fruit and spice. The taste had nuances of dark berry fruit and cloves. The finish had mild tannins with a long fruit aftertaste. Cabernet Sauvignon 2005 from the Signature Series offered an aroma of blackberries, spice and eucalyptus. The taste was of blackberry. Syrah-Cabernet Sauvignon 2006 had an aroma and taste of blackberries. The finish was fruity with tannins.
Port
Port 2004 was a Cinsaut Dessert Wine. The aroma and taste were of plum and blackberries. The finish was smooth and velvety.
After our tasting, we went to another building that house barrels aging wine. The winery uses golf carts to take Wine Club members to this facility where Wine Club members have their own tasting counter. This spring (2009) a pathway will be in place for anyone who would rather walk through the vineyards to the barrel building.
The area views are picturesque. Numerous outside areas are available for enjoying a glass or bottle of wine outside with friends and family. When you plan your visit, remember to bring your camera for pictures that you will enjoy for a lifetime.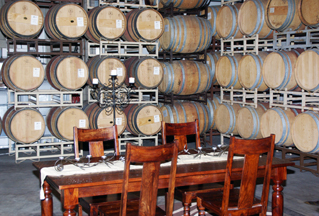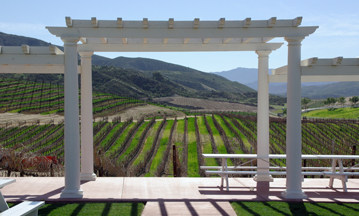 Leonesse Winery
38311 De Portola Road
Temecula, CA 92592
GPS: N 33º 31.431' W117º 01.080'
---
Visit these California organizations and wineries that partner with Wine Trail Traveler.