Robert Renzoni Vineyards
by
Kathy Sullivan
Summary: Robert Renzoni Vineyard's tasting room is currently located in the winery. Robert expects a new Tuscan style villa to be completed in 2011. This is the Italian winery of Temecula and is all about tradition, heritage and family. Robert wants everyone to feel like family. These Italian-style wines are food friendly.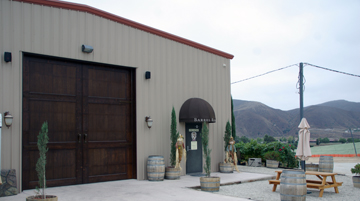 Robert Renzoni Vineyards, located in Temecula, California is a growing boutique winery. A Tuscan villa style tasting room is currently being built near the winery; expected completion is 2011. According to Robert, his winery is Temecula's Italian winery and is about tradition, heritage and family. Robert wants to produce quality wines at the best prices.
Robert Renzoni was born and raised in the wine business. He proudly commented, "Wine is in my blood." Robert made wine and wine vinegar with his Grandfather when he was six. He is a 4th generation winemaker. The Renzoni family has been in the wine business for a long time. Robert is the current proprietor of the winery. In Fano, Italy Robert's great-grandfather, Federico worked in vineyards. At the same time Federico and his father made wine. After coming to America, Federico eventually became involved with the wine business. Prohibition stopped this business but after Prohibition ended, Federico and other family members formed the Italian French Wine Company. They imported and distributed wines. Robert became involved in the business in 1989. This continued until 1994 when the New York based business was sold. Robert then moved to California.
In 2004, he moved to Temecula where he has established the Robert Renzoni Vineyards on the DePortola Road. In addition to vineyards there are 125 olive trees on the property. There are three separate microclimates. The vineyards consist of 13 acres that include Cabernet Sauvignon, Pinot Grigio and Sangiovese. The Sangiovese is on a Brunello clone. Currently the winery is producing 9,000 cases. The wines are distributed to about 45 local restaurants in the surrounding areas.
Robert Mondavi suggested that the winery be named Robert Renzoni. Mondavi believed that people would relate to the name Robert and Renzoni. This would be good for marketing the wines. Robert likes Mondavi's winemaking style. According to Robert, Mondavi was an executive winemaker who took his wine to the streets. Robert Renzoni wants to stay involved in marketing and distribution of the Renzoni wines and in addition wants to be the executive winemaker.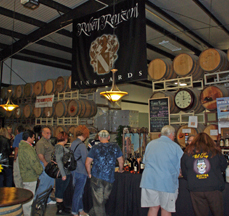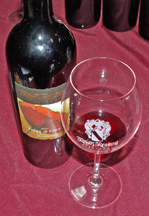 Red Wines
Currently the wine tasting area is located in the winery. Wine tastings are with Stölzle stemware. Tempranillo 2008 was a dark purple. The aroma had black fruit with a touch of tobacco. There were black fruit and spices on the taste. The finish had mild tannins and was fruity yielding to spices. Concerto 2007 was a blend of Zinfandel, Syrah and Merlot. The wine was a dark purple with a light purple rim. The aroma had blackberry with spice nuances. The taste offered blackberry notes. The finish had medium tannins with a long fruity aftertaste. Vecchio Frate "Old Friar" 2007 was a blend of Lagrein and Merlot. The color was a deep purple. The aroma had black fruit and cocoa notes. The taste had spices and there were bold tannins on the finish. Sangiovese 2008 was aged in American oak for 18 months. The wine with 14.8 percent alcohol offered red fruit notes and tannins. The finish lingered. Fiore di Fano 2007 was a blend of Cabernet Sauvignon, Sangiovese, Merlot, Cabernet Franc and Petite Verdot. This wine was aged in French oak for 24 months. The wine offered a soft velvety mouthfeel. Look for cherry, plum and tobacco nuances. Old Vine Zinfandel 2007 was produced from 100-year-old vines. It was aged in American oak for 18 months. The result was a wine that offered dark berry nuances with a hint of pepper. The finish lingered.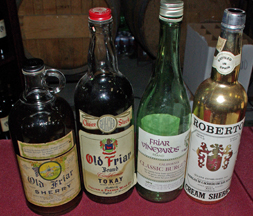 Dessert Wine
Paradiso Port was produced with Touriga Nacional. There were notes of figs on the aroma. The taste was of black jammy fruit and figs. The finish was fruity. This Port pairs well with chocolate.
When you visit Robert Renzoni Vineyards look for tradition and heritage. Robert wants everyone to feel like family.
Robert Renzoni Vineyards
37350 De Portola Road
Temecula, California 92592
---
Visit these California organizations and wineries that partner with Wine Trail Traveler.