Wilson Creek Winery & Vineyards
by
Kathy Sullivan
Summary: Wilson Creek Winery & Vineyards has much to offer visitors who will want to return again and again. Bill Wilson wants visitors to know that they are a "welcoming with open arms" winery. "The tasting room is not an intimidating experience here." The winery produces wine for those who are new to wine as well as wine connoisseurs.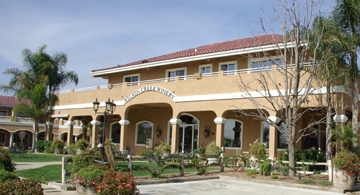 We met Bill Wilson who is enthusiastic about his role at the winery and how it all came about. Although the Wilson family owns the winery, it was Bill who originally came up with the idea. He first approached his parents and then his siblings who all endorsed the idea.
Joan Hanley planted the original vineyards in 1970. The Wilsons purchased 20 acres of this property in 1996 and were able to purchase more at a later date. Construction of the winery began in 1997 and opened in 2000. Currently the winery produces 25,000 to 30,000 cases onsite. Sparkling wine is produced offsite.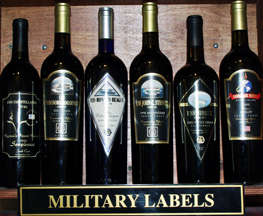 On our tour of the winery, Bill was quick to point out the private labels for several aircraft carriers in the Navy. Private labels include: USS Constellation, USS Theodore Roosevelt, USS Ronald Reagan, USS John C. Stennis, USS Nimitz and the Naval Air Depot. An executive of the USS Constellation visited Wilson Creek Winery in 2002 and asked the winery to create a special custom label: Captains Special Reserve. The Captain wanted to use it for his officers and to give to dignitaries at foreign ports. This became popular and the winery has supplied custom labeled wine to more than 32 military units.
We met Etienne Cowper, winemaker, who came to winemaking as a second career. Etienne began with wine appreciation classes where he became interested in the technical aspects of winemaking. He received his MS in Agricultural Chemistry from California State University. He took additional classes at UC Davis extension. While taking graduate classes, he worked at a Konocti Winery. Before coming to Wilson Creek Winery in 2007 as winemaker, Etienne worked at other wineries including Kendall-Jackson Winery and Mount Palomar Winery. Etienne commented that he is "continually learning."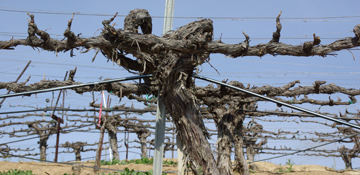 A good vintage year depends on the rain, temperatures and size of crop. Smaller crops with smaller grapes usually make a good crop. When Pierce's disease was discovered in Temecula Valley in 1999 and 2000, Wilson Creek changed the varieties and viticulture techniques. In late February, the vines were quiet and peaceful as if gathering strength for their burst to new life in the spring. Seventy-two acres are now under vine. Some of the grapes planted include Cabernet Sauvignon, Grenache, Petite Syrah, Syrah, Zinfandel, Chardonnay, Muscat and Viognier.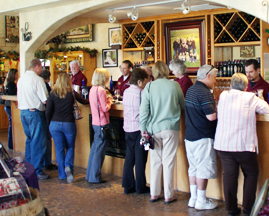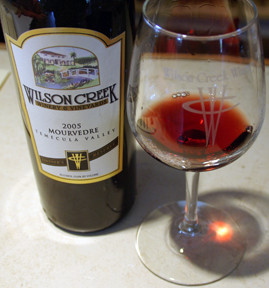 While we were at Wilson Creek, we tasted several wines at the tasting counter. White Cabernet Sauvignon 2007 was a pale yellow color. The aroma and taste was of grapefruit and tropical fruits. The wine was smooth with a sweet taste. The residual sugar was 1.6 percent. The finish started with fruit and finished crisp. Mourvedre 2005 was a red translucent color. The aroma and taste was of black cherries. The wine was smooth and the finish was fruity with mild tannins. Estate Syrah 2006 offered black cherry aromas with a smooth black cherry taste. The finish was fruity with tannins. Estate Cabernet Sauvignon 2005 was a fairly translucent red purple. The aroma and taste was of blackberries. The finish was fruity with good tannins.
We also tasted two sparkling wines produced by Wilson Creek. The Almond Champagne is a delicious alternative to typical champagne. If you like sparkle and almonds, try this wine! It was delicious. For those who prefer traditional champagne, the Grand Cuvee Champagne was crisp and refreshing.
Wilson Creek added an additional building in 2004. This building is situated perpendicular to the tasting room and the open area between the buildings provides space for events. This second structure includes a barrel room, a room for stainless steel tanks and additional barrels, a restaurant and a large event space. The Creekside Grille restaurant opened in October 2008. As is common in Temecula Valley, outdoor seating for the restaurant is available. There is also an indoor seating area. The barrel room is available for smaller special events. A large elegant event space with dance floor can accommodate larger groups. Wilson Creek provides a wonderful venue for small and large weddings.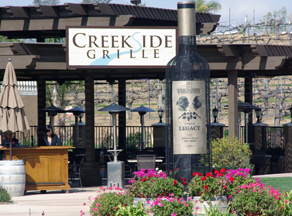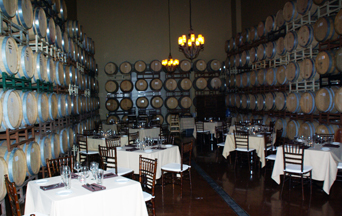 Nearby stands a monument built to reflect the importance of Bill's parents, Rosie and Gerry Wilson, who have influenced many people and the winery. The monument is in the shape of a wine bottle sculpture and is entitled "Family Legacy." We had lunch outdoors that day with Rosie and Gerry, and enjoyed our time with them learning more about the winery. They are a delightful couple and enjoy their involvement in the winery.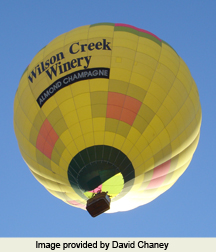 Events at the winery include concerts, Easter Brunch, Mother's Day Luncheon and Cigar Nights. Private events include weddings, corporate events and group wine tastings.
Plan to spend some time at Wilson Creek Winery & Vineyards. Consider having lunch inside or outside at Creekside Grille, a part of the winery complex.
Wilson Creek Winery
35960 Rancho California Rd.
Temecula, CA. 92591
GPS: N 33º 32.850' W117º 02.663'
---
Visit these California organizations and wineries that partner with Wine Trail Traveler.