Maurice Car´rie Vineyard & Winery
by
Kathy Sullivan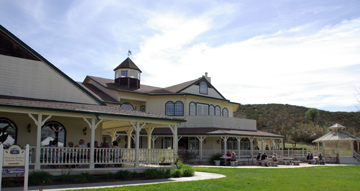 Summary: Maurice Car´rie Vineyard & Winery is a delightful winery to visit. Be sure to ask about the large round loaves of fresh made sourdough Brie bread. If visiting on a weekend the bread is available to visitors, otherwise consider purchasing a loaf to take home, bake and enjoy.
The Victorian architecture of the winery gleams in the sunlight and entices visitors to stop and experience a delightful winery. Driving past Maurice Car´rie Vineyard & Winery on a Saturday or Sunday will provide views of a fair-like event. There is an excitement in the air. Small white tents, stretching across the picnic grounds, provide shelter for the craft vendors. Wine enthusiasts and crafts fans will be tempted to stop and see what all the excitement is about.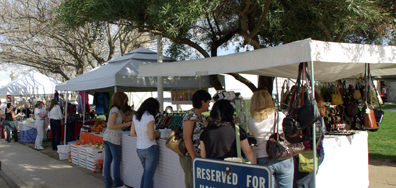 We met Buddy and Cheri Linn, owners of Maurice Car´rie Vineyard and Winery, in the tasting room. They are an enthusiastic couple that spreads their excitement of the winery to everyone they meet. The Linns purchased the winery in 2005.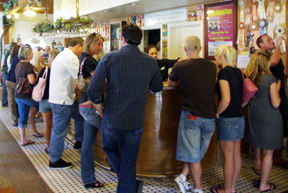 The winery tasting room is located in a large Victorian-style building. A wrap around porch with tables available adds to the inviting looks of the winery. Inside visitors will discover a long tasting counter and tables of gift items to purchase. One area of the tasting room focuses on roosters of all sizes and types. Many are ceramic. Another table features a selection of grape and Tuscan-style plates, cups and bowls. The wine related aprons are unusual, cute styles. Enjoy shopping as you taste wine. It's all part of the fun.
The vineyard consists of 47 acres and includes: Chardonnay, Sauvignon Blanc, Petite Syrah, Muscat Canelli, Chenin Blanc and Viognier. The winery produces 22,000 cases.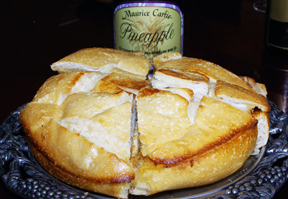 While we enjoyed tasting wines with Buddy and Cheri, we also had a chance to sample the Brie bread. Large loaves of Brie filled sourdough bread are available on weekends. During the week, these can be purchased unbaked to take home and bake. If food can be described as a bit of heaven, this bread is heavenly.
In addition to the tasting counter, there is another room for the wine club members to taste wines. This second room is nice to have on crowded weekends. On the day of our visit, we tasted several wines and sampled the Brie bread. The Linns' commented, that their "winemaker is a good engineer. He has a magic wand."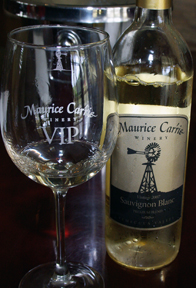 White Wines
Pineapple Champagne offered a pineapple aroma and taste. The champagne finished with pineapple and was crisp and cleansing. Sauvignon Blanc 2007 had a tropical fruit aroma and taste with a very fruity finish that was slightly sweet. Chardonnay Sans Chene 2007 had an apple aroma with a tropical fruit, velvety taste. It had a long fruity aftertaste. Chenin Blanc 2007 offered pear and melon aromas and tastes. The acid and sugar was balanced. There was a long fruit aftertaste. Sara Bella 2007 was a white Cabernet Sauvignon that had a light orange color. The aroma was apple while the taste was of apple and hard apple candy. The finish was sweet and fruity. Riesling 2008 had an aroma of peaches and floral. There were peach nuances on the taste. The finish was smooth, sweet and fruity. Heather's Mist was a blend of Sauvignon Blanc, Muscat, Riesling and Chenin Blanc. The result was a fruit cocktail for the aroma and taste. We paired this with the Brie bread. Muscat Canelli offered a very floral aroma with nuances of orange blossoms and roses. The taste was of oranges.
Red Wines
Pinot Noir 2006 was a translucent red with a red fruit aroma and taste. The finish was crisp. Cabernet Sauvignon 2006 offered an aroma and taste of blackberry. The taste was very smooth. The finish had tannins and a long fruit aftertaste.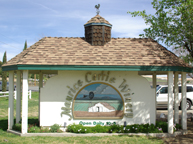 Maurice Car´rie is a delightful winery to visit and if you enjoy excitement, enthusiasm and good wine, this is a definite stop to make.
Maurice Car´rie
34225 Rancho California Road
Temecula, CA 92591
GPS: N33° 31.704' W117° 03.956'
---
Visit these California organizations and wineries that partner with Wine Trail Traveler.