Mount Palomar Winery
by
Kathy Sullivan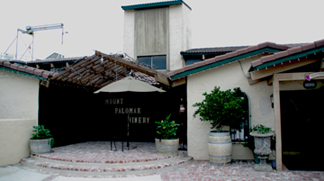 Summary: Mount Palomar Winery is one of Temecula's oldest wineries and vineyards. The winery has been producing wine for 40 years. All wines are estate wines produced from their vineyards. Visitors to Mount Palomar Winery will discover beautiful landscaped grounds and short trails to meander among the olive trees and other ornamentals.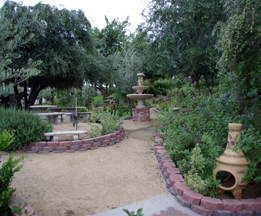 Large landscaped areas surround Mount Palomar Winery. Winding trails among trees and shrubs lead to sitting areas. Visitors may purchase food and wine to enjoy in this delightful area.
Winemaker Craig Boyd, worked for Westinghouse and wanted to change his career path. He decided to work for a Master's Degree at the University of California Davis. Craig is celebrating his 20th harvest. According to Craig, Mount Palomar was the third winery to open in Temecula.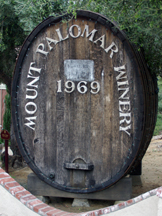 Mount Palomar Winery vineyards were started in 1969 by John H. Poole. He created a place in Temecula for people to visit, enjoy wine and the experience. In 1985, his son took charge of the winery and continued progress. Louidar Inc currently owns Mount Palomar Winery. In the future, look for an increase in the size of the winery, a guest facility that will have restaurants, a resort and spa as well as estate homes.
Vineyards
The 50 acres of vineyards include Sangiovese, Viognier, Syrah, Cortese, Cabernet Sauvignon, Cabernet Franc, Petite Verdot, Merlot, Riesling and Palomino. The vineyards are maintained with sustainable methods. According to, Craig, the vineyards will be expanded with additional plantings of the Rhone, Italian and Spanish varieties.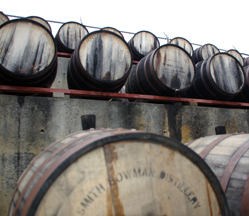 The Winery
The winery produces 8,000 to 9,000 cases per year. Most wines are sold from the tasting room. Mount Palomar Winery also produces Sherry using a solera system. The oak barrels are moved down a row and empty barrels are filled and put on the top row. No topping off is done with the sherry barrels. They start with 10 barrels and the next year they will have 8 barrels and so on.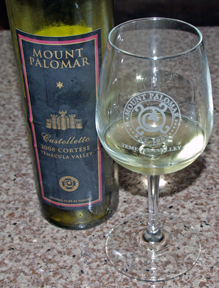 White Wines
Dry Riesling 2008 was a light yellow and offered an aroma of floral and tropical hints. The taste had notes of roses, mango and melon. The nuances on the finish changed from fruit to floral. Cortese 2008 with 14.8 percent alcohol was a yellow color. The aroma had hints of mineral. The taste was dry with a trace of oak. This bottle has a unique crest on it. John H. Poole's wife was from Italy. The crest was from the Castelletto title. In 1735 the crest was bestowed upon Sebastiano and Antonio de Reya.
Rosé Wines
Sangiovese Rosé 2008 was a light pink color. This wine had a residual sugar of .7 percent. The aroma and taste had nuances of fruit notably mangoes. The suggested pairing for this wine was smoked salmon.
Red Wines
Shorty's Bistro Red was a blend of Sangiovese, Cabernet Sauvignon and others including a touch of Tannat. This wine offered an aroma and taste of red berry and had red stone fruit nuances. The fruity finish offered mild tannins. Shorty was the winery dog that had very short legs. Charbono 2005 was a dark ruby color. There were plum and tobacco nuances on the aroma with plum notes on the taste. The finish had bold tannins and was fruity. Sangiovese had nuances of red cherries. Suggested pairings included Italian dishes.
Sherry
Solera Cream Sherry was produced from 100 percent Palomino. The Sherry was golden amber. The aroma had caramel nuances with a hint of nuts. The taste was smooth with notes of caramel and floral. An earlier Solera release was amber with an orange tinge color. The aroma was of hazelnuts and the taste was smooth and nutty. The finish was smooth and sweet. This Sherry had 18 percent alcohol with 12 percent residual sugar.
Events
Mount Palomar Winery has numerous events. Watch the winery's website to discover music events, Wine down Fridays, art shows, special dinners and luncheons.
Enjoy a visit to Mount Palomar Winery. Plan to stay a while and purchase wine and food at the winery to enjoy among the landscaped scenery.
Mount Palomar Winery
33820 Rancho California Rd
Temecula, CA 92591
---
Visit these California organizations and wineries that partner with Wine Trail Traveler.