Dudley's Wine and Gifts
by
Terry Sullivan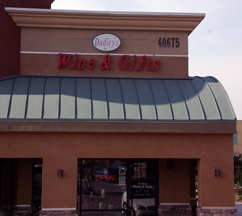 Summary: When one thinks about the long-running television series, Cheers, visions of a neighborhood bar, beer and the phrase "Where everybody knows your name" come to mind. What would someone get in southern California if they decided to combine Cheers with wine? Perhaps the friendliest wine shop in the country where everybody knows your name. Dudley's Wine & Gifts is the creation of Eric Dudley who wanted to create a wine shop and tasting experience that was down to earth and not at all stuffy.
It only takes a moment to realize Eric's passion for wine, history and story telling. On Friday and Saturday evenings beginning at 5:30, Eric and staff have a wine tasting. Anyone can attend and reservations are not required. People were there prior to 5:30. About 80 percent of the tasters are repeat customers and 20 percent are new. Newcomers receive a warm welcome and are introduced to the people at the tasting counter.
Eric introduces the rules for the evening's tasting. The first rule is that everyone present is introduced. Sharon Carey, the marketing and events coordinator, has a fantastic memory and introduces all present, both the repeat guests as well as those who are new. Immediately new visitors become one of the family. Eric's second rule is to lift one's glass, with wine in it, and toast those around you.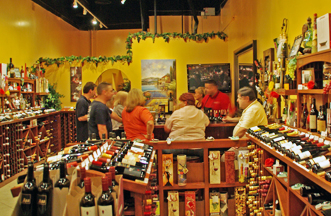 The owner loves to tell stories and one story he told for our benefit was the origin of the toast. We learned that during the medieval times, poison was often used to eliminate competition. Those who could afford wine were most inclined to poisoning the wine and serving it with a smile. To counter the possibility of a poisoned wine, it became customary to turn to the person next to you and pour your wine in that person's glass. Once the wine was mixed, half would be poured back in your glass. Both people would look at each other and drink the wine. If one person put poison into the wine, they too would die, or not drink. Thus the origin of lifting a glass of wine and toasting the person next to you.
I too enjoy wine storytelling and had the opportunity to tell the story of the legend of the Black Rooster when Eric served a Chianti Classico and someone commented about the black rooster on the stamp on the bottle's neck. There were several topics discussed by different people. Another wine related topic was the connection between hot air ballooning and wine.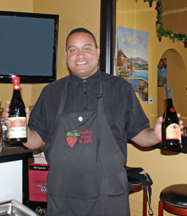 Several wines were tasted throughout three hours. Time flew by with wine and conversation. It was easy to tell that the people who show up are passionate about wine. Some of the wines tasted included whites and reds.
White Wines
During the evening we tasted several wines. Eric started the tasting with a 2009 Mahoney Vermentino. Eric mentioned that he likes to have his guests taste a lesser known varietal grape. He explained the origin of this grape, Sardinia, and the few plantings of it in this country. The wine offered citrus and tropical fruit aroma and taste. One of the "regulars" brought a bottle of Raimal Viño 27, a Chardonnay. The people who like to show up frequently to the tasting often bring a bottle of wine to share with the group; occasionally they'll bring nibbles to share. This Chardonnay was a yellow gold color and offered an apple and pear aroma and taste.
Red Wines
The 2007 Viticcio Chianti Classico was a red color and had a red fruit with a touch of cedar on the aroma. The taste was of red stone fruit and the crisp finish had mild tannins. This is a very food friendly wine. The 1999 Nava Gran Tempranillo was from Spain and had a nice ruby color. The aroma and taste offered blackberry fruit and earthy nuances.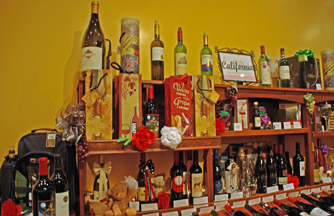 Wine Related Gift Selections
Need a gift for a wine enthusiast? A bottle of wine is always an option however Dudley's offers a very nice gift selection that varies from t-shirts to decanters. The t-shirts have quotes such as "I speak French – Cabernet? Chardonnay? Malbec" or "It's Wine o'clock!" Looking for a decorative and unusual corkscrew? Look at the Tulip Corkscrew that comes in yellow or red. When not in use it folds into a colorful tulip shape. As you browse the wines and gifts available, enjoy the top shelf of unique and ornate wine bottles.
When you are looking for an evening of relaxation and camaraderie, visit Dudley's Wine and Gifts.
Dudley's Wine & Gifts
40675 Murrieta Hot Springs Rd, # B5
Murrieta, California 92562
N33º 33.394' W117º 11.103'
---
Visit these California organizations and wineries that partner with Wine Trail Traveler.