Ponte Family Estate
by
Kathy Sullivan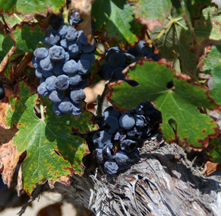 2010 Update
We returned to Ponte Family Estate to experience autumn at the winery. Many of the grrapes have been harvested by this time. Some still hanging are allowed to turn into raisins. These will be used to make sweet wines such as Port. The raisins have a high sugar content that is desireable for the higher alcohol dessert wines. We met Ty Tyler for a second time and he gave us a quick and friendly tour. Ty is energetic and enthusiastic about Ponte Family Estate. The vineyards, winery and outdoor restaurant are delightful as they were during our first visit. We also enjoyed the wines with the food pairings. Ty told of the future plans to build a Tuscan-style guesthouse that will have rooms for rent. When completed, wine enthusiasts will have an affordable option for spending the night in wine country.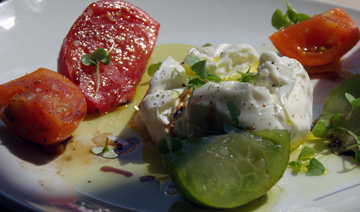 We met with the new Executive Chef Greg Stillman. He enjoys wine country cuisine. Greg graduated from the Culinary Institute of America and has served as Executive Chef at several restaurants. He had been in Napa but wanted to relocate his family to Temecula. Greg creates foods that are wine friendly. Greg showed us his creativity by providing samples from the menu and pairing wines with each sample. The beet salad was paired with Sparkling Muscato. Pinot Grigio was matched with crab. Greg paired Chardonnay with mozzarella, Viognier with sweet corn, Cabernet Sauvignon with pizza and Nebbiolo with chicken. Our server was friendly and professional. Ty returned and conversed with us about Ponte Family Estate. Everything was very enjoyable including the weather that was perfect.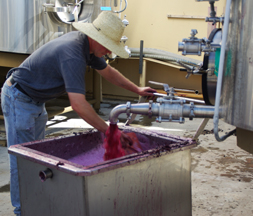 The winemaker, Mark Schabel, has a degree from UC Davis Viticulture and Enology. At the time of our visit, Mark was pumping over a tank of fermenting red wine.
Ponte Family Estate is becoming renowned. Weekends can be very crowded. On weekends buses and limousines are only allowed to arrive at the winery between 10:00 am and 12:00 noon. When we visited on a Friday, the winery and restaurant were humming with activity but it was not overcrowded. If you are looking for a relaxing day in the country at a winery spend it at Ponte.
While visiting Ponte take time to enjoy walking on the delightfully well-kept grounds. Don't miss the Market Place where a wide variety of items are delightful to browse. If possible enjoy a lunch at the outdoor restaurant. Dinners are served on Friday and Saturday evenings.
---
2008 Article
Summary: Ponte Family Estate Winery offers a "Day in the Country" experience. At Ponte, visitors will discover a relaxing and delightful winery to visit. When you make plans to visit, plan to stay awhile and enjoy good wines and great foods provided by a welcoming staff. Ponte Family Estate Winery offers tours and visitors will see numerous facility rooms, some of which are only available to wine club members. Visitors to the Ponte Family Estate will discover that the Ponte brothers have carefully planned every detail of the winery and that the winery provides a relaxing respite.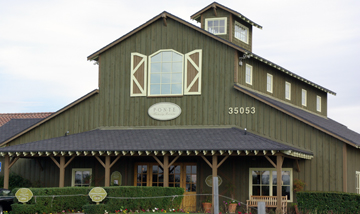 Ponte Family Estate was our first winery to visit in Temecula, California. Claudio and Roberto Ponte, originally from Italy, opened the winery in 2003. The winery was easy to find and sits back from a large paved parking area. The vineyards and winery sit below surrounding mountains, some of which were snowcapped. We noted that the winery flies both an American flag and an Italian flag (honoring the Ponte heritage). Although we were early, Ty Tyler, Assistant Manager of Guest Services, quickly greeted us. We soon learned Ponte is a popular winery to visit and offers a great venue for public and private events. The focus at the winery is on the guest experience and from our observations, everyone was happy to be a part of Ponte whether it was the staff or the visitors. Ty feels that Ponte Family Estate is a very special place to work. Ty commented, "We try to hire associates that have a natural ability to be friendly and courteous."
The winery's large parking lot has grapevines gracing the area with acres of grapes surrounding the parking area, tasting room, restaurant and winery. The Zinfandel vines near the parking area are thick and heavy with age having been planted in 1969. Currently Ponte produces 25,000 cases. With 150 acres of grapes planted, they only need to source a few grapes and these are from California. Their own vineyards produce Merlot, Zinfandel, Cabernet Sauvignon, Cabernet Franc, Tempranillo, Petit Verdot, Sangiovese, Petit Syrah, Grenache and more.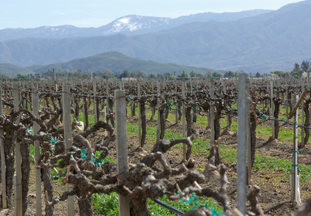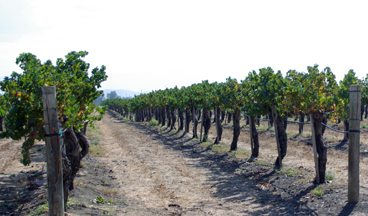 The wine club is popular at Ponte. Membership includes 20% off popular items such as: tastings for two, bottles of wine and wine accessories.
The Smokehouse Restaurant is a large part of the visitor's experience. Seating is available outside. The restaurant makes most of the bread it serves with the exception of sandwich breads. Menus at the restaurant change seasonally, depending upon what is available. They search for items that are local, high quality and obtainable in sufficient quantity. We ate a scrumptious lunch, outdoors, with Robert Cartwright, winemaker, Randy Rodriguez, restaurant manager and Linda Kissam, public relations. We enjoyed pairing several wines with the excellent food prepared by Chef Steve Stawinski. Pairings included a spinach salad with halibut matched with Ariana; stuffed trout matched with Chardonnay; a meat loaf and a butcher steak matched with the Super Tuscan.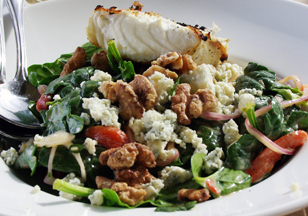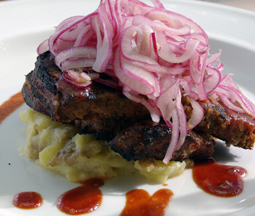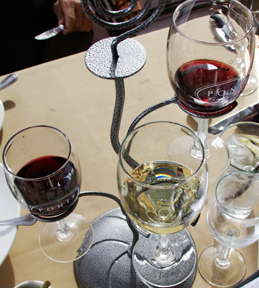 During lunch we tasted several wines. The Pinot Grigio 2007 was produced with grapes from the central coast. The wine was clear and refreshing. The nose was floral and fruity. The taste was citrus and the wine finished crisp with a fruity aftertaste. Ariana 2008 was a blend of Muscat Caniello and Pinot Grigio. The result was a wine with a floral nose. The taste reminded one of roses and citrus fruit. Ariana was a smooth wine. Chardonnay offered a pear and apple aroma and taste. The finish was smooth with a pear aftertaste. Super Tuscan, Ponte's best selling wine, offered a cherry aroma and taste. It was red fruit forward with mild tannins. Beverino 2008 is 100 percent Cabernet Sauvignon. In Italian Beverino means "easy to drink." The color was an opaque dark purple. The nose and taste were of blackberries. The finish was sweet with tannins.
One option in the restaurant is to order a flight of wines served on a tree-like stand. This gives you the opportunity to taste different wines with the food that you are eating.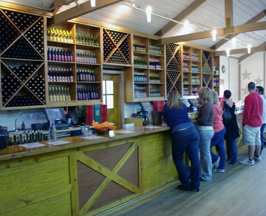 The Market Place, in the tasting room, is a shopper's delight. The gift shop manager travels widely to bring unusual giftware to the winery. Included in the tasting room are numerous food items including Ponte labeled dipping sauces. Enjoy choosing between Tarragon Chive; Rosemary, Garlic and Herb; or Garlic, Basil and Balsamic.
A large event area can accommodate up to 300 people. The barrel room can also be used for special events and will comfortably hold 100 people. For anyone planning a wedding, Ponte offers a splendid venue. The views are outstanding and if the weather is inclement, an under cover facility is available. They have 90 to 100 weddings each year. Near the two possible sites for a wedding, two small buildings are available for the bride and groom to ready themselves for one of the biggest events in their lives.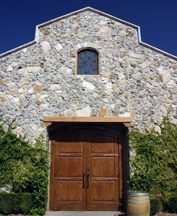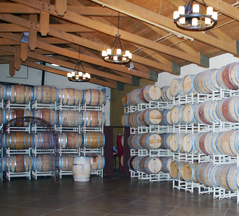 Claudio Ponte does not rest with the past success of the winery, restaurant, gift shop and events venue, but continues to add to the visitors experience at the winery. He is already in the process of planning onsite lodging. The lodging addition will offer visitors a full agritourism experience.
One of the best-kept secrets at Ponte Family Estate is how delightful a visit is during the cooler, rainy days. According to Ty, this is one of his favorite times to be at the winery. Enjoy a visit to Ponte Family Estate winery anytime of the year. We were pleased that this was our first experience in Temecula wine country.
Ponte Family Estate
35053 Rancho California Road
Temecula, California
GPS: N 33° 32.194' W117° 03.075'
---
Visit these California organizations and wineries that partner with Wine Trail Traveler.