WINEormous Tour of Temecula Wineries
by
Terry Sullivan
"Recalculating" drones on the GPS in what must be a condescending voice as yet another wrong turn was made en route to a winery location. Although some wineries are easy to find, others pose challenges and a GPS that begins yelling at you quickly degrades an experience you were looking forward to attending. In come wine tour companies to the rescue.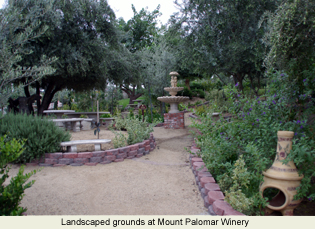 WINEormous is owned and operated by Tom and Laura Plant who had their first date in the Temecula wine country. They quickly discovered that they both had a passion for wine, a passion that becomes contagious as Tom takes visitors on a tour of the area's wineries. Tom is down to earth and enjoys the discovery of a winery and their wines. In addition to taking very good care of their passengers, Tom and Laura are also writers who visit and write about the local wineries and events.
The couple has met the winemakers and owners of the Temecula area wineries and uses these connections to help plan an itinerary that is custom styled for their passengers. Often when visiting a winery on one's own, you taste their wines and leave with little knowledge of the wines or the winery. This isn't the case with Tom. Frequently, you will meet the winemaker or owner. In talking to owners and winemakers you'll learn of their passion for wine and you'll discover the story of their winery. All wine has a story and knowing the story creates a more intimate tasting experience. Often the owners or winemakers will give you a tour of the facility, once again adding to your discovery of the winery.
Booking a tour with WINEormous is easy. Just give Tom a call. If you book far enough in advance, a couple weeks, Tom can usually get a time for you to meet winemakers or owners. Tours are limited to six people and Tom will pick you up at your hotel or residence and wisk you off on your wine journey. He doesn't use a GPS. Tom knows the back roads in the Temecula area as well as the short cuts. You'll spend less time in his comfortable van and more time at each winery. You will visit four or five wineries and you can add on an optional meal if you wish.
Our first stop was Mount Palomar Winery, one of Temecula's original wineries. Tom went in to the tasting room as we began taking photos outside. In a few minutes Craig Boyd welcomed us. Craig, the winemaker, pointed out the history of Mount Palomar Winery. Craig took us on a tour of the winery facility and then conducted the wine tasting. Mount Palomar has a beautiful setting; tour with a camera.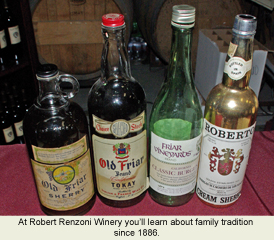 Our next stop was Robert Renzoni Vineyards where we met Robert Renzoni. We sat at a table outdoors and Robert spoke of his multi generational family's involvement in the wine industry. Robert painted the picture of his life and one quickly discovers that wine runs through his veins. He spoke of plans to build a tasting room and how he wants his winery to be known as the Italian Winery in Temecula. Robert then conducted our wine tasting. The experience was personal. There is a strong connection between wine, family and tradition. You'll experience this connection with Robert.
Third stop was Danza del Sol Winery. We found a nice spot outdoors and had lunch. Later we met Mike Tingley, winemaker and general manager. Mike gave us the story of the metamorphosis from Filsinger Winery into the new Danza del Sol. Mike conducted the tasting and afterwards we proceeded to the barrel room to taste some of the 2010 vintage in barrels. This is the type of experience one will have with WINEormous.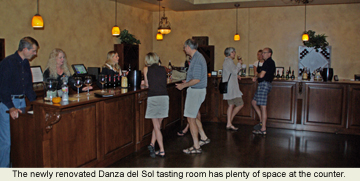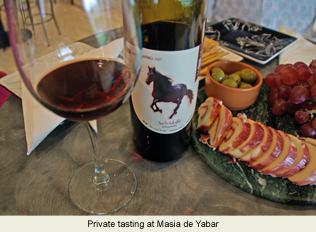 Our last stop was the newly opened Masia De Yabar Vineyard and Winery. We met Wilmer Yabar who escorted us to the area reserved for wine club members. Wine glasses and a food platter were already set for us. We enjoyed wine, food and friends as Wilmer told of his involvement with wine in South America and in Temecula. We had a tour of the facility noting that this is a wonderful venue for weddings. There is a private bedroom for the bride-to-be and a private bedroom for the groom-to-be. The facility and site are beautiful.
The experience with WINEormous is a cut above other wine tours and making arrangements by yourself. Tom dropped us off at our hotel and provided very personal door-to-door service. WINEormous is the way to experience southern California's wine country.
WINEormous
Tom Plant email
951-907-9701
---
Visit these California organizations and wineries that partner with Wine Trail Traveler.