The Rhone Rangers
by Terry Sullivan
I first heard of the Rhone Rangers while visiting wineries in Temecula, California. Several winemakers were growing grapes from varieties common to the Rhone region of France. They made wines from Viognier, Grenache, Mourvedre and Syrah. In northern California, Petite Sirah is a common Rhone variety.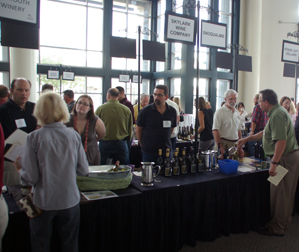 The Rhone Rangers is a non-profit, educational organization that promotes the Rhone varieties in the United States. Their website lists the grapes, members, recipes, resources and events held throughout the country. One type of event is wine tastings that may be open to the trade or the public. Wineries, growers and associates (wine distributors, suppliers, hotels, bed and breakfast inns, wine professionals, retailers and restaurants can become members for a fee. Free membership is offered to consumers interested in the Rhone varieties.
To be a recognized as a Rhone Ranger wine, the wine must be made from the Rhone varieties that comprise at least 75% of the blend. There are 22 Rhone varieties including several grapes beside Viognier, Grenache, Mourvedre and Syrah. There are ten white varieties including Bourboulenc, Clairette Blanc, Grenache Blanc, Marsanne, Muscat Blanc, Picardin, Picpoul, Roussane, Ugni Blanc and Viognier. Of the varietal reds Rhone Rangers may choose from Carignan, CInsault, Counoise, Grenache, Mourvedre, Muscardin, Syrah, Petite Sirah, Picpoul Noir, Terret Noir and Vaccarese.
In the Rhone, especially in the southern Rhone area, these grapes are often blended together to produce excellent wines. In the United States, they are often made into single varietal wines. Most notably are Syrah, Petite Sirah, Grenache and Viognier. However, it is not uncommon to find a single varietal Mourvedre.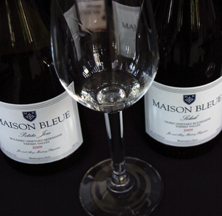 We had the opportunity to attend the Rhone Rangers wine tasting in Seattle, Washington during July 2010. Thirty wineries, mostly from California, poured wines made from Rhone varieties. Every winery had a Syrah to pour and many also poured Viognier. There were also a fair share of Grenache and Petite Sirah wines. However, if one were interested in tasting the more unusual varietal Rhone grapes, it was unusual to find them at this tasting. Fortunately Maison Bleue Winery from Prosser, Washington filled the void. In addition to Syrah and Granache, they also poured a Marsanne and Roussanne. The 2009 Marsanne had a yellow color with a slight orange tint. The wine offered a delightful aroma of spices and floral. The taste offered a fruit cocktail and the wine had a tangy finish. The 2009 Roussanne was a yellow color. It offered an herbal aroma and pear taste. The finish was crisp. Cline Cellars from Sonoma, California poured a 2004 Carignan. The wine had a sienna color and offered a dark fruit especially plum aroma and taste with nuances of spices.
Consider hosting a wine tasting party centered around the Rhone varieties. A followup could include a blending party where guests blend different Rhone varieties. Discover how well wines like Petite Sirah pair with food. On your next visit to a winery or wine store, consider purchasing a bottle of wine made from a Rhone variety.