Alta Maria
by
Kathy Sullivan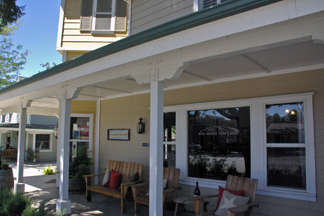 Summary: Alta Maria is one of numerous wine tasting rooms located in the small town of Los Olivos. The Alta Maria name came from the location of the winery in Santa Maria Valley AVA and the Santa Maria River.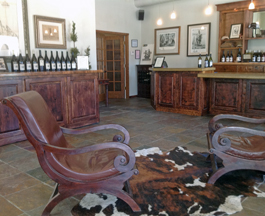 The Alta Maria winery tasting room is located in the small town of Los Olivos. The location on the main street of the town makes it easy to locate the tasting room. The tasting room is fairly large and has two leather chairs situated on cowhide in the center of the room. Two large survey maps of California from the mid 19th century are framed and add to the ambiance of the room.
We discovered that Paul Wilkins and James Ontiveros own and operate the Alta Maria winery. Paul is the winemaker and James oversees the vineyards. James is the ninth generation family in California and the seventh generation in Santa Barbara County. Paul and James also have long-term contracts with vineyards in the Santa Maria Valley AVA.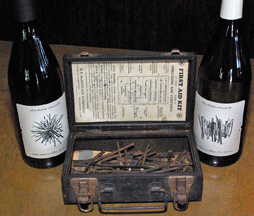 James has his own organic vineyard, Rancho Ontiveros Vineyard, and produces his own wines with his own label, Native9. This brand is also sold in the Alta Maria tasting room. The logo for the Alta Maria wines is a design of nails. In the tasting room visitors will see an old box of handmade nails that were from a house built in the 1830's.
Paul and James attended California Polytechnic University. Paul interned at Alban Vineyards and stayed there for several years. Later Paul left Alban and began consulting. He helped James with his Native9. Together they created Alta Maria in 2005. Paul's 19th vintage will be 2014.
Alta Maria opened in 2011. Their signature wines are Pinot Noir and Chardonnay. Production is under 10,000 cases with some wines in distribution nationally and in Korea. Alta Maria offers three brands: Autonom, Alta Maria and Native9. The name Autonom refers to Paul's freedom from working for other wineries. The Alta Maria price point is under $30.00.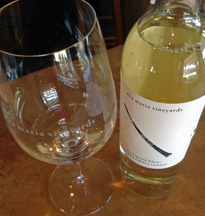 White Wines
Chardonnay 2012 Santa Maria Valley AVA with 13.5 percent alcohol was a light yellow. The aroma and taste offered notes of apple, pear and citrus. The finish was crisp and fruity notably citrus. Sauvignon Blanc 2011 Santa Barbara County, with 13.5 percent alcohol, was a pale straw crystal color. There were citrus notes on the aroma and taste and the fruit lingered on the aftertaste. This dry wine would be good for pairing with food as well as enjoyed on the patio on a warm summer day.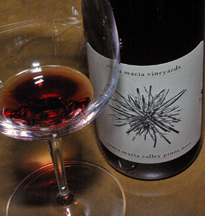 Red/Rosé Wines
Pinot Noir 2011 Santa Maria Valley AVA had 12.7 percent alcohol. The wine was a translucent red color. The aroma and taste was of raspberry, earthiness and baking spices. The finish was crisp with soft chewy tannins. There was a balance of fruit, earth and spice. The Pinot Noir 2012 Garey Santa Maria Valley AVA was made with grapes sourced from the Garey Vineyard in Santa Maria. The winemaker used 100 percent whole cluster. The result was a wine with a translucent red color. The aroma offered earth and spice notes. The taste was earthy with cloves, cinnamon, and pepper with a hint of raspberries. The finish was crisp with a very spicy aftertaste. Pinot Noir Rosé 2013 was dry with 13.1 percent alcohol. The color was a pale red with orange highlights. The wine offered earthiness and cherry notes.
Native9
Native9 2010 Pinot Noir Rancho Ontiveros Vineyards Santa Maria Valley AVA was produced using whole cluster fermentation. The wine spent 21 months in new oak. The wine was a medium ruby color with an aroma of raspberry and licorice. The taste offered raspberry and spice notes. The crisp finish had medium tannins with fruit and spice notes.
Wine Club
Wine enthusiasts who would like to join an Alta Maria wine club are offered three choices: Sisquoc (3 bottles,) Tinaquaic (6 bottles), Tepusquet (12 bottles.). In addition to receiving three shipments per year, each wine club has its own special benefits.

The Alta Maria tasting room in Los Olivos is easy to find. Visitors will enjoy the nicely appointedt tasting room.
Alta Maria tasting room
2933 Grand Avenue

Los Olivos, California 93441
Article written June 2014
---
Visit these California organizations and wineries that partner with Wine Trail Traveler.