Saarloos and Sons

by
Kathy Sullivan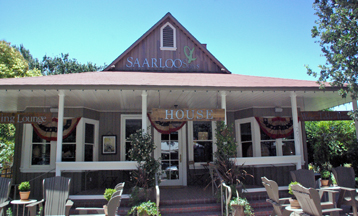 Summary: For the Saarloos family, wine is about keeping the family together for hundreds of years. The location of the Saarloos and Sons tasting room is in Los Olivos in an 1886 building.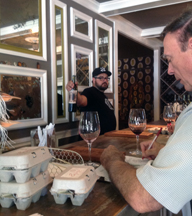 The Saarloos and Sons tasting room is located in the quaint town of Los Olivos where it is easy to locate amid the numerous tasting rooms lining the street. The tasting room consists of several small areas. The first area is filled with an array of items to browse. The main tasting counter is in the center. Farther back is another tasting area where a variety of items can be found including decorative antique doorknobs.
The Saarloos and Sons are all about family. The Saarloos family has about 100 acres of vineyards in Los Olivos. Grape varieties include Sauvignon Blanc, Grenache Blanc, Grenache Noir, Mourvedre and Petite Sirah. Keith Saarloos noted that when they purchased the land it had an apple orchard rather than a vineyard. Keith's dad loved baseball and farming. He wanted to purchase the land with the orchard and grow something. They were in the right place at the right time to purchase the land. Keith noted that the apples were terrible so they pulled them out and planted grapevines. Later they purchased the Firestone Vineyard. While talking with Keith, he noted that, "Brooks Firestone helped establish the Santa Barbara County AVA."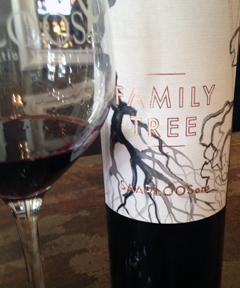 Saarloos Wines
Our wine tasting began with the 2012 Motherhood Pinot Noir Sta. Rita Hills AVA. The wine was a dark ruby. The aroma and taste offered notes of black raspberries with soft chewy tannins. The finish was fruit centered. Roots Syrah 2011 Ballard Canyon AVA Windmill Vineyard was a ruby color. The wine had plum and spice notes with bold tannins. The finish was fruity with a hint of spice. This is a good 3P (porch, patio, pool) wine. Ballard Canyon is one of the newest AVAs in Santa Barbara County.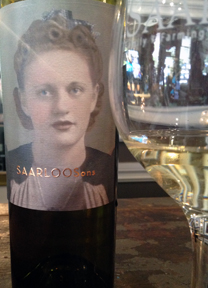 The 2012 Wife Santa Yenz Valley AVA El Camino Real Vineyard Grenache Blanc was a light yellow wine offering floral and citrus aromas. The taste offered citrus and some tropical notes with a perceived sweetness from the fruit. This was a 3P (picnic, patio, pool) wine. The Iron Lady Sauvignon Blanc was produced with one-half oak and one-half stainless steel. This wine was made with grapes harvested by Keith's young daughter. This straw color wine had a bright hue. The aroma was sweet reminding one of a 3P wine. The taste was semi-sweet and had notes of summer fruit and citrus. The finish was fruity.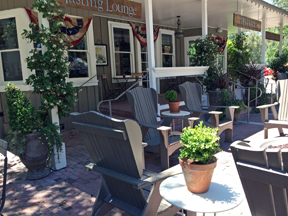 Keith Saarloos wants people to know that they "handle every aspect of wine from our plow to your porch." He philosophized, "Wines are meant to honor those who came before us and prepare the way for those yet to come."
Saarloos & Sons is a member of the California Wine Growers Association.
While visiting tasting rooms in Los Olivos, stop by Saarloos & Sons. For the cupcake lovers, Sarloos & Sons has a wine flight with wines paired with six cupcakes made by Enjoy Cupcakes.
There is outdoor seating for those who enjoy a leisurely bottle of wine on another fine sunny day #afsd.
Saarloos and Sons

2971 Grand Avenue
Los Olivos, California
Article written July 2014
---
Visit these California organizations and wineries that partner with Wine Trail Traveler.