Au Bon Climat
by
Kathy and Terry Sullivan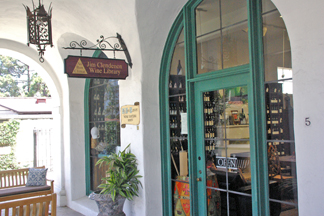 Summary: Au Bon Climat has a tasting room in Santa Barbara. We discovered that Jim Clendenen who is the winemaker and owner produces serious wines but also has a sense of humor. The Au Bon Climat winery is not open for public tours or tastings.
The Au Bon Climat vineyards are located in the Santa Maria Valley AVA and grapes are also sourced from the Bien Nacido Vineyard, Byron Estate, Nielson Vineyard and Sierra Madre. Some grapes are sourced from the Los Alamos AVA.
The winemaker and owner is Jim Clendenen. Rather than giving himself the title of General Manager, Jim describes himself as the "Mind Behind." He chose the name Au Bon Climat as it means "a well-exposed vineyard." Jim spent a semester in France during which time he tasted wines. Jim decided he wanted to become a winemaker. After returning to the United State, he worked at wineries and in vineyards. Jim started Au Bon Climat in 1982.
In addition to making Au Bon Climat wines, Jim also works with Chef Emeril to create wines to accompany Chef Emeril's creations.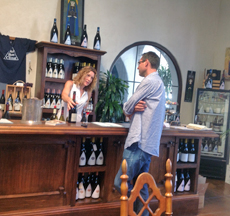 Au Bon Climat tasting room is located in the historic El Paseo shopping center of Santa Barbara. The tasting bar can accommodate several people standing. The tasting room has a seating area with a leather sofa and chairs. There is a table and chairs in the center of the room and additional seating outside the tasting room. One table has maps of the Santa Ynez Valley and Santa Rita Hills AVA showing the location of vineyards. On a wall there is a collage of photos that show the vineyards and winery as well as Jim Clendenen working with the grapes.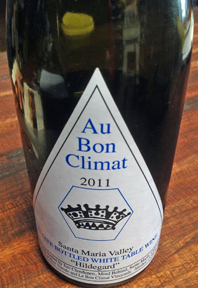 Au Bon Climat White Wines
Pinot Gris/Pinot Blanc 2012 was made with 75 percent Pinot Gris and 25 percent Pinot Blanc from Santa Barbara County. The light yellow wine offered citrus notes. The finish was crisp. We would recommend this wine as a 3P wine (patio, picnic or pool.)
Santa Maria Valley AVA Estate Bottled White Table Wine Hildegard 2011 was produced from a vineyard that replicates the Corton Charlemagne vineyard planted in 800 A.D. Hildegard was the name of Charlemagne's wife who could not keep the castle clean because of red wine spillage. This wine is a blend of Pinot Gris, Pinot Blanc and Aligote. The wine was made as a tribute to Hildegard. The light yellow wine offered floral and citrus notes with a hint of tannins.
Pioneering Santa Maria Valley AVA has the quote on the label, "Nuits-Blanches au Bouge." This wine was produced from Chardonnay in 100 percent new French oak. The light yellow wine offered pear and citrus notes with a hint of butterscotch. There was a faint hint of tannins.
During a special wine tasting with famed Judgement of Paris 1976 organizer Steven Spurrier, we tasted an Au Bon Climat 2012 Chardonnay Sanford and Benedict Vineyard, Santa Ynez AVA. The Chardonnay was a dark yellow color with pear and butterscotch on the aroma and taste. It has a mildly crisp fruity finish.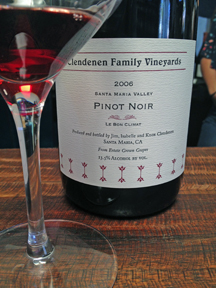 Au Bon Climat Red Wines
Nielson Vineyard Santa Maria Valley Pinot Noir 2008 was a light translucent red with notes of raspberries. The wine offered medium chewy tannins. Le Bon Climat Santa Maria Valley AVA Pinot Noir 2006 was a light translucent red with raspberry notes and chewy bold tannins.
Knox Alexander 2010 Santa Maria Valley was named for Jim's son. This wine was a translucent red color and offered red berry fruit notes including raspberries. The wine offered bold chewy tannins and a long aftertaste. Nebbiolo 2005 was barrel aged for six years. The wine was bottle aged for five years. The resulting wine was a light red with an orange tint. The wine offered berry fruit and leather notes. The wine had very bold tannins.
Wine enthusiasts who wish to taste Au Bon Climat wines should visit the tasting room in Santa Barbara, as the winery is not open for tastings or tours.
Au Bon Climat Tasting Room

813 Anacapa Street
Santa Barbara, California
Article written June 2014
---
Visit these California organizations and wineries that partner with Wine Trail Traveler.