Dragonette Cellars Tasting Room
by
Kathy Sullivan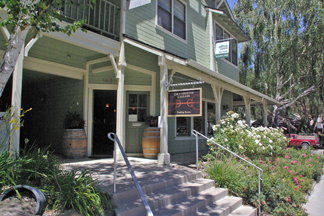 Summary: Dragonette Cellars is the culmination of six friends who are couples who discovered a similar like of wines. Dragonette Cellars is the story of six wine lovers, five of whom left other promising careers to enter the world of wine. The logo is the alchemist symbol for life.
Dragonette Cellars is located about a block off the main street of Los Olivos, which is destination for wine enthusiasts who enjoy visiting wineries. The Dragonette Cellars tasting room offers a simple modern décor with friendly owners.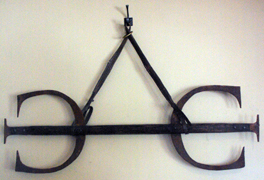 John and Mitchi Dragonette, Steve and Jen Dragonette and Brandon and Michelle Sparks established Dragonette Cellars. Prior to establishing the winery, they made one barrel of wine just for fun. The wine was a Syrah from a vineyard near Los Olivos and they loved the experience. They made wine in 2003 and 2004 and founded Dragonette Cellars in 2005. They chose the logo for the winery from alchemy symbols. The straight horizontal line with two arcs at the ends focuses on "life."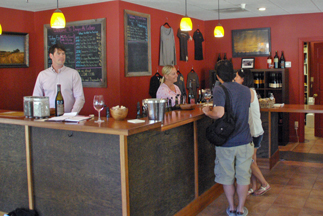 The tasting room has windows on two sides that offer plenty of light. The wood tasting counter is angled like a backward Z and quite large offering enough room for perhaps four or five small groups of visitors.
We met two of the co-owners, Jen and Brandon, at the Dragonette Cellars tasting room in Los Olivos. Their enthusiasm for winemaking and viticulture is inspiring. Currently Dragonette Cellars sources all of their grapes; however, they do a lot of the work in the vineyards where the grapes they use are harvested. They have contracts for the grapes by the acre. In the future, the owners hope to establish a vineyard.
Wine production is 5,000 to 6,000 cases. They noted that they touch every bottle of wine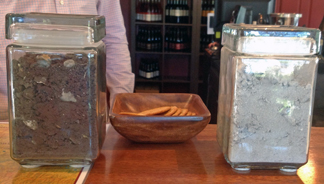 Wines
We tasted several Dragonette wines. During the tasting, Brandon showed us two canisters of soil from different vineyards where the winery sources their grapes.
The Sauvignon Blanc 2012 Happy Canyon of Santa Barbara AVA was a light yellow. The aroma was of lemon grass, tropical and citrus fruits. The taste offered citrus, mango, and pineapple. Rosé 2013 Happy Canyon of Santa Barbara AVA was a blend of Grenache, Mourvedre, and Syrah. The winemaking process included four hours of skin contact. The color was a light orange. The aroma reminds one of a perfume and the taste was light and fruity with hints of strawberries and raspberries.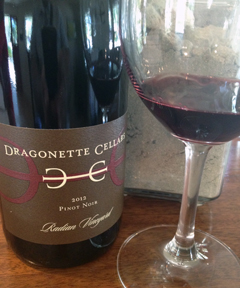 Pinot Noir 2012 Santa Rita Hills AVA was a ruby color with an aroma and taste of raspberries. The wine had medium chewy tannins and the finish was fruity. Pinot Noir 2012 Radian Vineyard Santa Rita Hills AVA was a ruby color. The aroma and taste were of raspberries. The wine offered medium chewy tannins. The finish was crisp and fruity. Grenache 2012 John Sebastine Vineyard Santa Yenz Valley AVA was a light ruby color. The aroma and taste offered red berry fruits. The wine had medium chewy tannins and the finish was fruity. Seven 2011 was a Rhone-style blend of Syrah grapes from seven different vineyards. This medium purple wine offered an aroma of eucalyptus and notes of plum, white pepper and spice. The finish was dry with tannins. A bit of Grenache and Mourvedre was added to the blend
At the end of our visit, we asked Jen and Brandon if they looked back would they have done anything differently than start their own winery. The answer was a resounding no. "It was good for their kids to see them chase their dreams and their work ethic." How many other people are out there not taking the risk to do what they truly enjoy for a living? The Dragonette Cellars is inspiring for what they have accomplished.
Wine Clubs
Dragonette Cellars offers three wine club memberships including the three-bottle, six-bottle and case club. Information about the clubs is available online.
When visiting the Los Olivos region of Santa Barbara County, stop by Dragonette Cellars tasting room.

Dragonette Cellars Tasting Room
2445 Alamo Pintado
Los Olivos, CA 93441
Article written July 2014
---
Visit these California organizations and wineries that partner with Wine Trail Traveler.