Riverbench Vineyard and Winery
by
Kathy Sullivan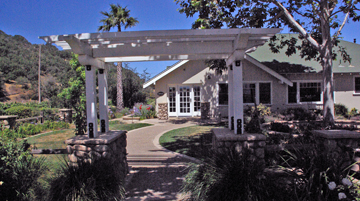 Summary: Riverbench Vineyard and Winery offers visitors a delightful spot to taste wines and enjoy a glass of wine at a table outside amongst shade trees. Outside the tasting room has a variety of trees and flowers with views of the vineyards. Plan to stay awhile and enjoy a glass of Riverbench wine. Be sure to ask about the chocolate and wine pairing.
At Riverbench Vineyard and Winery, we were warmly welcomed and enjoyed our wine tasting wishing we could have stayed longer to enjoy the lovely outdoor area equipped with a bocce court. A large stone pizza oven is also a part of the expansive outdoor area.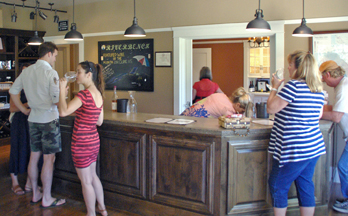 The tasting room is in a home built in 1926. The renovated home offers an ambiance that is warm and friendly. Off the tasting room, an adjacent second tasting room is available for more visitors and wine club members. Traditional pocket doors with French window panes separate the two tasting areas. Another room offers an array of wine related retail items. Some of the items available include: umbrellas shaped like wine bottles, books and honey.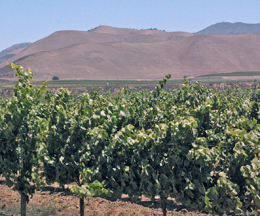 Riverbench dates back to 1973. The vineyards are located on the Santa Maria Bench that consists of alluvial soil. The first planting was of 220 acres of Chardonnay and 55 acres of Pinot Noir. In 2007, 37 more acres of Pinot Noir were added. Today the vineyards are SIP certified. The vineyard manager is the son of one of the current owners.
In 2004 a group of local families purchased the property. Prior to this purchase all of the grapes were sold to wineries. In 2006 the four families began producing wine. Today the owners are hands on. They keep ten percent of the grapes harvested and sell 90 percent to other wineries and home winemakers. Current production is 5,000 to 6,000 cases.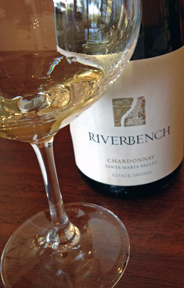 Wines
We tasted several wines with Laura Vaillancourt in the smaller tasting room begind the main tasting area. Rosé of Pinot Noir was from Santa Maria Valley AVA. This light orange with pink tint wine offered red berry notes. The taste was crisp with light fruit. This is a 3P (porch, patio or pool) wine. Five percent of the proceeds go to cancer research at the Marian Medical Center.
Riesling 2013 Santa Maria Valley AVA was a light straw color. The aroma was of citrus and yellow stone fruit. The finish was crisp and fruity. Chardonnay 2011 Santa Maria Valley AVA was in French oak for 11 months. The aroma and taste offered notes of pear, vanilla and caramel. The wine had a fruity finish with fruit yielding to vanilla and caramel. Chapel View Chardonnay 2010 Santa Maria Valley AVA was from the Chapel Hill block of Chardonnay vineyards. The Sisquoc Chapel overlooks the vineyards from the hill above. The wine was aged for 11 months in new French oak. This yellow wine offered an aroma and taste of pear, caramel, and butterscotch. The finish was crisp with fruit yielding to butterscotch.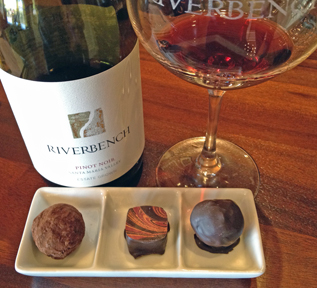 Red Wines with Chocolate Truffles Pairing
Riverbench has specially made chocolates to pair with their Pinot Noirs. Three bite-size pieces are presented on a small rectangular white plate. These special chocolates are created especially to pair with red wines. Three different chocolate candies are paired with three Pinot Noirs. The candies included a Champagne with dark chocolate rolled in cocoa, Hispaniola dark chocolate with Grenache and Tanzanian dark chocolate with Grenache.
Pinot Noir 2011 Santa Maria Valley AVA was a transparent light ruby with a raspberry aroma. The taste offered fruit and mild tannins. This wine was paired with the Champagne Truffle. The truffle made the wine seem more acidic. The raspberry and chocolate matched well. Pinot Noir 2010 Santa Maria Valley AVA Reserve was a translucent ruby. This wine offered an aroma of red and black raspberries. The taste was silky with raspberry and black cherry notes. The wine had medium tannins. The finish was crisp and fruity. This wine was paired with Hispaniola chocolate. It also made the wine seem more acidic. The fruit and chocolate paired well. One Palm Pinot Noir 2010 Santa Maria Valley AVA is called One Palm because the vines for this wine grow near the one palm tree on the property. The wine was a translucent ruby color with a sienna hue. The aroma and taste were of raspberries. The wine had tannins and was crisp. This wine was paired with Tanzanian chocolate. The wine seemed more acidic with pronounced fruit.
We also tasted a sparkling wine. Blanc du Noirs was a light orange with a red hue color. There was a steady stream of bubbles. The wine offered light berry fruit and was crisp.
Riverbench Winery and Vineyard offers numerous events. Some of these special events include: concerts, a Gatsby Party, an Annual Paws, Pizza & Pinot event and much more. Check out the Riverbench Vineyard & Winery website for more information.
Riverbench Vineyard & Winery
6020 Foxen Canyon Road
Santa Maria, CA 93454
GPS: N34º 51.145' W120º 15.333'
A second tasting facility is open in Santa Barbara.
Riverbench Tasting Room, Santa Barbara
137 Anacapa St. Suite C
Santa Barbara, CA 93101
Article written July 2014
---
Visit these California organizations and wineries that partner with Wine Trail Traveler.