Andrew Murray Vineyards at Curtis Estate
by
Kathy and Terry Sullivan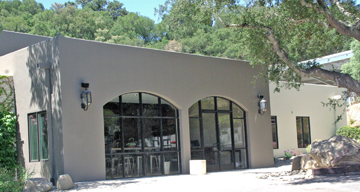 Summary: Andrew Murray Vineyards at Curtis Estate is located at the former Firestone Curtis Winery. Previously Andrew Murray, no stranger to the wine industry, started Demetria Estate. Views of the vineyards are available from the patio.
Prior to arriving at Andrew Murray Vineyards at Curtis Estate, we were curious about the name and wondered what we would discover. When we arrived at the Andrew Murray Vineyards at Curtis Estate tasting room, we learned that Andrew Murray, a Santa Barbara respected winemaker, had leased the winery and renovated the tasting room creating a hospitality center. Andrew had already been producing wine for more than two decades. His goal at his newest winery is to "up the experience" for visitors.
Curtis Winery owned by the Firestone family was sold to Andrew Murray while Firestone kept ownership of the vineyards. Andrew Murray had been making his brand, Area 51. Right after high school, Andrew started the winery and vineyards at Demetria. Andrew also attended UC Davis. He has been making commercial wines since 1990.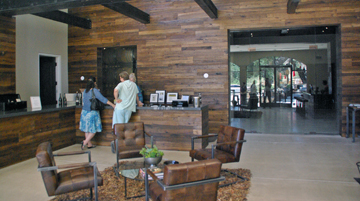 Hospitality Center
Prior to opening the remodeled tasting room , Andrew enlarged the tasting room and added several additional spaces. He wanted to create a winery and hospitality center. Visitors are able to purchase lunch boxes and cheese plates. The Hospitality Center includes a tasting room, seating areas, a private tasting room and winery.
The tasting counter is L-shaped and can easily accommodate several people. Honey-colored wood adds contrast to the lighter colored areas of the floor, ceiling and some walls. Doors are made out of glass and provide glimpses into areas of the winery. A sleek private room is used for special wine tastings. There are several seating areas within the larger tasting room. Additional seating is provided outside on a patio with several tables and chairs under the shade of old trees.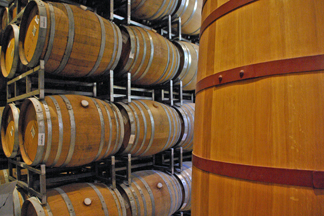 Winery
Within the hospitality center complex there is a tank room and barrel room. During our visit, a few wines were being cold stabilized in stainless steel tanks. The barrel room includes both wood tanks and wood barrels. A nearby building is where small production winemakers can produce their wines under the guidance of Andrew Murray.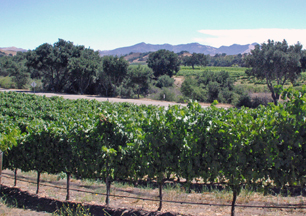 Vineyards
Today the vineyards include 220 acres. A vast sea of green with mountains in the background provided scenic views during our summer visit. Grape varieties include Cabernet Sauvignon, Grenache Blanc, Viognier, Cabernet Franc, Sauvignon Blanc, Roussane, Mourvedre, Cinsault and Syrah. In addition to the Andrew Murray at Curtis Estate wines, a limited amount of Curtis Winery brand wines is continuing to be produced.
Andrew focuses on the Rhone varieties and produces several Syrahs that are specific vineyard designated. Some in Santa Barbara consider him to be the "Godfather of Syrah."
White Wines
Viognier 2013 Santa Maria Valley AVA was a light yellow color with an aroma and taste notes of citrus and floral. The finish was crisp with citrus yielding to minerality.
Rosé Wine
Espérance Rosé 2013 Curtis Vineyard Santa Ynez Valley AVA was a blend of Cinsault, Grenache, Mourvedre and Syrah. The wine was a light pink with an orange tint. The wine offered notes of red berry fruit. The finish was crisp and fruity. This is a 3P (porch, patio or pool) wine.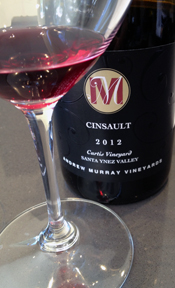 Red Wines
Cinsault Curtis Vineyard 2012 Santa Ynez Valley AVA was a light red. The aroma offered red berry fruit and the taste emphasized raspberries. The finish was crisp and fruity with mild tannins.
We also had two Andrew Murray wines at a wine tasting of Santa Barbara County wines with Steven Spurrier. Spurrier organized the 1976 Judgment of Paris where two California wines bested prominent Bordeaux and Burgundy producers. The 2012 Grenache, Syrah, Mouvedre was a ruby color. It offered dark fruits and bold tannins. Our tasting panel selected this wine as the best in the flight. Also taking the first place in a flight was the 2012 Syrah Watch Hill Vineyard Santa Barbara County. The Syrah was a dark ruby color. The wine had notes of black raspberries, plums and blueberries with very bold tannins.
Events
The winery and hospitality center offers small events including outside barbecues.
Visit Andrew Murray and plan stay awhile to enjoy the wines, atmosphere and outside patio.
Andrew Murray Vineyards at Curtis Estate
5249 Foxen Canyon Road
Los Olivos, California 93441
GPS: N34º 43.492' W120º 08.024'
Article written July 2014
---
Visit these California organizations and wineries that partner with Wine Trail Traveler.