Bedford Winery
by
Kathy Sullivan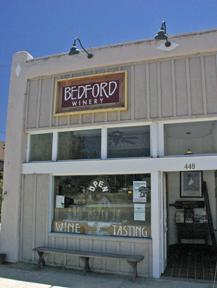 Summary: The Bedford Winery tasting room is located within walking distance of one other tasting room, antique shops and a restaurant in the quaint town of Los Alamos. Be sure to stop by to talk and taste wines with Stephan Bedford, owner and winemaker.
The Bedford Winery tasting room is long and narrow. Upon entering the room several shelves of books can be viewed. The owner, Stephan Bedford noted that he enjoys reading and calls himself a "bookaholic." Judging by the number of posters he has decorating the tasting room walls, he is fascinated with all aspects of food. Large posters, each with an emphasis on a particular food, include: mushrooms, garlic, tomatoes, pears and stone fruit.
Stephan has been involved in the wine industry for 30 years. Most of the wines produced by Stephan are 100 percent varietal. In addition to Bedford wines, the tasting room has other retail items for sale that are tastefully displayed. Look for food grade cheese boards, dried mushrooms, small woven baskets and local honey.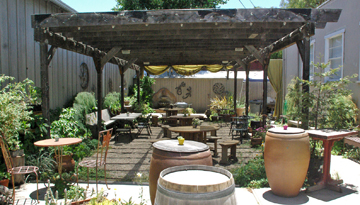 Outside, Stephan has developed an adjacent courtyard. Winery events in this area include: theatre productions, summer solstice and food events. Past events have included: National Grilled Cheese Day, Bee Happy Honey Tasting, and Mushrooms Gone Wild. With tables and chairs this is also a delightful area to host a private event.
Stephan Bedford has been making wines for a long time. He remembers his parents making fruit wines and some grape wines. After graduating from UCLA with a life science major he was hired by a winery.
While discussing vineyards, Stephan noted that just a little bit of climatic variation can make a big difference.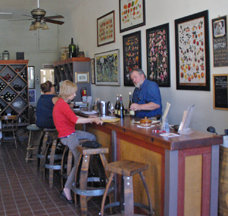 White Wines
Chenin Blanc 2010 Santa Barbara County was a light yellow with notes of floral and hints of citrus. The wine was crisp. The aftertaste was fruity with some yellow stone fruit hints. Riesling 2010 Santa Barbara County was a light yellow. The wine offered an aroma and taste of floral hints with petrol and minerality. The finish had crisp layers of flavors on the aftertaste.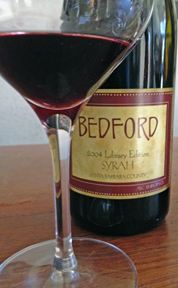 Red Wines
Pinot Noir 2008 Arroyo Grande Valley was a ruby color with notes of raspberry. The wine had medium tannins and fruit yielded to licorice. Syrah Library Edition 2004 Santa Barbara County was a dark ruby color. The wine offered notes of licorice, dark fruits including plum and black raspberry. The wine had smooth tannins. Syrah 2010 Santa Barbara County was a dark ruby color. The wine offered licorice and dark fruit notes with bold tannins. The finish was fruity.
When planning a visit to Bedford Winery tasting room be sure to pack a picnic lunch to enjoy in the courtyard with a glass of Bedford Winery wine.
Bedford Winery
448 Bell Street
Los Alamos, CA 93440
Article written July 2014
---
Visit these California organizations and wineries that partner with Wine Trail Traveler.