Presqu'ile Winery
by
Kathy Sullivan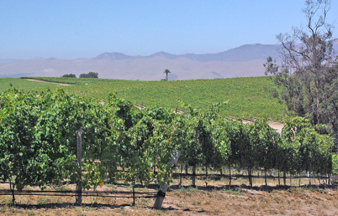 Summary: Presqu'ile Winery is a relatively new winery and vineyard owned by a family involved in agriculture for four generations. The new tasting room at the winery offers a delightful venue outside for tasting wines as well as a tasting counter inside with views of the barrel room cave.
A long driveway through the vineyards leads visitors to the Presqu'ile Winery. The tasting room, a modern style with a slanted roof, sets above the vineyards. Visitors can view the vineyards from inside the tasting room and from the tiered patio that wraps partially around the winery.
Seating is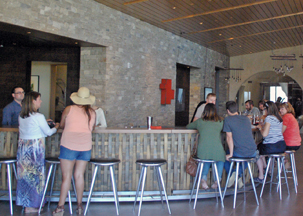 available at the curved tasting room counter. Depending on your preference tastings can also take place outside on the patio. A variety of seating areas offers a personal experience for visitors. Wines are served in a special wine glass designed by a sommelier in Napa Valley who believed that there should be one quality wine glass suitable for a variety of wines. The ONE stemware was clear, easy to hold and swirl the wine.
Two generations of the Murphy family from Arkansas own and operate the winery. The Murphys became interested in building and operating a winery and vineyard because of their interest in wine collecting. Their focus was on the wines from Burgundy.
Four generations of the Murphy family have been involved in several industries including: farming, forestry, conservation, and oil and gas. The winery name "Presqu'ile" means "almost an island" and is a reflection of their retreat along the Mississippi Gulf Coast. After Hurricane Katrina, things changed for the Murphy family. Their sanctuary in Mississippi was under water and eventually they decided to start a winery in California. Today Matt Murphy is the CEO, Jonathan Murphy is the assistant winemaker and Anna does the lab work. Dieter Cronje, head winemaker, is from South Africa.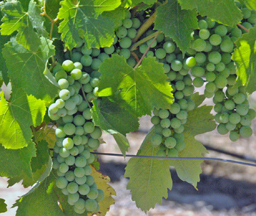 Vineyards
In 2008 Presqu'ile planted 60 acres of vineyards. Currently they have 72.7 acres that include Pinot Noir, Chardonnay, Sauvignon Blanc, Syrah and Nebbiolo. The vineyards have SIP (Sustainability in Practice) certification. Some of the estate grapes are sold to small wine producers.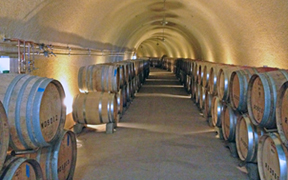 Winery
All wines are made with indigenous yeasts. Gravity flow is an important aspect of the winery. A double glass door with a circular design allows visitors in the tasting room to view the 270-foot cave where oak barrels line the walls. The winery also has a cement egg in the barrel room.
White Wines
We tasted several wines outside on another fine sunny day in Santa Barbara County. Several seating areas are set up with comfortable chairs and sofas.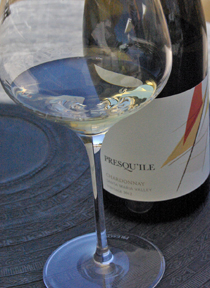 Sauvignon Blanc 2013 from Santa Maria Valley AVA was produced with estate grown fruit. The wine was made using a combination of neutral French oak, stainless steel and concrete. The light yellow wine offered an aroma of lemon grass. The taste also had lemon grass notes with some yellow stone fruit. The finish was crisp and fruity. Chardonnay 2012 Santa Maria Valley AVA, produced with estate fruit, was fermented and aged in French oak. The yellow wine offered notes of apple, pear, butterscotch and minerality. The taste had butterscotch, apple and pear. The finish was crisp with layers of fruit and oak.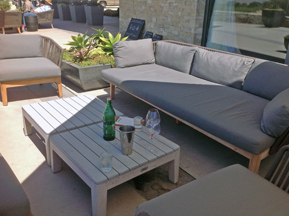 Red Wines
Rose of Pinot Noir 2013 Santa Maria AVA was produced with 90 minutes of skin contact. The estate grown fruit was fermented and aged in stainless steel. The color was a light orange with a pink tint. The aroma and taste were of red berry fruit. The finish was crisp and fruity. Pinot Noir Santa Maria AVA 2012, also made with estate grown fruit, was produced with 40 percent whole cluster fermentation and 17 months of aging. The wine was unfiltered and unfined. The transparent ruby wine offered eucalyptus and black tea notes. The taste included notes of leather, black tea and a hint of raspberry. This is a wine made from young vines. Watch for this wine as the vineyard increases in age and becomes mature.
Events
The tasting room offers public music events. In addition, private events can be scheduled.
With such beautiful views of Santa Maria Valley and vineyards, be sure to consider stopping by Presqu'ile to enjoy a wine tasting inside the tasting room or on the patio.
Presqu'ile Winery
5391 Presquile Drive

Santa Maria, California 93455
GPS: N34º 51.254' W120º 22.231'
Article written July 2014
---
Visit these California organizations and wineries that partner with Wine Trail Traveler.