Mosby Winery
by
Kathy Sullivan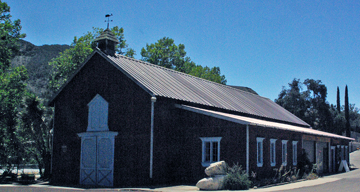 Summary: Mosby Winery and Vineyards is focused on Italian varietal wines. Numerous Italian wines are produced by this winery in Buellton in Santa Barbara County. Be sure to take note of the special wine bottle labels created by artist Robert Scherer.
Wine travelers will discover the Mosby Winery tasting room inside of a red-sided barn. The small room offers a simple style with a tasting counter and a few wine related items to browse. Behind the tasting counter a small tapestry with images of people stomping grapes by foot is displayed. In addition to wines, Mosby produces olive oil, Grappa and Acqua – a raspberry cav de vie.
Bill and Jeri Mosby purchased the property in the 1970s. The winery was started in 1976. Bill was a dentist until 1996 when he retired.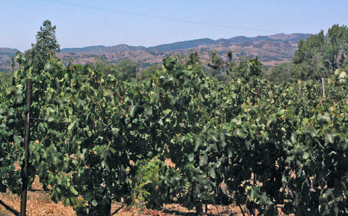 Vineyards
Today the Mosby winery has four vineyards. 246 Vineyard planted in 1971 has 20 acres of grapes including Teroldego, Pinot Gris and Cortese. The Vigna della Casa Vecchia Vineyard was planted in 1977 and expanded to 18 acres in 1991. The grape varieties include Sangiovese, Sagrantino and Dolcetto. Sori 101 Vineyard was planted with Nebbiolo grapevines in 2002. The fourth vineyard is Bricco Pico.
Today Bill wants to continue to expand the varieties offered by the winery. In his 80's, for Bill the best way to do this is to import wines from Italy.
Mosby Winery produces 5,000 to 6,000 cases of wine. Most of the wine is sold from the tasting room and throughout California. Bill uses distributors to reach consumers outside of the region. The Mosby Winery and Vineyard website also has an online store.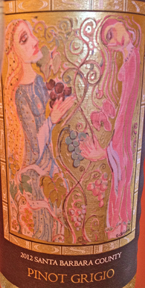 Wine Bottle Labels
Many of the Mosby wine labels are works of art. Robert Scherer created stunning images for several of the wine bottle labels. Robert is a professional artist who studied in Vienna. In 2002 Bill entered several of the wine labels created by Robert into the Orange County Fair Commercial Label Competition. Four Mosby labels won "Best of Show." A plaque displaying the award with the four labels is proudly displayed on the tasting room wall.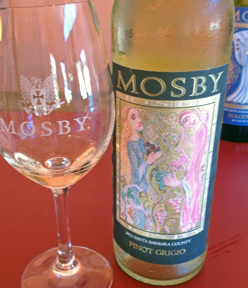 White Wines
Verdicchio Dei Castelli di Jese D.O.P. was a dark yellow color. The aroma and taste were of floral notes with some yellow stone fruits. The finish was crisp and fruity. Pinot Grigio 2012 was the first wine the winery produced with a screw cap. The wine was a peach color. The aroma had hints of bread. The taste was dry and offered fruit with hints of pear and apple. The wine had a dry finish. Suggested pairings included "calamari and chicken prepared with olive oil and garlic, and Gorgonzola pine." The artist for the label was Robert Scherer.
Red Wines
Sangiovese 2008 Santa Barbara County, Vigna della Casa Vecchia Vineyard was a translucent red color. The aroma and taste were of red cherries and spice. The wine had medium tannins. The finish was fruity with a perceived sweetness. Primativo San Louis Osipo 2009 was a red translucent color. The aroma and taste were of black cherries and floral. The wine had mild tannins and a fruity finish. Sagrantino Santa Barbara County was a ruby color. The aroma and taste included notes of cedar and dark fruits especially plum, black raspberry and blueberry. The wine had bold tannins. The finish had notes of fruit and spice. Dolcetto 2009 Santa Barbara was 100 percent estate grown. The color was red/purple. The aroma and taste offered red raspberries, blackberries and earthiness. The wine had medium tannins and was dry. Suggested pairings included beef tenderloin with a rich béarnaise sauce and roasted lamb. Teroldego was a dark purple with a hint of red. The aroma was of fresh, ripe fruit and anise. The smooth taste had notes of blackberries. The wine had tannins.
Olive Grove
In addition to the vineyards, Bill has one and a half acres of olive trees. The olive varieties include frantoio, leccino, pendolino and arbequina.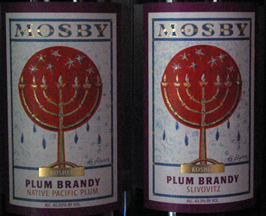 Wine enthusiasts who are interested in Italian wine varieties will want to stop at the Mosby winery tasting room to discover Italian grape varieties, some are grown and produced in Santa Barbara County. In addition to the wines and olive oils, Mosby Winery also produces two Kosher brandies.
Mosby Winery and Vineyard
9496 Santa Rosa Rd
Buellton, CA 93427
GPS: N34º 35.928' W120º 11.613'
Article written July 2014
---
Visit these California organizations and wineries that partner with Wine Trail Traveler.