Jaffurs Wine Cellars
by
Kathy Sullivan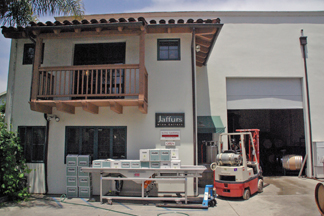 Summary: Jaffurs Wine Cellars is a complete winery located in the center of Santa Barbara. Visitors will discover a boutique winery focusing on Rhone varieties harvested from Santa Barbara County.

If you had met Craig Jaffurs years ago, you would not have seen him in his role as he is today, a respected winemaker in the heart of Santa Barbara, California. After Craig entered the aerospace industry where he worked for 17 years, he became interested in winemaking. After working with winemakers and helping out at wineries he began making wine at home. Eventually he decided to leave the aerospace industry behind and strike out on his own to start his own winery.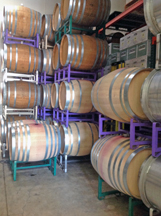 Together, Craig and his wife purchased a small property in Santa Barbara and built their own two-story building. Craig has used the space well, and has several stainless steel tanks and a good-size cooled barrel room. With high ceilings, the barrels can be stacked five high and the stainless steel tanks fit easily into the space. On the day of our visit, several barrels were being cleaned on the bright white press pad adjacent to the winery.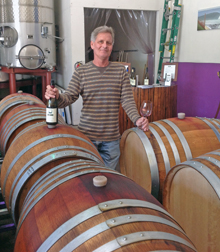 The tasting counter, made of a unique curved wood resembling oak barrel staves, has enough room for two to four people to taste wines. Groups larger than six should call in advance. The logo for Jaffurs Wine Cellars is a Matilija, a poppy with a large white flower and a bright yellow center. According to Craig this flower is also known as the frying egg poppy. Several of these flowers are growing in front of the winery.

Today Craig is producing 5,000 to 6,000 cases of wine each year from fruit sourced entirely from Santa Barbara County. One-third of the production is distributed across the United States. Craig does not own vineyards, however; he does manage some of the vineyards where he sources his grapes.

Craig mentioned that he is "focused on making the wine." He generally purchases several new oak barrels each year and continues to use his older oak barrels as long as possible. He said, "What's neutral for red is not neutral for whites." Jaffurs signature wines are his Syrahs. He produces seven different Syrahs. Five of the Syrahs are vineyard designated and one is a blend of the best of the best.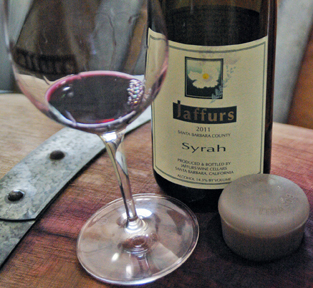 For some of the Syrahs he uses the whole cluster press method.
Regarding the recognition of Santa Barbara wine region, Craig noted that locally Santa Barbara is very aware and supportive of the wine region. Los Angeles is just beginning to realize that the Santa Barbara area has vineyards, wineries and winetasting. Craig believes that people should visit Santa Barbara and he wants people to know that he is producing high quality Syrahs that are undervalued in the market.

White Wines
We tasted several wines while in the barrel room. Winery staff were cleaning barrels as we tasted. Visitors will get the sense that this is a working winery. Grenache Blanc 2012 Santa Barbara County Thompson Vineyard was a light straw color. The wine offered a floral aroma with a taste of floral including honey. The finish was crisp with honey tones. Viognier 2013 Santa Barbara County Bien Nacido Vineyard offered notes of floral blossoms and tropical fruit. The finish was crisp.

Red Wines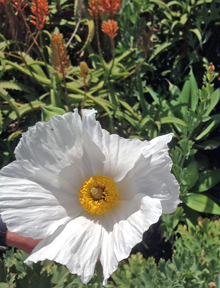 Grenache 2011 Santa Barbara was a light translucent red with notes of red berry fruit especially raspberry. The finish was crisp and fruity. Syrah 2011 Santa Barbara County was a blend of all the vineyards that they work with. The translucent ruby wine offered spice and dark fruit notes. The wine was crisp and spicy mostly with nutmeg, cinnamon and fruit. Petite Sirah 2012 Santa Barbara County Thompson Vineyard was a dark ruby color. The wine offered black fruit notes especially blackberry, plum and cassis. The finish was fruity.

While in the area, stop by the working winery in the city of Santa Barbara. Taste the wines and notice the image of the Matilija on the labels. We visited at the end of June and the Matilija was in bloom.

JAFFURS WINE CELLARS
819 E. Montecito St.
Santa Barbara, California 93103
Article written June 2014
---
Visit these California organizations and wineries that partner with Wine Trail Traveler.