Dierberg
by
Kathy Sullivan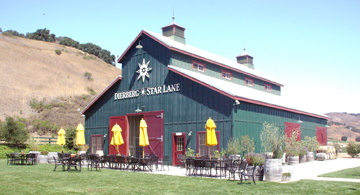 Summary: The wines produced by Dierberg are all produced from estate grown grapes. During harvest all grapes are harvested by hand. The estate owned vineyards are located in Sta. Rita Hills AVA, Santa Maria Valley AVA and Happy Canyon of Santa Barbara AVA.
The Dierberg Vineyard winery and tasting room facility is located in a relatively new barn-style building. Outside, a flatbed truck loaded with oak barrels adds to the ambiance of a visit to the winery. The quaint building is welcoming with its pristine building and a patio with tables and chairs. Bright yellow umbrellas add shade and a touch of color.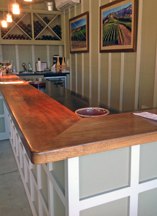 Inside the winery, visitors discover that the tasting room is adjacent to the winery. The tasting counter is L-shaped and vineyard images decorate the walls.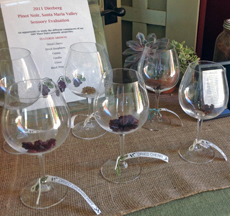 Nearby a special selection of wine aroma samples allow visitors to test their sense of smell. The aroma items were displayed in wine glasses and each was labeled. Three canning jars with descriptions show the different soils found in each of the three vineyards emphasizing the affect soils have on grapevines.
Vineyards
Dierberg winery has three sustainable vineyards in three different AVAs. Dierberg Vineyard located in the Santa Maria Valley AVA has 161 acres of vines. The varieties planted in 1996 include Pinot Noir, Chardonnay, Syrah and Viognier. This vineyard has sandy loam soil and is planted with Pinot Noir and Chardonnay. The Drum Canyon Vineyard is located in Sta. Rita Hills AVA and is predominantly Pinot Noir with 57 acres and some Chardonnay. Star Lane Vineyard is a newer project for the Dierberg family who was interested in growing other grape varieties. Star Lane Vineyard is located in the newly created Happy Canyon of Santa Barbara AVA. The Star Lane Vineyard with 230 acres has warmer temperatures and varieties like Cabernet Sauvignon, Cabernet Franc, Merlot and Sauvignon Blanc can ripen here.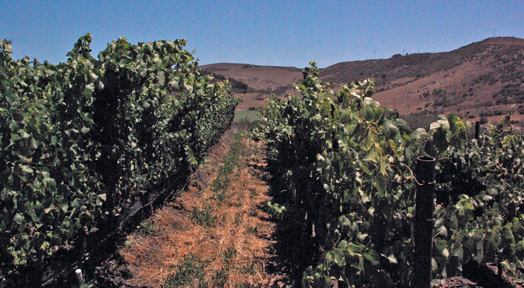 About 40 percent of the harvested grapes are sold to other vineyards.
Prior to moving to Santa Barbara County, owners Jim and Mary Dierberg owned Hermannhof Winery in Hermann, Missouri. We learned that originally the Dierbergs were interested in beer and wanted to purchase a brewery. However when the winery came up for sale they decided to become involved in the wine industry.
Dierberg winery produces 30,000 cases; however, they have a much larger capacity with the potential for producing 100,000 cases.
White Wines
Star Lane Vineyard Sauvignon Blanc 2013 Happy Canyon of Santa Barbara was produced in stainless steel. The light yellow wine had a slight green hue. The aroma and taste were of tropical fruits and lemon grass. The finish was crisp with fruit notes. Dierberg Vineyard 2011 Chardonnay Santa Maria Valley AVA was a yellow color. The wine offered pear, apple and citrus notes.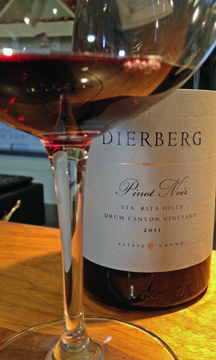 Red Wines
Pinot Noir 2011 Drum Canyon Vineyard, Sta. Rita Hills AVA was a dark red translucent color. The aroma and taste were of red raspberries with mild tannins. The finish was crisp with fruit and spice including cloves and nutmeg. Syrah 2010 from Santa Ynez AVA was a dark ruby opaque color with an aroma and taste notes of dark fruits and spice. The wine had chewy bold tannins. The finish was of spice and fruit. Cabernet Sauvignon 2009 Star Lane Vineyard, Happy Canyon was a blend of Cabernet Sauvignon, Cabernet Franc and Petit Verdot. The color was an opaque dark ruby . The wine offered blackberries, blueberries and cassis notes. The wine had very bold tannins. The finish was very fruity yielding to spice.
We tasted a 2011 Pinot Noir Santa Maria Valley AVA while attending a Santa Barbara wine tasting with Steven Spurrier. The wine was a ruby translucent color with raspberry notes on the aroma and taste. It offered mild chewy tannins and a crisp finish. During this tasting we also tasted a 2012 Syrah Santa Maria Valley AVA. The dark ruby colored wine had notes of perfume, black raspberries and plums. The wine had very bold chewy tannins.
Events
Dierberg offers a variety of events. Watch the winery website for events that include: Star Lane Vineyard and Lunch, Live Music and Food, Wine and Cheese Pairing Event, Live Music and Tacos, Wine Club Pick-Up Party and August Summer Nights.
Dierberg
1280 Drum Canyon Rd.
Lompoc, California 93436
GPS: N34º 38.593' W120º 17.109'
Article written July 2014
---
Visit these California organizations and wineries that partner with Wine Trail Traveler.