Demetria Estate
by
Kathy Sullivan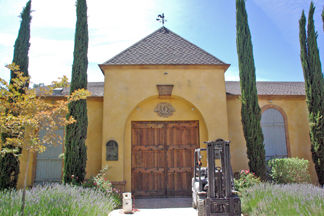 Summary: Demetria Estate is a unique gem of a find for wine travelers in California's Central Coast. Tastings normally take place outside at tables in the shade with views of vineyards decorating the hillsides. Demetria is focused on Biodynamic farming.
Demetria is a Santa Barbara County winery that is a little drive off the main road. Thankfully the signs along the way offer help. The day we drove to Demetria the area was sunny and the ground was very dry. Once we turned off Foxen Canyon Road, it was as if we had left everything behind. However, we continually saw numerous vineyards and noted that they were like patches on a quilt. About two miles off Foxen Canyon Road, we came to Demetria. Despite the "off the beaten track" site, we were surprised at the number of people who found their way to Demetria Estate for a wine tasting.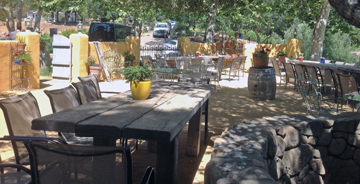 Don't bother looking for a tasting counter in the Mediterranean-style winery building. Unless it is raining, tastings take place outside overlooking steep hillsides of vineyards. Most tables and chairs are in the shade of valley oaks and live oaks. Visitors find a table to sit at and the wines are brought to you to taste one by one. This is a Central Coast winery where visitors can sit and relax amid the peaceful views of hillsides covered with vineyards and sunshine.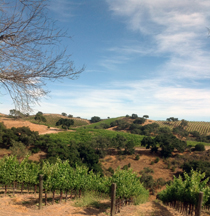 Demetria Estate, a family owned and operated winery, is located in the Santa Ynez Valley AVA. John and Sandra Zahoudanis purchased the property with vineyards in 2005. Forty-six acres are planted with Rhone varieties including: Syrah, Grenache Noir, Mourvedre, Viognier, Roussanne, Marsanne, Grenache Blanc, Cinsault, Counoise and Picpoul Blanc.
Biodynamics
When the family purchased Demetria they began moving in the direction of becoming Biodynamic. It can take years to make the change; however, when the change to Biodynamic vineyards is completed, they will apply for Biodynamic certification.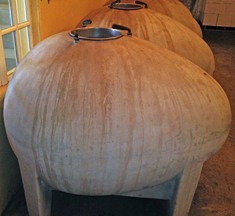 Winemaker
Demetria's winemaker is Harry Waye who is from Australia. Harry began working at Demetria Estate in 2007, and four years later was named head winemaker. Harry is also the vineyard manager. Harry is enthusiastic about all of the winery and vineyard aspects. When Harry learned that we made a white qvevri wine in the country Georgia that spent six months on the skins, he was excited to talk about his Benton Blanc, a white wine blend. The Marsanne had skin contact for 46 days. Harry gave us a quick tour of the winery. He is especially proud of several horizontal cocrete eggs for winemaking.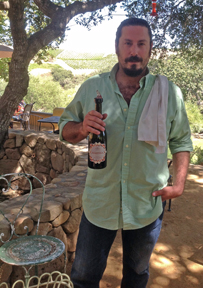 White Wines
Our winetasting was at a table in the shady part of the patio. We had beautiful views of the vineyards on this fine sunny day. Alexis Zahoudanis poured our wines and answered many of our questions.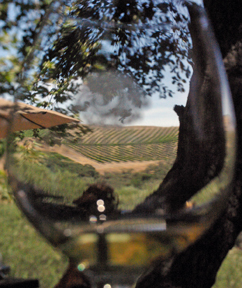 Viognier 2012 Santa Ynez Valley AVA was crafted spending 12 months in neutral French oak barrels. The light yellow wine offered notes of floral with tropical nuances and some yellow stone fruit. The finish was crisp and fruity yielding to floral especially honeysuckle. Cuvee Papou 2012 was a blend of Marsanne, Roussanne, Grenache Blanc, Viognier and Picpoul Blanc. The name "Papou" is Greek for grandfather and it honors their founder John Zahoudanis. This is Demetria's signature white wine. The light yellow wine offered floral notes especially honeysuckle with white peach and melon notes. The finish was fruity. Chardonnay 2012 Santa Barbara County was aged in acacia barrels. The yellow wine offered aromas of pear and butterscotch. The taste was of apple, and pear with a touch of citrus. The finish was crisp with fruit yielding to butterscotch. Benton Blanc 2013 Santa Ynez Valley AVA was a blend of Picpoul Blanc and Marsanne. The Marsanne was fermented on the skins for 46 days. This gold wine offered floral and dried yellow fruit notes. The crisp finish had tannins.
Rosé Wine
Grenache Rosé 2013 Santa Ynez Valley AVA was a light orange. The aroma and taste were of red berry fruit. The finish was crisp, silky and fruity.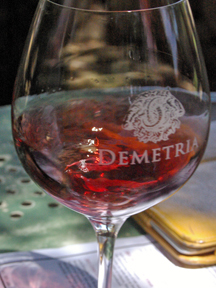 Red Wines
Pantheon 2011 Santa Ynez Valley AVA was a blend of Grenache, Syrah, Mourvedre and Rhone whites. The wine was a translucent red. The aroma and taste offered notes of red berry fruits, pepper and baking spices. The wine had mild tannins and was light bodied. The finish had fruit yielding to spice. North Slope 2011 Santa Ynez Valley AVA was made with Syrah plus a little Viognier. The grapes for this wine are from a vineyard block that contains both grape varieties that are harvested and co-fermented. The result was a wine that was a light ruby color with plum and floral notes and a touch of pepper. Cuvee Constantine 2011 Santa Ynez Valley AVA was a blend of Grenache, Mourvedre, Syrah, Counoise and Cinsault. The dark red wine offered notes of fruit and spices especially pepper, cinnamon, and cloves. The wine had mild tannins. The finish was crisp with fruit yielding to spice. Tempranillo 2011 Santa Ynez Valley AVA was a ruby color. The aroma and taste were of dark fruit including plums and blueberries. The wine also had spice notes and bold tannins. The finish began with fruit yielding to spice.
Demetria Estate offers wine travelers and wine tourists a delightful experience, one that will be remembered in the years to come.

Demetria Estate
6701 Foxen Canyon Road

Los Olivos, CA 93441
GPS: N34º 45.056' W120º 08.589'
Article written July 2014
---
Visit these California organizations and wineries that partner with Wine Trail Traveler.