Cambria Estate Winery
by
Kathy Sullivan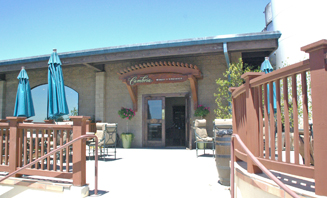 Summary: Enjoy a visit to the Cambria Estate Winery tasting room where you can taste estate-made small production wines. Plan to enjoy a glass of wine on the patio just outside the entrance.
Cambria Tasting Room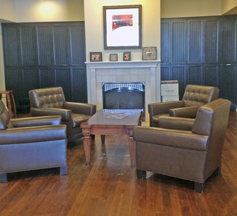 The Cambria tasting room entrance is several feet above ground level. After climbing the steps to the tasting room entrance, travelers will discover a small seating area. Outside, visitors can enjoy a glass of wine at the tables with cushioned chairs and umbrellas. Inside, the spacious L-shaped tasting room, a tasting counter and seating area offers plenty of space for visitors. One area of the tasting room has a fireplace, four leather chairs and a coffee table. One wall with paned windows provides views of stainless steel tanks and oak barrels in the winery production area.
Visitors to the tasting room will discover that the Cambria wines available for tasting are the smaller wine productions. The large production wines are put into distribution.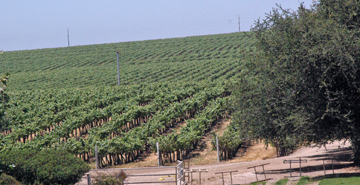 Cambria Estate Vineyards
Cambria Estate Winery is owned and operated by Barbara Banke. Barbara and Jess Jackson acquired the property in 1986. Today the winery has a large number of vineyard acres. The vineyards are in the foothills of a valley that runs east to west. This valley allows the Pacific Ocean to have a large effect on the area. This is considered a cool climate grape growing region.
Cambria has four vineyards. Two of the vineyards are named for Barbara's and Jess's daughters, Katherines's Vineyard and Julia's Vineyard. Katherine's Vineyard has sand and gravel soil. The vineyard is planted with Chardonnay. Julia's Vineyard's soil is composed of alluvial sandy loam. Bench Break Vineyard has Pinot Noir and Chardonnay planted in well drained, shale and quartz soil. The Tepusquet Vineyard soil is sandy.
The Cambria Estate vineyards have SIP (Sustainability in Practice) certification. Practices in the vineyard include pest management, cover crop rotation and deficit irrigation. The acreage includes approximately 1,600 acres with 730 acres of Chardonnay and 483 acres of Pinot Noir. Other varieties in the vineyards include Syrah, Viognier and Pinot Gris.
The winemaker behind the wines is Denise Shurtleff whose first vintage was in 1988. All of the Cambria wines are 100 percent estate grown. Cambria focuses on the Chardonnay and Pinot Noir grape varieties although they are also producing Syrah, Viognier and Pinot Gris.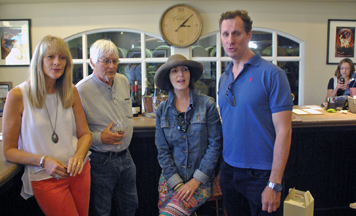 While in the tasting room, we suddenly hear a small group of people begin to spontaneously sing among themselves. The sound was soft and melodic pairing well with the wine and the ambiance that the Cambria tasting room offers. Later we discovered that they are a little known group who enjoy singing jazz. After they finished we talked with them and found that they are friends from the Los Angeles area who formed Ready Willing & Mabel, an a cappella group a few years ago. Mabel is their 1938 RCA microphone.
Wines
The Bench Break 2012 Chardonnay Santa Maria Valley AVA was a yellow color. The wine offered notes of pear, butterscotch, apple and mineral. The finish was very fruity with fruit yielding to oak and minerality.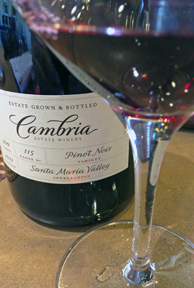 Clone 115 Pinot Noir 2011 Santa Maria Valley AVA was a ruby translucent color. The aroma and taste were of leather, earth, raspberry and blueberry. The wine had medium tannins. The finish had spice and was fruity. Barbara's 667 Pinot Noir Santa Maria Valley AVA was a translucent ruby color. The aroma and taste were of red and black raspberries. The wine had blueberries and leather on the taste. The bold tannins were chewy. Fruit yielded to leather.
Stop at the Cambria Estate Winery tasting room in Santa Maria, California where you can taste small production wines not available through distribution.

Cambria Estate Winery
5475 Chardonnay Lane
Santa Maria, CA 93454
GPS: N34º 52.615' W120º 15.621'
For more information
Article written July 2014
---
Visit these California organizations and wineries that partner with Wine Trail Traveler.