The Brander Vineyard
by
Kathy Sullivan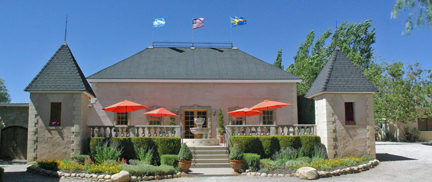 Summary: The Brander Vineyard winery is one of the early wineries in Santa Barbara County with owners planting vineyards in 1975. Wine tourists will discover The Brander Vineyard tasting room just a little off the main road.
Karl Erik Brander purchased The Brander Vineyard property in 1974 and established the vineyard in 1975. Karl was born in Argentina but studied in Sweden. Eventually he made his way to California. Fred Brander born in Argentina began working with his father. Today Fred is the winery owner and winemaker. He frequently shares his winery and viticulture knowledge with others.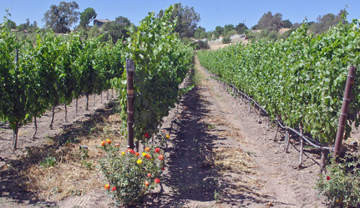 Vineyards
In 1977 the Sauvignon Blanc was pulled out and replaced with other varieties including a special Sauvignon Blanc. Today Brander is known for producing a unique Sauvignon Blanc. The vineyards consist of 44 acres; 70 percent of the vines are Sauvignon Blanc. Other grape varieties in the vineyards include Cabernet Sauvignon, Cabernet Franc and Semillon.
Current wine production is 15,000 cases.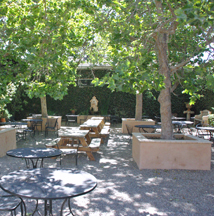 Visitors will discover that The Brander Vineyard offers a friendly experience with outside tables. Bright red umbrellas just outside of the entrance are brilliant and welcoming to visitors. To the left a large patio with more tables under a canopy of trees provides more seating area. Visitors are invited to bring a lunch, purchase a bottle of wine and stay awhile in this relaxing atmosphere. The building housing the tasting room has three flags flying: Argentina, the United States and Sweden.
In the tasting room, large wall clocks reflect the heritage of the Brander family. The clocks provide the time for Buenos Aires, Santa Barbara and Stockholm. Visitors will discover the tasting room offers a simple but long tasting counter. A small wood stove sits in the corner. The floor is of red tile.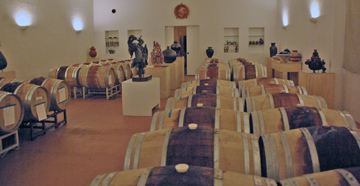 We took a short tour of the barrel room. Although the room had several barrels, it looked like a museum. The long, cave-like barrel room is upscale with a number of art objects. The large woven art displays were collected on their travels.
Red Wines
Cabernet Sauvignon 2010 Santa Ynez Valley AVA Reserve was a red flagship wine. This wine was dedicated to Fred's father Erik. It was a ruby color. This ruby wine was made with all estate grown fruit. The aroma was of spice and the taste offered spice, dark fruit, cassis and bold chewy tannins. The finish was of fruit yielding to leather with spice in the background. Brander 2011 Cabernet Franc Santa Ynez Valley AVA was purple with notes of pepper and black fruit. The wine had medium tannins. Suggested pairings included rosemary-and-black pepper encrusted pork chops, grilled ostrich steaks with sage and fennel, and fondue. At a Steven Spurrier wine tasting of 48 Santa Barbara County wines we tasted the 2009 Reserve Cabernet Sauvignon Santa Ynez Valley AVA. The wine had a dark ruby opaque color with dark fruit and a hint of perfume. The wine had very bold tannins.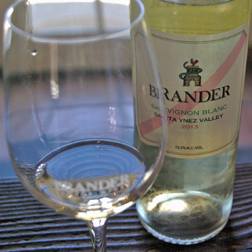 White Wines
Sauvignon Blanc 2013 Santa Ynez Valley AVA was produced in stainless steel. The light yellow wine offered aromas of lemon grass and tropical notes. The taste had peach and tropical fruit notes. Brander 2013 Sauvignon au Naturel with 13.9 percent alcohol was a very pale yellow and aromatic with lemon grass and tropical fruit notes. The finish was slightly prickly. Suggested pairings included a salad of arugula, goat's milk feta, walnuts, sliced pears with extra virgin olive oil, balsamic and fresh cracked black pepper. We also tasted a Sauvignon Blanc at the Steven Spurrier wine tasting. The 2012 Cuvee Nicolas Santa Ynez Valley AVA was a dark yellow color with prominent lemon grass and a crisp finish.
Events
Events at The Brandon Vineyard include: rehearsal dinners, wine club parties, and a harvest event. Wine club members have access to special parties.
When planning a visit to The Brandon Vineyard tasting room, include enough time to enjoy a glass of wine on the patio.
The Brander Vineyard
2401 North Refugio Road
Santa Ynez, Ca 93460
GPS: N34º 39.406' W120º 05.928'
Article written July 2014
---
Visit these California organizations and wineries that partner with Wine Trail Traveler.