Ampelos Cellars
by
Kathy Sullivan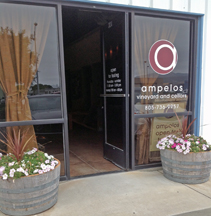 Summary: Ampelos Cellars' tasting room is located in Lompoc, California. Ampelos is one of the first vineyards to be certified organic and Biodynamic. The small tasting room is comfortable and welcoming.
Ampelos Cellars tasting room is in a well-kept industrial area of Lompoc, California. The tasting room with two one-half oak barrels filled with flowers just outside the door is easy to locate. The logo, a large red circle with a white lower case "a" in the center, stands out. The tasting room is tastefully decorated with canvas photos of vineyards and winemaking. The tasting counter is set on oak barrels adding to the ambiance. Simple but comfortable seating is available at the counter. Attractive orange pendant lights, made from grow tubes used in the vineyard, complement the yellow wall and add to the setting. Wine enthusiasts kept arriving while we visited with Peter Work, owner and winemaker.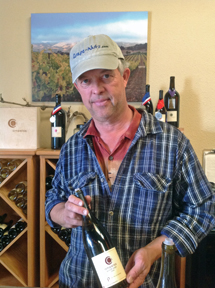 We met Peter in the Lompoc tasting room. Peter is tall, low-keyed with a ready smile. He explained that Ampelos is Greek for "vines." Peter and Rebecca, his wife, were married in Greece. Today they own Ampelos Resort, a small bed and breakfast in Greece. The connection with Greece is also observed on the wine bottle labels. Different letters of the Greek alphabet are prominent on the label.
For Peter "farming to vineyard to winemaking is one common passion." Peter and Rebecca have the philosophy to leave something better than when they got it. Today they are far from their former careers in the American corporate world and seem to appreciate winemaking as a second career. Peter was one of those fortunate to have had his meeting canceled just ahead of schedule in the World Trade Building on September 11, 2001. After this dramatic event, Peter and his wife decided it was time to move on. They had previously purchased land in Santa Rita Hills in 1999. After 911, it was time to start the vineyard.Their dream of owning a vineyard became reality.
Today the result is Ampelos with 26 acres of grapevines and a winery. The vineyards are located in the Sta. Rita Hills AVA. According to Peter the vineyards are warmer than the temperature in Lompoc. Vineyard varieties include Pinot Noir, Syrah, Grenache, Riesling and Viognier. Demeter certified the vineyards Biodynamic in 2009. For the Ampelos vineyards Biodynamic practices include making and spraying specially prepared teas and planting cover crops. Peter mentioned that every 10th row does not have a cover crop and is left to natural plant growth. In addition, to these practices, free range chickens wander through the vineyards eating insects and providing fertilizer. In addition to Biodynamic certification, the vineyards are also SIP (Sustainability in Practice) certified and USDA Organic. The vineyards have a protected insect area. In the winery, Peter likes to use indigenous yeasts from the grapes. Since 2011 all red wines have been produced with indigenous yeast.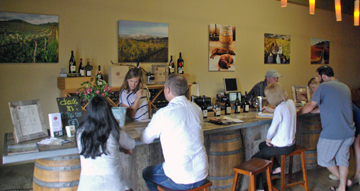 Peter has a passion for wine and he enjoys having a good time. He mentioned that people send photos of them opening Ampelos Cellars' wines. Peter finds it fascinating when he sees people enjoying the wines he creates. He said, "I love what I do," adding that he wants to give every wine a personality.
White Wines

Viognier 2013 Santa Ynez Valley AVA produced in stainless steel was a straw color. The aroma offered floral and some yellow stone fruit notes. The taste was of roses, peaches and tropical fruits. The finish was crisp and fruity yielding to minerality.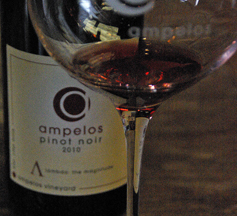 Red Wines
Pinot Noir (lambda) 2010 Sta. Rita Hills AVA was produced with 33 percent new French oak. The wine was in barrel for 30 months. The wine was a light translucent red. The Pinot Noir offered notes of raspberries and had mild tannins. The finish had fruit notes yielding to spice. Pinot Noir (rho) 2009 Sta. Rita Hills AVA was produced with the top 20 percent of Pinot Noir barrels. The wine spent three years in barrel with 50 percent new French oak. The wine was bottle aged for one year. This Pinot was a ruby translucent color. The aroma and taste offered notes of raspberry, licorice and the wine had medium tannins. The crisp finish was accompanied by integrated fruit and oak notes. The wine offered a long aftertaste.
Grenache (delta) 2010 Sta. Rita Hills AVA was a translucent ruby color. The aroma and taste were of red and black raspberries. The wine had medium tannins and the finish had fruit yielding to spice. Syrache 2010 Santa Barbara County was produced with Syrah and Grenache. The dark red wine was in oak barrels for 18 months. The aroma and taste were of black and red raspberries. The wine offered medium tannins. The crisp finish had fruit yielding to oak especially licorice. The 2010 Syrah (gamma) Sta. Rita Hills AVA color was red with a pink hue. The aroma and taste were of blackberries and blueberries. The wine had medium tannins. The finish offered fruit yielding to baking spices.
If you are planning a visit to Lompoc, California be sure to make Ampelos Cellars one of your stops.
Ampelos Cellars
312 North 9th Street
Lompoc, California 93436
GPS: N34º 38.560' W120º 26.276'
Article written July 2014
---
Visit these California organizations and wineries that partner with Wine Trail Traveler.