Baiting Hollow Farm Vineyard
by
Kathy Sullivan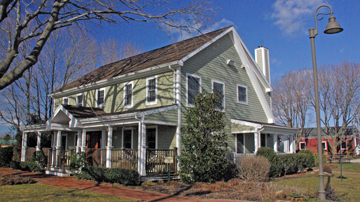 Summary: In addition to traditional wines, Baiting Hollow Farm Vineyard offers visitors food, live music and a gift shop. Baiting Hollow Farm Vineyard is one of the few wineries and vineyards that focus on Horse Rescue. Tours of the Horse Rescue paddocks are available.
After parking, we walked onto the winery grounds passing by an area filled with visitor friendly redwood tables and chairs. A gazebo sits at the far back area. To one side of this picnic area is a large red barn, which we soon learned was the location of horses that have benefitted from Horse Rescue. To the left, was a light green house built in 1861. This house is the site of the tasting room.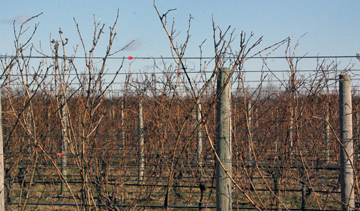 We quickly discovered that Baiting Hollow Farm Vineyard is a family effort. Family members who are very involved in the operation included Sharon Levine, Richard Rubin (a brother), Steven Levine, Josh Levine and Paula Geonie (sister.)
The eldest member of the family vineyard is Sharon's father, Sam Rubin, who lived in Brooklyn. In 1988 he purchased the current property and by 1997 he had planted ½ acre of Merlot. He quickly purchased an additional site and prepared the land for grapevines. In 1998, he was able to plant varieties of Merlot, Cabernet Franc, Cabernet Sauvignon and Riesling. Even today at 85 years young, he is frequently working in the vineyards. Today there are about 14 acres of grapevines. The winery sources some grapes from other North Fork vineyards.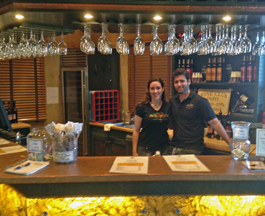 Tasting Room
The tasting room opened in 2007. The tasting room is in an old home built in 1861. The location is near vineyards and close to the paddocks. The tasting room consists of several areas where visitors can enjoy tasting wines and browsing gift items. Tables and chairs are available where one can enjoy a glass of wine.
During our visit, Sharon noted that Baiting Hollow Farm Vineyard tasting room is "a place where people can come and chill." The winery offers visitors "casual elegance."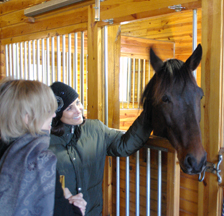 Rescue Horses
Owning the land for the vineyards and producing wines enables the owners to help save horses from being sent to a slaughterhouse. Sharon and Richard began learning about healthy horses that were being slaughtered. Today, the property contains paddocks where horses are loved and treated with respect. To date, due to the work of the family, 32 horses have been saved from slaughter including Thoroughbreds, Arabians, a Clydesdale, a Paso Fino and miniature horses and ponies. Many of the horses are young. Some have been retired from racing. They are healthy but sent to auction and then to slaughter.
Sharon names each of the horses saved. Watching her interact with each one is a joy. When horses arrive here they can expect to be well loved. Sharon hopes that people and lawmakers will realize that young, healthy horses are being slaughtered and create laws to stop the horror.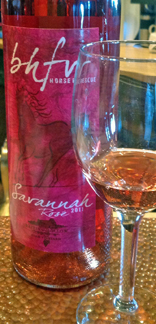 Baiting Hollow Wines
White Satin 2011 is a blend of Merlot, Chardonnay, and Riesling. This straw colored wine with an aroma of peaches offered a taste of yellow stone fruit. The finish was fruity with a mineral aftertaste.
Merlot 2006 was produced with estate grapes. The color was red to ruby. The wine offered nuances of cherry and plum. The finish had tannins with fruit. Cabernet Sauvignon 2010 produced from estate grapes was a ruby color. The wine offered dark fruit notes and spice. The wine had tannins and a crisp finish. It is lighter than many Cabernet Sauvignons making a must wine for people who like white wines. Red Velvet 2010 was a blend of Merlot, Cabernet Sauvignon and Cabernet Franc. The wine offered dark fruit and violet notes with a hint of tobacco. Cabernet Franc 2010 was a good representation of Cabernet Franc with its notes of pepper. The aroma and taste had pepper notes. The taste was smooth and the finish dry with tannins. The Cabernet Franc was food friendly.
The profits from three Baiting Hollow wines help to support the horse rescue mission: Mirage, Savannah Rosé and Angel. The Savannah Rosé 2011 was a wonderful pink color and the taste and aroma were fruity. The dry wine offered a crisp taste and finish. Serve this wine with food or enjoy it by itself. Mirage was a blend of Merlot and Cabernet Sauvignon. The dark purple/red color wine offered notes of plum and blackberry. The finish was dry with tannins. Serve this wine with a beef entrée.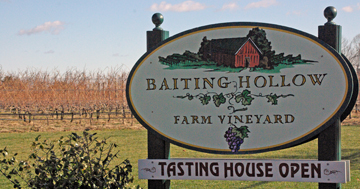 While enjoying traveling on Long Island, be sure to stop at Baiting Hollow Farm Vineyard to enjoy a welcoming visit. While there be sure to ask about the Horse Rescue and what you can do to help.
Baiting Hollow Farm Vineyard

2114 Sound Avenue
Calverton, New York 11933
GPS: N40º 57.383' W72º 45.348'
Article written January 2013
---