Sparkling Pointe Winery
by
Kathy and Terry Sullivan

Summary: Sparkling Pointe Winery is unique and special because the winery only produces sparkling wines. The carefully planned tasting room is elegant and welcoming. It is perfect for tasting and enjoying wines as well as events.
Tom and Cynthia Rosicki, a vibrant and enthusiastic couple, enjoy wine particularly sparkling wine. Tom's parents lived on Long Island. Living and working in New York City, Tom and Cynthia wanted to find property on Long Island where they could relax. As available vineyard land became scarce, they decided to buy land when they had the opportunity. An accidental meeting occurred with someone who knew of 12 acres of nursery land to be sold but not yet listed. The Rosickis purchased the land almost immediately. According to the town regulations, twelve acres was enough property to have a vineyard with a tasting room.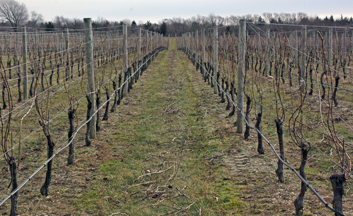 Vineyards
What grapes should they plant? That depended on the type of wine they wanted to produce. Since sparkling wines were their favorite type of wines they decided to go with the traditional grape varieties used in producing sparkling wine. In 2004 they planted 10 acres of vines. Today Sparkling Pointe has 10 acres of onsite vineyards and another 19 acres in the area.The varietal grapes include Pinot Noir, Pinot Meunier and Chardonnay.
At the time of our January visit, several rows of vines were pruned with the discarded prunings in the center of the row. One can observe the architecture of the vines and the plan of the vineyard manager for growth during the year.
Gilles Martin is the winemaker and Michael Falcetta is the enthusiastic general manager. Gilles knew he always wanted to do something with chemistry but did not want a desk job. He studied chemistry and food in France; also worked a harvest. Finding that he liked it, he worked for his degree in enology. Gilles has worked at wineries on the West Coast, East Cost and France.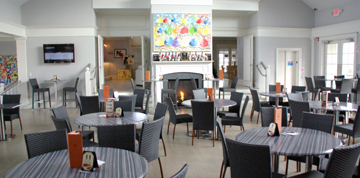 Tasting Room
The winery and tasting room was built in 2008. Prior to the first harvest at the new winery, they made wine at Premium Wine Group.
An artist might easily have designed the large tasting room, but the Rosickis have chosen the colors emphasizing whites and grays for the walls. The walls are adorned with large pieces of colorful artwork they have brought back from their travels. Tables have an artistic flair with white lines lightening the black background.
A few steps up from the main tasting room, a special room with a fireplace overlooks the winery. White furniture provides a dramatic touch. This room is for wine club members and special events. From this room, guests can view the winery below.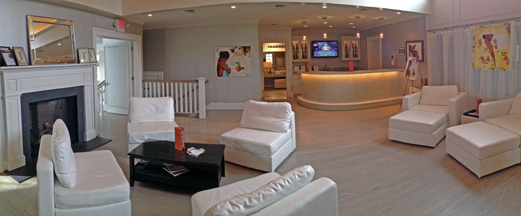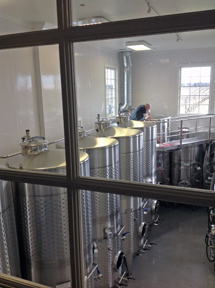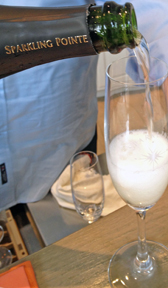 Sparkling Wines
Brut NV, a reserve wine was a blend of Chardonnay and Pinot Noir. The light color wine offered an aroma of freshly baked bread while the crisp taste had notes of pear and apple. The wine can be enjoyed as an aperitif or paired with oysters. Blanc de Blancs 2007 was produced with Chardonnay. This light yellow sparkling wine had notes of apple with citrus hints.
Blanc de Noir 2008 was a blend of Pinot Meunier and Pinot Noir. The crisp sparkling wine was a very light peach color with a faint reddish tinge. The aroma reminded one of berries and the taste had raspberry nuances. It is a complex sparkling wine that provokes the senses. Consider pairing it with Valentine's Day or anytime with strong cheeses or spicy food. Brut Seduction 2003 was a blend of Chardonnay and Pinot Noir. The crisp wine was a yellow color and offered apple and baked bread notes. A velvet mouthfeel was behind the effervescence. This rich sparkling wine could be paired with lobster or foie gras. Cuvee Carnaval, a blend of Chardonnay and Pinot Noir, was a straw color with apple and pear notes. The wine was slightly sweet but dried on the finish. Pair with sweeter foods or perhaps a dessert of fruit.
Events
In addition to the events open to the public, Sparkling Pointe offers facilities for a beautiful wedding. A combination of vineyards and elegant space enhanced with crystal chandeliers allows for numerous photo opportunities.
Sparkling Pointe Winery offers sparkling wine lovers an opportunity to taste several sparkling wines in an elegant tasting room.
Sparkling Pointe Winery
39750 County Road 48
Southold, New York 11971
GPS: N41º 03.685' W72º 26.667'
Article written January 2013
---