Waters Crest Winery
by
Kathy Sullivan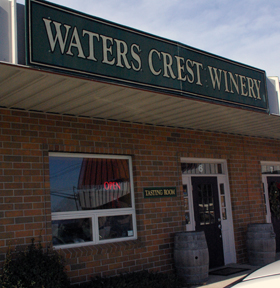 Summary: Waters Crest Winery is located between two small stores. While driving along Route 48, be sure to stop by and check out Waters Crest wines produced onsite with Long Island grapes. Waters Crest wines are hand crafted by Jim Waters.
Jim Waters and his wife Linda, a traffic controller, own Waters Crest Winery. After attending school for hotel and restaurant management, Jim worked in the hospitality industry for many years. He noted that he had married into an Italian family who lived in Campania, Italy, and owned a vineyard prior to World War II.
For many years home winemaking was a hobby. He found home winemaking to be a relaxing distraction from business concerns. He was always pleased at Christmas time to receive winemaking equipment as gifts. The homemade wine must have been good. A friend entered some of his wines in a blind tasting. The wines ranked well. The results were a tipping point, encouraging the change to turn a hobby into a professional business. Jim learned more about winemaking by working at Peconic Bay Winery.
Understanding the winemaking process and business, Jim prefers being a négociant where he connects with growers to get the quality of grapes he wants. Jim is proactive and lobbies for the wineries in his area. He believes that "everyone is trying to raise the quality and ageability of wines." He also noted that there is a lot of camaraderie among the winery owners and winemakers.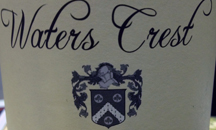 Linda, in addition to her full time work, also helps at the winery when she can. She is Jim's "sounding board." Jim and Linda spent many hours working on the name for the winery but found they couldn't agree on the right name. One night a friend called and suggested "Waters Crest." Jim and Linda agreed it was the right name. Jim's crest is included on some of the wine bottle labels.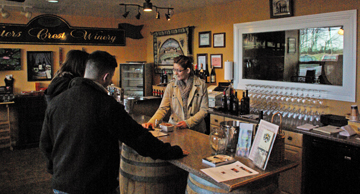 Tasting Room and Winery
Waters Crest winery is located in a section of a small series of shops. The tasting room is in the first section of the facility and winemaking is done behind that front area. The boutique tasting room offers a simple tasting counter that sits on three oak barrels. A white-framed window behind the tasting counter offers views of the winemaking production area. A retail area has an assortment of wine-related items including Waters Crest wines, clothing, Riedel stemware, art and books.
Several stainless steel tanks are in the winery. Oak barrels are stacked four high. The area is efficiently arranged to maximize the space for wine production. One thousand to fifteen hundred cases of wine are produced at Waters Crest Winery. Ninety percent of the wines are sold in the tasting room; the other ten percent is sold in restaurants and wine shops.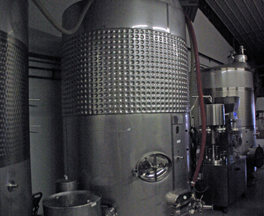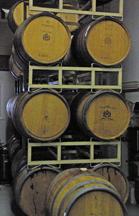 Pre-release Wines
Sauvignon Blanc 2012, a general release, was a straw color. Citrus notes were on the aroma and taste while the taste also had hints of peach and tropical fruit. The finish was crisp and fruity. Sauvignon Blanc 2012, reserve style, was a light peach color. The aroma and taste was of tropical fruit. The taste was smooth. The finish was crisp and fruity. The third Sauvignon Blanc tasted was exclusively for wine club members. Sauvignon Blanc 2012 (Wine Club) was a light yellow. The aroma had grapefruit and tropical notes. The taste had layers of fruits including pineapple, yellow stone fruit and citrus. The finish was crisp and very fruity.
Wines
Rosé 2011 was a salmon color. The wine was a blend of Sauvignon Blanc, Chardonnay and Merlot. The juice was left on the skins for a few hours. The wine reminds one of fruit salad. Chardonnay 2011 was yellow. The aroma was of pear and apple. The taste was velvety smooth with apple and pear nuances. The finish was crisp with fruit yielding to caramel.
Merlot 2007 was a dark ruby color. The aroma and taste had cherry and blackberry nuances. The taste also had a hint of licorice. Tannins were on the finish. Cabernet Franc 2010 was a very dark ruby. The aroma was of plum and licorice. The taste had notes of plum and black cherry. The finish offered tannins with fruit yielding to pepper. Cabernet Franc 2008 was a dark ruby color. The wine had spicy and dark fruit notes. It had chewy tannins with fruit yielding to pepper.
Visit Waters Crest Winery. Experience the passion Jim and Linda have for the wines they craft.
Waters Crest Winery

22355 Rte. 48, Unit 6
Cutchogue, New York 11935
GPS: N41º 01.833' W72º 29.780'
Article written January 2013
---