Lieb Cellars
by
Kathy Sullivan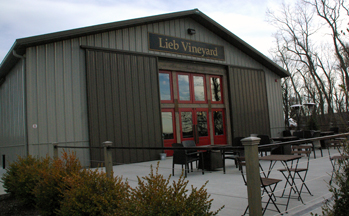 Summary: Lieb Cellars has two tasting rooms. We visited with Mark Anderson, tasting room manager, at the newest Lieb Cellars wine tasting site on Oregon Road. The Lieb Cellars tasting room offers a fun and relaxing place to enjoy wine and house-made appetizers.
Lieb Cellars is a partnership of Mark Lieb, Peter Pace and Premium Wine Group. We met Mark Anderson, the tasting room manager. He noted that the staff is a close knit community; there is a "positive energy" among the staff members. That must be one of the many reasons why this recent tasting room is attracting so many visitors.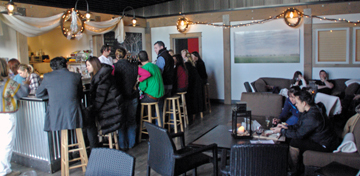 Tasting Room
The tasting room opened in October 2012 and has achieved a steady stream of wine enthusiasts. A large area is divided with various conversational groupings. Seating is very comfortable. The tasting room has an L-shaped tasting counter with bar stools along the longer side. The sides of the counter are corrugated shiny metal and the counter top is stainless steel.
Near the tasting bar, a chest holds pure white blankets that visitors can use on the patio during cool weather months. Mark noted that these blankets are very warm. Outside the tasting room on the patio, square heating patio stoves provide enough warmth that with a blanket wine lovers will want to linger even in the colder months of the year.
Lieb Cellars Wines
The winemaker for Lieb Cellars produces about 8,000 cases at the Premium Wine Group location. Lieb Cellars oversees all of the wines being produced under their name.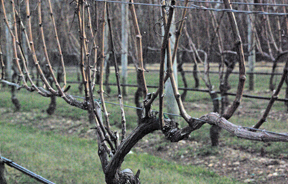 Vineyards
The Lieb vineyards consist of 62 acres that were planted in the 1980s. Grape varietals include Merlot, Cabernet Franc, Cabernet Sauvignon, Malbec, Petit Verdot, Chardonnay and Pinot Blanc. A combination of hand and machine harvesting is used in the fall. The grapes are pruned by hand. During a winter visit, take the time to observe the architecture of the vines.
White Wines
Pinot Blanc 2010 was a light straw color with citrusy notes. The finish was crisp and refreshing. Merlot Blanc 2011 was a light straw color with yellow stone fruit notes. The wine was light and refreshing and totally different than a red Merlot. Blanc de Blancs 2009 was a straw color wine made with Pinot Blanc. This wine was crisp, citrusy, palate cleansing and great with food. This Blanc de Blancs will pair well with seafood crostini.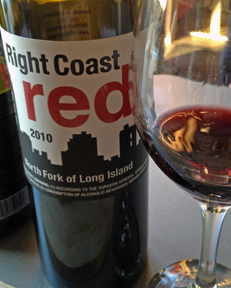 Red Wines
Petit Verdot 2008 was a dark ruby color. The aroma and taste offered dark fruit notes while the taste had hints of tobacco. The finish had tannins and fruit nuances yielding to a touch of tobacco. Consider pairing this wine with red meats. Right Coast 2010 was a blend of Merlot, Cabernet Sauvignon, Cabernet Franc, Petit Verdot, and Malbec. This ruby colored wine had notes of dark fruit on the aroma and taste. The finish was crisp and fruity with tannins. Cabernet Franc 2008 was a ruby color. The aroma had dark fruit and licorice nuances while the taste had plum and blackberry notes. The finish was crisp with tannins.
Red Hook Grappa was produced from Pinot Blanc. This clear grappa had 40 percent alcohol. The citrus aroma and taste cools the heat of the alcohol.
Recently the tasting room prepares crostini, which people can order to enjoy with wine. These colorful and flavorful appetizers are carefully prepared onsite and made with many New York State products. Appetizers include Baked Fig Manchego with baby arugula and cracked pepper; Fresh Milk Ricotta with honey, hazelnuts, and lemon zest; and Cannellini Bean with sundried tomato and olive tapenade. These appetizers have been a big hit with visitors.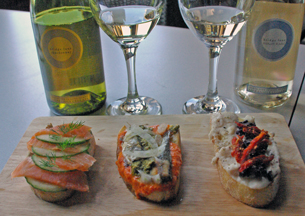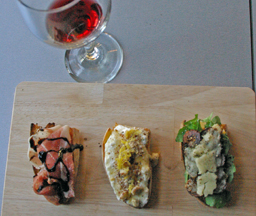 The next time you stop by Lieb Cellars, plan to purchase a glass of wine and enjoy with a creative appetizer.
Lieb Cellars Oregon Road
13050 Oregon Road
Cutchogue, New York 11935
GPS: N41º 02.162' W72º 30.236'
Article written January 2013
---